December 2013 OTOTM
V8 Engine Swap
Joined

Aug 7, 2007
Messages

66
Reaction score

45
Points

18
Age

38
Location
Vehicle Year

2022
Vehicle

Ford
Engine Size

2.3
Suspension Style

4wd
Difficulty: 2 out of 10
Time to install: An hour
Disclaimer: The Ranger Station.com, The Ranger Station.com Staff, nor the original poster are responsible for you doing this modification to your vehicle. By doing this modification and following this how-to you, the installer, take full responsibility if anything is damaged or messed up. If you have questions, feel free to PM the original poster or ask in the appropriate section of The Ranger Station.com forums.
Brief Explanation: How to mount a fire extinguisher to the rear rollbar on a 2021+ Ford Bronco (some early production cars do not have the nutserts in the rollbar to mount things to)
Tools Needed:
- Tools to tighten the countersunk screw
- Tool to tighten hoseclamp (flat screwdriver or a 5/16 socket/ratchet or nutdriver usually)
Parts Needed:
- Fire Extinguisher Mount (I used
https://www.amazon.com/Bestaoo-Adjustable-Extinguisher-Wrangler-Aluminum/dp/B09DYGCX38/ref=sr_1_3_sspa?crid=19UTBX24513LH&keywords=fire+extinguisher+mount&qid=1673820087&sprefix=fire+ext,aps,144&sr=8-3-spons&psc=1&spLa=ZW5jcnlwdGVkUXVhbGlmaWVyPUEySUxYOTZPMlYyWTEwJmVuY3J5cHRlZElkPUEwMDY3MTk1MVJFUU9YTTZNQ0tITSZlbmNyeXB0ZWRBZElkPUEwNDM0NzkyMUgyUDdGRUMzTVVIMyZ3aWRnZXROYW1lPXNwX2F0ZiZhY3Rpb249Y2xpY2tSZWRpcmVjdCZkb05vdExvZ0NsaWNrPXRydWU=
)
- 2' of 1/2" fuel line (optional for paint protection) Some mounts now have plastic covers on the clamps.
- Countersunk M8-1.25 screw long enough to go thru whatever bracket you get and get good thread engagement into the rollbar.
Step One: Mount the base to the rollbar using the bolt.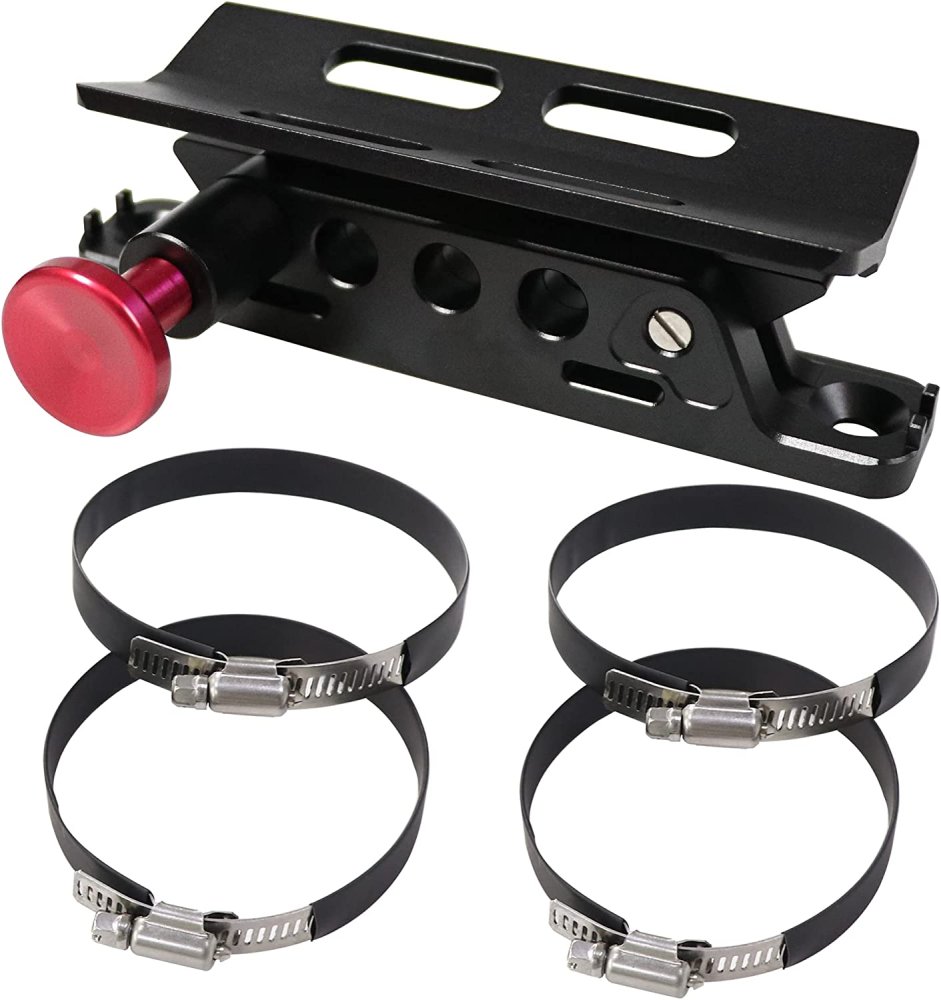 Step Two (optional): Loosen the hose clamp all the way and straighten it, estimate how long you need the hose to wrap around the rollbar to protect the paint on the rollbar from the hose clamp. Trim it to fit. Then squish the hose and work the hose clamp into it. It does take some effort to do this.
Step Three: Install the hose clamps to help secure the bracket to the rollbar since only one bolt will line up. I put the screw part of the clamp to the window side so there would be less chance of it snagging on anything and a 5/16" socket and quarter inch drive ratchet worked very well.
Step Four: Using the other four provided clamps secure your fire extinguisher of choice to the other bracket and then snap it into place. Since a fire extinguisher is more disposable than the rollbar on the car I didn't worry about damaging the paint on it as much. BE SURE TO TEST INSTALL/REMOVAL TO MAKE SURE IT DOESN'T CATCH ON ANYTHING.
Step Five: Be sure everybody riding in the car knows how to operate your mount.
Last edited: