Books & Manuals
Showing all 6 results
looking for a Ford Bronco shop manual or books about Ford Bronco's. Check out this page of Ford Bronco books. Hats & shirts also available.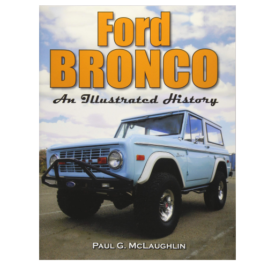 Ford Bronco: An Illustrated History
The Ford Bronco is a sport utility vehicle that was produced from 1966 to 1996, with five distinct generations. The Bronco permanently entered American popular culture on June 17, 1994, when a white 1992 model owned and driven by Al Cowlings with O. J. Simpson, who was wanted for the murders of his ex-wife and her friend, attempted to elude the Los Angeles Police Department in a low-speed chase, which was nationally televised and viewed by millions nationwide. This is complete story from conception through discontinuation in 1996, told by historian (and well-known "Ford guy") Paul McLaughlin utilizing his large collection of photographs, brochures, ads and other promotional material. Follow the Bronco's various incarnations from a small sport utility vehicle of the 1960s and 1970s into the larger full-size Bronco of the 1980s and 1990s, special models like the "Bill Stroppe Edition", "Eddie Bauer Specials", the Bronco II and other juicy tidbits like the Bronco concept vehicle that Ford took on the car show circuit in 2005 (which got Bronco enthusiasts so excited that Ford was going to add a Bronco vehicle to their lineup once again). Also covered are the Broncos that were raced in off-road desert racing, Bronco toys and other collectibles, specification sheets, production numbers, and other interesting facts. Finally, a book for all Bronco enthusiasts!
Amazon's Price:
Order Product