I've been wondering about the possibility of putting an oem rear window wiper on my 89, but can't find much information on them.
On this post I'm looking specifically for info from someone that has had one apart and seen first-hand what the assembly looks like.
From what I understand the wiper has a motor that is in the liftgate that moves the wiper arm, with no linkages. Models that came with the wiper also had a spray nozzle mounted above the window as well, right? Where's the tank at for this? I found one pic that shows it inside the cab, on the driver side, behind the interior panel: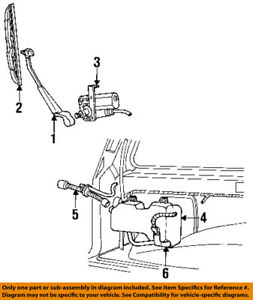 Not sure if that's the right diagram or what it looks like on the Bronco II. I don't
need
to have the spray nozzle, but I'd like to if possible.
Now, is the wiring for the wiper motor already in a BII that didn't come with it? I'm not sure if Ford would've just used the same harness for every BII and the ones without the wiper just have the connectors in there.
I have access to a vehicle with the entire assembly but I'd like some info from anyone with experience before I try to dig into it. Thanks.