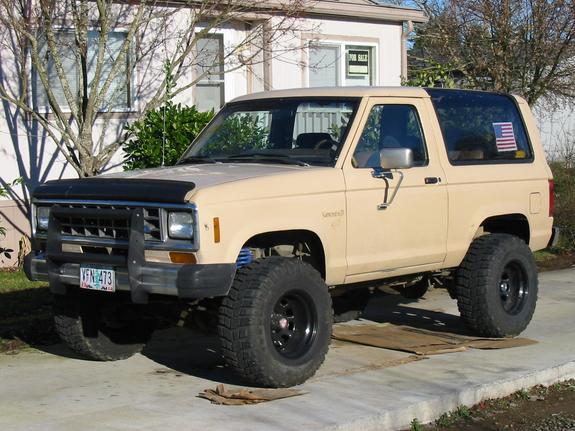 (Brian Rhoades 1985 Ford Bronco II)

By Jim Oaks
In 2004, Brian Rhoades (AKA NightKrawler) created BroncoII.org stating that:
"This site is devoted to the all-so-versitle Bronco II's. In the coming days we will have Tech info, links to suppliers as well as links to manufactures. With all the planets being in alignment hopefully we will be able to establish forums and a possible chat room. This site is in no way affiliated with the Ford Motor Company."
From 2004-2016, Brian ran "The org" with tech info and a forum dedicated solely to the Ford Bronco II.
In March of 2010, the site went down temporarily because Brian was having problems renewing the domain name. The company that Brian purchased the domain through had sold out to a company in the UK. It took about 9-days for Brian to get that straightened out and the site back up. Then in June of 2010, the sites forum was down briefly due to a .php error. Again, Brian was able to get it fixed.
In April 2016, forum members reported again at TheRangerStation.com that the forum was down at BroncoII.org. When I checked the forum, I received a screen message that displayed a .php error. I spoke briefly with Brian about it, and offered my help if he needed. Brian told me that he had received a head injury, and was going to see if the hosting company could fix it for him.
Then on July 12th 2016, Brian posted this:
"Sorry guys and thank you Jim for your help.
Okay, I am very sorry to take so long to get back to everybody. I'll try to explain what's going on.
I moved to Athol, ID in Oct 2014
It took about a year to get my homestead setup.
I spent a little over a year being unemployed.
One day last November 2015 I was out in my shop getting hay down off an 8 foot perch. Apparently I fell off the ladder (I have no memory of this) I suffered a traumatic brain injury, spent a week in the hospital. I have lost some memories and probably 40 IQ point (no BS). To make a long story short I am not the same guy anymore. I'm also sorry because learning to grow a new brain has taken priority over fixing the website. Although this may sound strange I actually feel blessed because it could have been so much worse. I could be dead, or crippled, or retarded (honestly). If you've never known anybody that had a craniotomy (This is brain surgery BTW) you now know somebody. BTW My memory is crap ask my wife 😀
I don't want sympathy guys. I'm just laying it all out there for you guys
Anyways, the php error message seems like it should be a simple fix but I can no longer figure out the websites control panel nor figure out how to change the code. I'm also broke and working my nuts off for little money on the back of my little tractor.
Things change I guess. I don't know what to do about the website. I'd like it fixed and if you know how to fix it and are willing to help that would be awesome. Again I'm sorry I'm dumber then I used to be and busy and broke."
Sadly by November 2016, the site was gone.
Read More:
Why Is This Information Here?
This site (BroncoCorral.com) was originally created by me as a spin off from TheRangerStation.com, and originally called the Bronco II Corral (BroncoIICorral.com). Over time, Bronco II traffic on the internet had became quite slow. With the Ford Bronco returning, it shares a common trait with the Ford Ranger, just like the Bronco II did. They will share a platform. After much consideration, I decided to drop the 'II' from the domain name, and rename the site BroncoCorral.com so the site would be more appealing to the new Bronco owners.
However, I wanted to make sure that I was still preserving the Bronco II, and the information that has been shared by enthusiasts over the years. Therefore, I began digging up the old BroncoII.org pages from the archives, so that I could host them here and make them available again. Sorry, I don't have access to the database for the forum. I didn't want to just post the information on this site. I wanted to make sure that Brian and BroncoII.org get's credit as the resource. In order to do that, I've created this page. Any content that's saved from the old BroncoII.org site will have a link to this page, so people will know the story of BroncoII.org.
Wherever you are Brian, I hope you're well!
Wait! What About The Bronco II At The Top?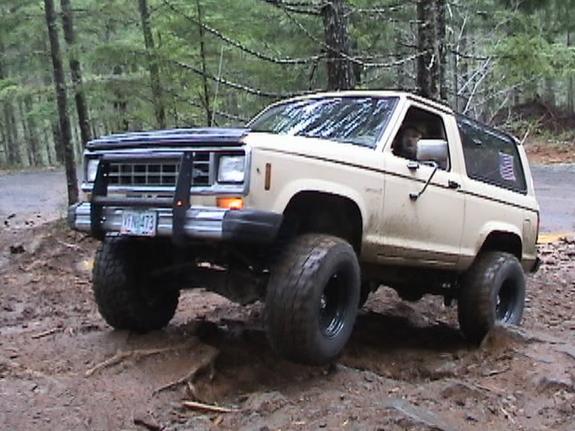 That 1985 Ford Bronco II belongs to Brian Rhoades (NightKrawler).
Specifications:
3-Inch James Duff Lift
Dana 35 TTB
Ford 7.5-Inch Ranger Rear Axles
Rear Lockrite Locker
4.56 Gears
31×12.5×15 Exterains on 15×10 Steel Wheels
Trimmed Fenders With Cheap JCWhitney Flares
Rebuilt 2.8L V-6
Hybrid 3.8L TBI FI Controlled By A 2.9L Computer
Edelbrock Headers, High Flow Cat, 40S Flowmaster Muffler, 2-1/2 Exhaust Pipe