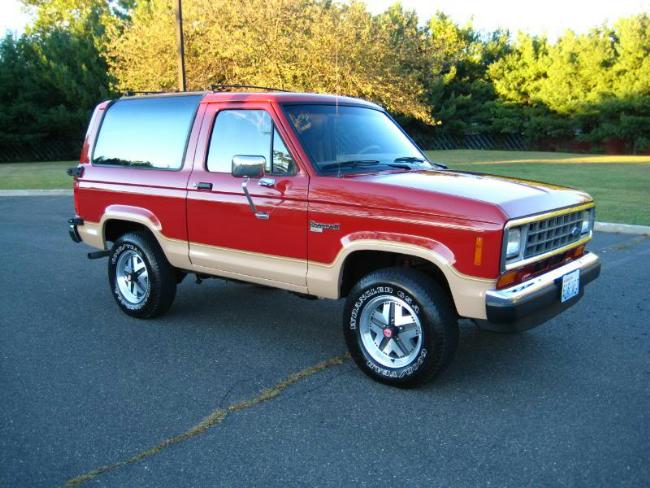 Engine 1984 – 1985  –  2.8 Liter V-6
Displacement
171 Cubic Inches
Induction
2bbl Carburetor
Horsepower
115 hp @ 4600rpm
Torque
150 ft-lbs @ 2600rpm
Firing Order
1-4-2-5-3-6
Distributor Rotation
Clockwise
Engine 1986-1990  –  2.9 Liter V-6
Displacement
177 Cubic Inches
Induction
Electronic Fuel Injection ('86-'87 was bank injected – '88-90 was sequential)
Horsepower
140 hp @ 4600rpm
Torque
170 ft-lbs @ 2600rpm
Firing Order
1-4-2-5-3-6
Distributor Rotation
Clockwise
Transmissions  –  Automatic
1984-1985
C5 (Code W)
1984-1990 (11/84 and newer)
A4LD (Code T)
Transmission  –  Manual
1984
Toyo Koygo TK4  (Code X)  4-Speed
1985-1987
Toyo Koygo TK5  (Code 5)  5-Speed
1985-1987
Mitsubishi FM145  (Code D)  5-Speed
1988-1990
Mitsubishi FM146  (Code D)  5-Speed
1988-1990
Mazda M5OD (Code M)  5-Speed
Transfer Cases
1984-1990 Manual
BW1350
1986-1989 Electric
BW1350
1990 Electric
BW1354
Axles
Front 4WD Axle 1984 – 10/1990
Dana 28 TTB
Front 4WD Axle 11/1990 – Up
Dana 35 TTB
Rear Axle
Ford 7.5-Inch
Gear Ratio's Available
3.45, 3.73, 4.10
Exterior Dimensions
Length
161.8″
Width
68″
Height
70.4″
Wheelbase
94″
Curb Weight
3,385lbs
Interior Dimensions
Front Head Room
39.5″
Front Hip Room
52.7″
Front Shoulder Room
54.6″
Front Leg Room
43.9″
Rear Head Room
38.9″
Rear Hip Room
42.3″
Rear Shoulder Room
55.9″
Rear Leg Room
35″
Maximum Cargo Capacity
57 Cubic Feet
Luggage Capacity
23.8 Cubic Feet
Maximum Seating
4
Miscellaneous
Fuel Capacity
23 Gallons
Miscellaneous Facts:
1983.5 – Bronco II had an optional pop out style rear side window.
1984-1985 Bronco II's have metal side window trim and are urethaned (glued) in place. Late 1985-1990 models have a rubber weatherstrip style trim and are bolted in.
1984-1985 Bronco II's had optional opening glass on the rear hatch. None of these had the rear the window wiper or defroster.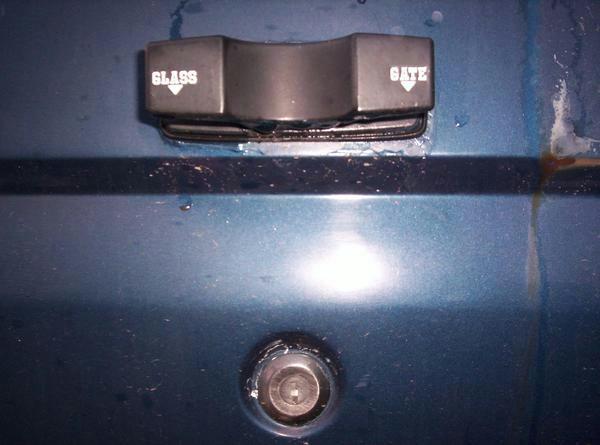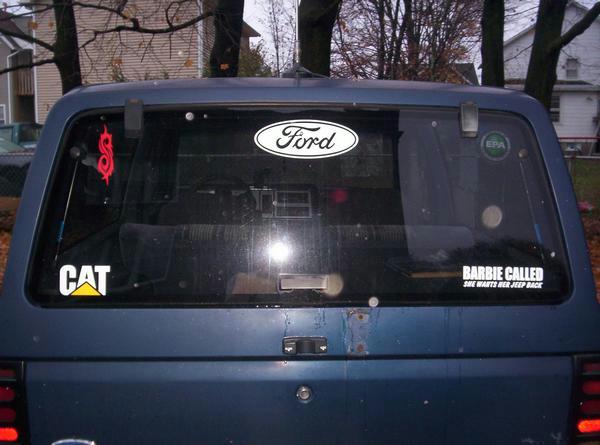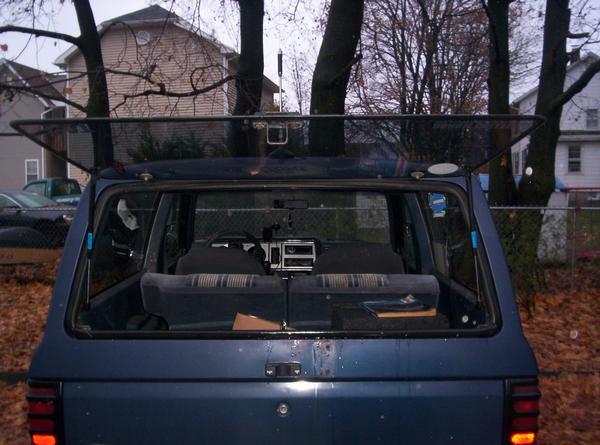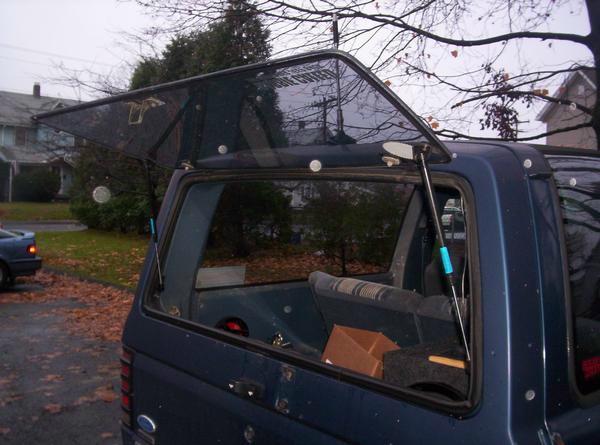 Photos of opening glass in rear hatch – Photos courtesy of 'IamMonsterMan'
1984-1990 – All Bronco II's had an optional swing out spare tire carrier. The standard version mounted the spare inside the rear cargo area. The swing out tire carriers on 1984-1985 models were aluminum.
1984-1985 Bronco II's had optional rear reclining buckets instead of a bench. Look real close at early XLS models or any Bronco II with a factory knob type sunroof.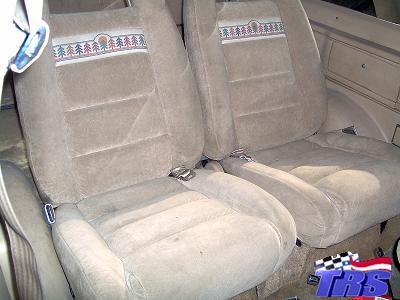 (Rear Reclining Buckets)
1986 – A 2.3-liter turbodiesel was available, but rarely ordered.
1986 – Was the first year for a 2WD Bronco II.
1986 – The electronic (shift-on-the-fly) transfer case became available in late 1986 and were an option until the end of the Bronco II's production. The buttons to activate the switch were in a small overhead console.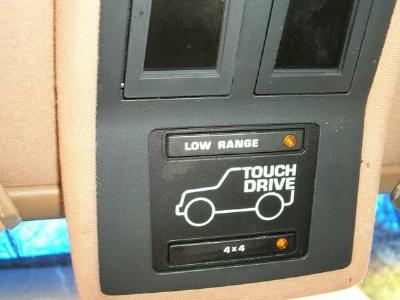 1986-1987 were the only years to have EGR systems.
1986-1987 were the only years to have the larger 58 mm throttle body.
1986-1987 were the only years to have a stock H pipe making it easier to add true dual exhaust.
1987 Bronco II's got rear anti-lock brakes.
1990 Bronco II's were listed as having an optional 4.0 Liter V-6, but none have ever been seen.
There was a sport package that had a front air dam and side skirts.
Rare Bronco II Conversions:
There were (2) rare Bronco II conversions available.
Sherrod Bronco II convertible – Click HERE.
Bronco II Plus – Click HERE.
Strange Fact:
Almost all Ford Bronco II's had 4WD transfer cases. Even the 2WD models. Why? Who knows. The BW1359 transfer case in the 2WD Bronco II's was basically a 'dummy' case and had a permanent seal where the front driveshaft would go. This means that the two-wheel-drive Bronco II's had 4WD transmissions.  It's strange considering the Ranger and Bronco II drivetrain was essentially the same. Why didn't Bronco II's have a Ranger 2WD transmission with a longer drivershaft? In 1990, the Bronco II's final year of production, the 2WD Bronco II started showing up with a 2WD transmission. It used an adapters that slid on to the output shaft of a 2WD transmission and had a four bolt flange for the bolt on driveshaft.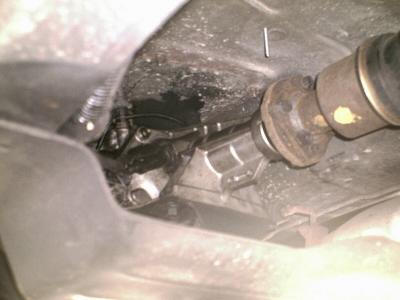 (Photo of flange adapter slid on to the output shaft of a Bronco II 2WD transmission)
Wanted: Bronco II sales brochures (photos, scans, .pdf's), photos of opening rear side windows, photos of factory sunroofs and of any rare options.  Also fee free to Contact us if you have any information to share.