Joined

Mar 26, 2012
Messages

59
Reaction score

2
Points

0
Location
Vehicle Year

1988, 1994
Vehicle

Ford
Engine Size

2.9L, 2.3L
I bought the Bronco back in March to replace my '94 Ranger. It's got quite a few less miles and more importantly a back seat for my kids. I've always liked the first gen's and this particular year carries an added attachment for me as my first vehicle was an '88 Ranger. Had some good times in that truck. The Bronco II looks good in the 1st picture but has some rust starting that I promised myself I'd take care of before driving it and before it gets too bad to fix. The Ranger still runs like a champ and I've been driving it for 10 years already so what's another few months, right? This is my first experience with bodywork so bear with me and no doubt there will be questions.
Already collected are new fenders, bumper, & door pins from Jeff's Bronco Graveyard, lund visor, spare tire cover, 4x4 Off Road decals ($70 each direct from Ford and I almost cried), and pinstriping. Ford OEM pinstriping has long since been discontinued but 3M makes a large variety of sizes and colors. The closest match for the high double stripe is 3/16" Elite Tan (72017). The lower one has to be made from 2 stripes: 1/4" Bright Gold (72699) and 1/2" Bright Gold (72799). They come in 150' rolls so I'll have extra in case the truck needs bodywork in the future. (edit: The 1/2" striping could not make the turns around the wheels so I ended up using 1/4" for both.)
The 4x4 Off Road and Eddie Bauer decals actually aren't stock per the original sales brochure (they were added by a previous owner) but I like them so much that they'll be incorporated into the restoration. I would highly recommend that anyone interested in restoring their B2 try to source a sales brochure. It's got loads of useful information like color swatches, factory options, etc.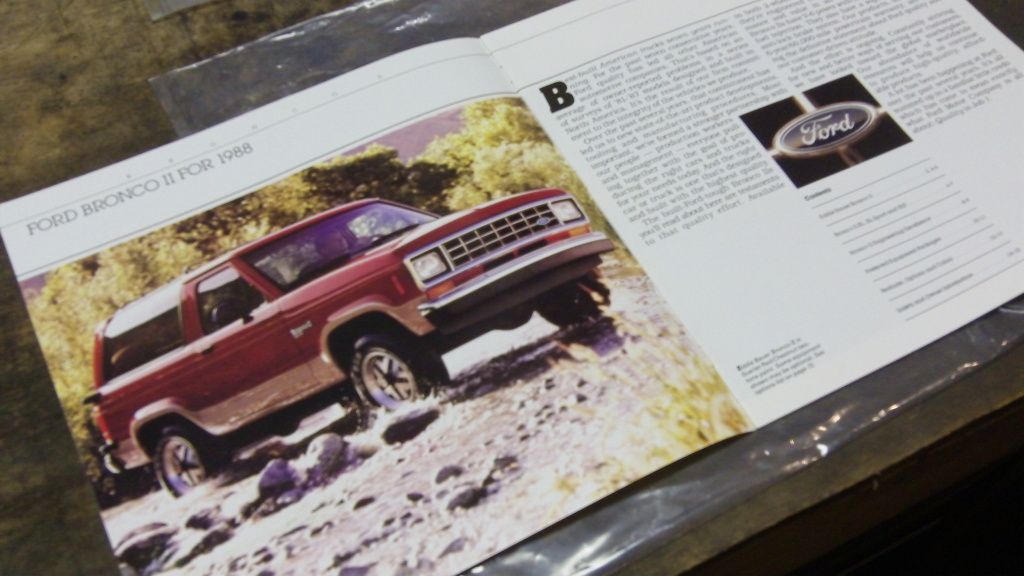 Update: 6 months later and it's all finished!
Here's the list of what I did:
- Complete body restoration
- New bumper and fenders from Jeff's Bronco Graveyard
- New emblems/decals/pinstriping
- Added Lund Visor
- Added luggage rack
- Fuel sending unit
- Battery
- Trailer wiring package
- Reconditioned interior
- Rebuilt original driver seat
- Pioneer sound system
Last edited: