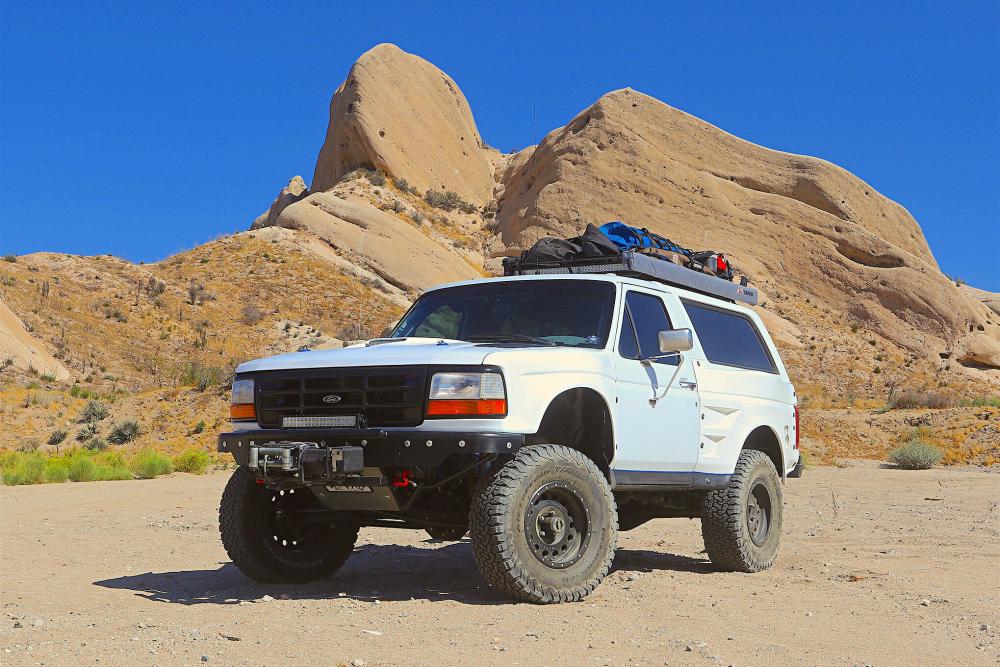 Do Ford Bronco's make the best adventure vehicles? Kevin Kilpatrick seems to think so. His 1995 Ford Bronco 4×4 is equipped with a prerunner suspension, full rollcage, and boxes full of parts and tools.
Solo Motorsports built the suspension that adorns the Ford. Their Stage 4 system gives the Bronco plenty of ability for the moderate speeds that Kilpatrick plans to achieve. Way more than moderate is actually no problem for the system, as King shocks and Deaver springs attach to the Solo long-travel system. Up front, the King's are 2.5 coilover and triple bypass units with Solo Motorsports Dana 44 TTB axle beams. The beams widen out the Bronco an additional 4.5 inches over stock.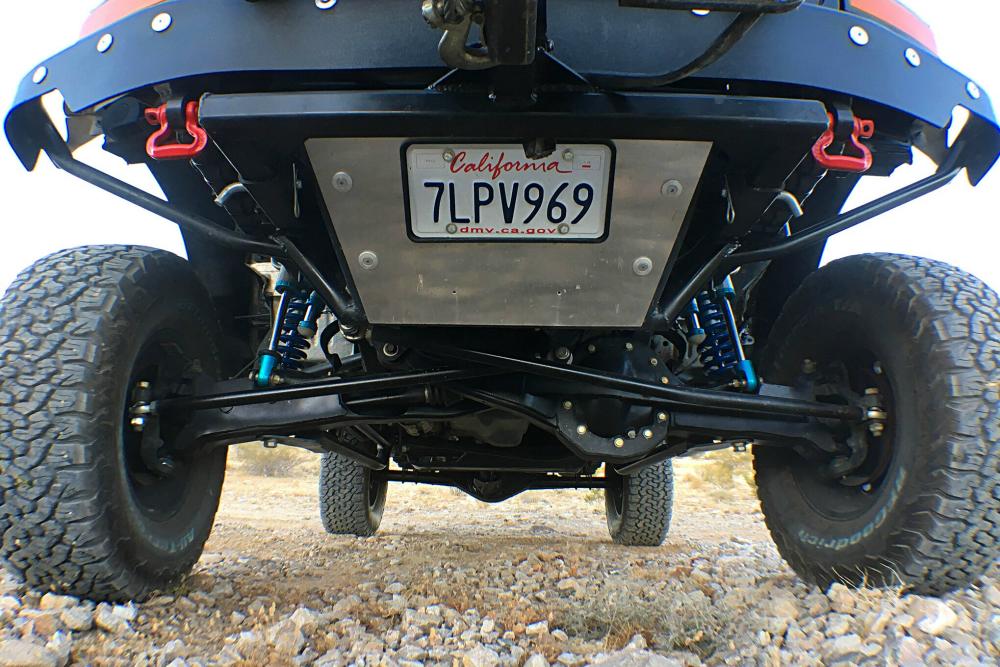 The Solo Stage 4 rear features Deaver springs and trailing arms along with all the hardware. The shocks used are King 2.5 bypass units. Wheel travel is enough that Solo considers this system perfect for either prerunning or hard-core chase duties, so it'll do everything this Bronco owner is looking to be driving on. The rearend that the suspension controls is a Ford 9-inch that Quick Performance worked on so it's as rugged as the rest of the truck. They used 4.88 gears and widened it out to match the front end.
Solo also completely caged the vehicle and tied the suspension system into it. The braking system is the factory Ford discs, so obtaining pads wont be a problem when on the road.
The rolling hardware won't be a problem either as 35-inch BFG KO2's (35×12.5×17) are the rubber that meets the off-road. Baja proven, the BFG's are mounted to equally Baja-winning 17-inch Method "Hole" wheels. This combination is as tough as they come — just what Kilpatrick is counting on when he's out wheeling the backcountry.
One area where Kilpatrick figured stock is better is with the Ford 5.0 engine. Sure, he had Wayne's Engine in Riverside, California, rebuild it, and he added a K&N air cleaner, some JB Headers and a MagnaFlow muffler/exhaust system, but it's not some temperamental, high-horsepower powerplant. It provides around 190 reliable horses to get him up and over obstacles, but it'll also get him to the next town wherever that may be, and not guzzle a lot of fuel while doing it. The Ford E4OD transmission is cooled with a Flex-a-lite trans cooler.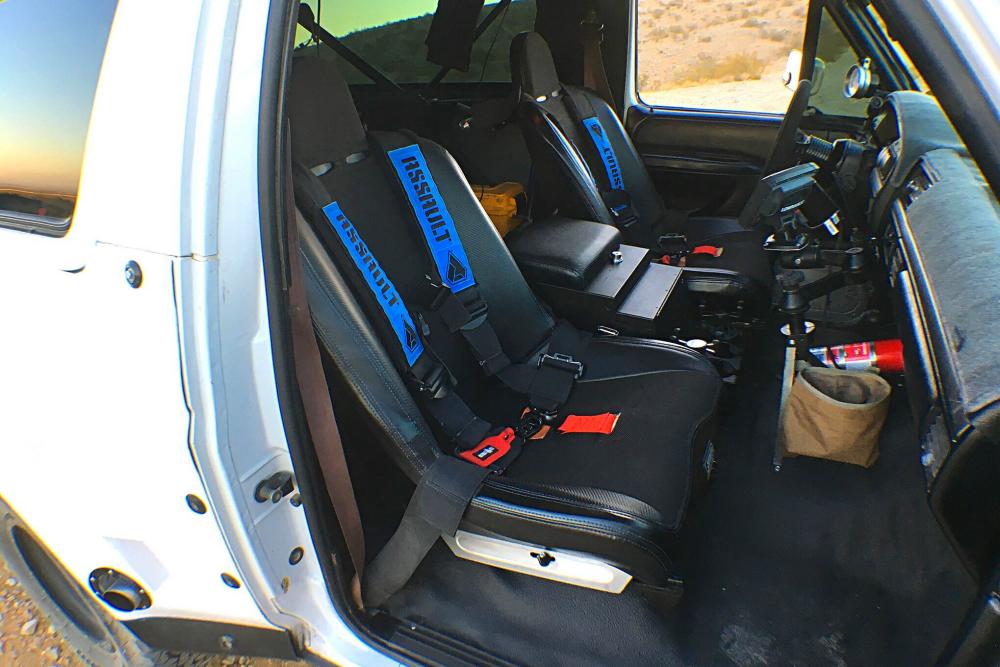 Kilpatrick knew that the Bronco had to be comfortable with long miles on and off road, and by that we mean he and his wife needed to be comfortable, so he went with a Grant steering wheel, custom PRP seats, along with sets of Assault UTV five-point harnesses so he could be safe too.
With a long road ahead, he added some more things he knew he'd need, such as a Lowrance GPS unit, a Rugged Radio intercom and radio system, and Auto Meter instruments. He didn't think he'd need a fresh air system per se, as there is air-conditioning, which we think is even better!
The Bronco still looks like a Bronco, only better. The stock Ford body has been enhanced with a McNeil Racing fiberglass hood and front fenders as well as bedsides. With the long-travel suspension, they give the wheels plenty of room to articulate. The entire thing has been painted white so the hot desert sun won't be a problem. When that sun goes down, there are twin Lifetime LED lightbars to provide plenty of artificial light.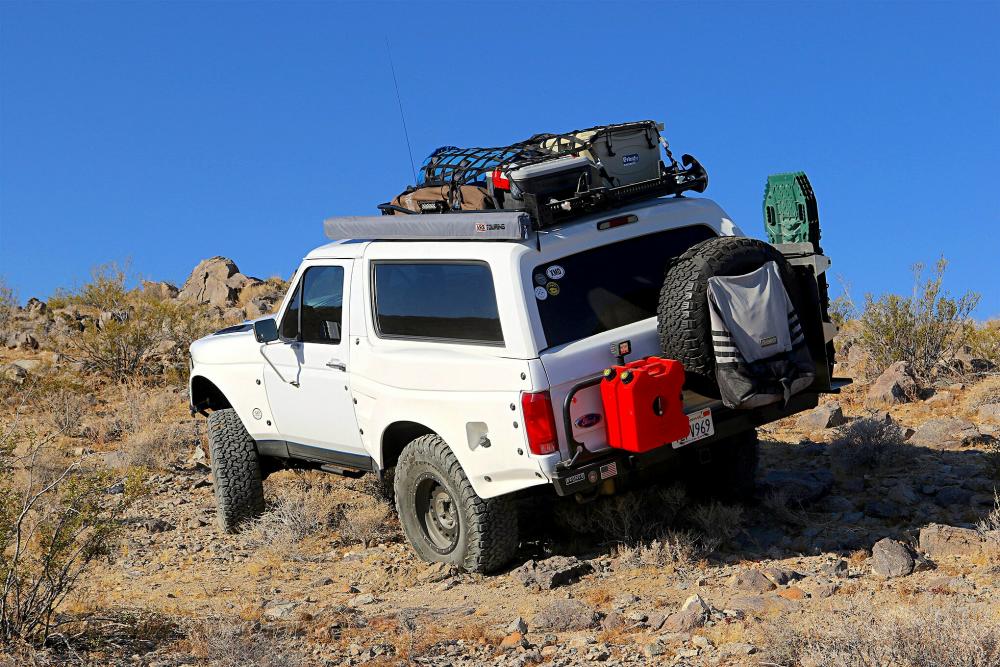 Kilpatrick also mounted a roof rack that in addition to an ARB roll out cover, there's plenty of room for all the things he carries when out with his Bronco. There are boxes, tools, jacks, and a probably a kitchen sink up there too. But he won't be left out in the cold when trouble comes. There's another rack mounted to the back hatch with more items such as a quartet of traction ramps, a spare tire, a pair of fuel jugs and even a Trasharoo garbage bag, because Kilpatrick knows that you should take out everything you took in.
Doing most of the mods himself, Kilpatrick is confident that when he leaves his Upland, California, home for the wild open road, he has the vehicle that will take him anywhere, and the ability to ensure if something does go wrong, he has the know-how to get his Bronco going again.
Resource:
More Photos:
Click the photos to enlarge.