This 1996 Ford Bronco was built for James Edwards by the crew at Solo Motorsports in Covina, California to possibly be the best all-around overland adventure/chase vehicle available to the average off-roader.
The Bronco has plenty of suspension travel. Utilizing a Solo Motorsports Stage 6 'Trophy' long travel front-end kit that has cut, turned, and extended the system that's now 9 inches wider (4.5 inch per side) than stock. A Howe Performance steering system gets the front end to turn properly, while this system features a pair of King shocks per side. The Kings are what is fast becoming the "usual setup" for any high-performance off-road vehicle: a reservoir-equipped 2.5 coilover and a multi-bypass shock. Front wheel travel is around 19 inches of pure bliss.
For the rear, it has a long-travel four-link that Solo calls their W-I-Y Bronco Short Course style four-link kit. It uses "Canoe-style" lower links that hold the Currie 9-inch rearend in place that gives the wheelbase an increase of a few inches too. Again, the shocks of choice are King, and it's a set of 2.5 reservoir-equipped coilovers and 2.5 double-bypass shocks taking the big hits in stride, providing plenty of plush for the nearly 24 inches of wheel travel.
Before we forget, the Currie 9-inch utilizes 4:88 gears and the rear disc brakes are Wilwood units that feature slotted discs and four-puck calipers.
With the huge amount of wheel travel and space provided by the Solo suspension, there's plenty of room for the rugged 37-inch-tall BFGoodrich KO2 tires. Known for their Baja-winning toughness, Method Race Wheels NV's were the natural choice for pairing with the equally race-winning BFGs.
Solo Motorsports is a one-stop shop when it comes to building a Bronco that has it all. They, of course, did the suspension, but they also build the full cage as well as the steel bumpers and roof rack. They did the fiberglass fenders as well, and had a local shop apply the gray exterior paintjob.
Speaking of the rack and bumpers, Solo used a host of GG Lighting lightbars to keep the wilds at bay even on the darkest desert night. The interior is capable and comfortable even with the full rollcage, taking up quite a bit of the available space. Much of it was left stock, but there are PRP seats to encase the occupants, and PRP harnesses keeps to keep them safely in place. A custom, Solo-produced center console houses an Art Carr shifter and other items, such as a Lowrance GPS unit and the Kenwood/Rugged Radios communication systems. A switch panel controls the various electrical things, and there's even a pair of cupholders!
Though stock, the 5.0L engine is more than up for the task of getting the Bronco up and over the hills. A set of Flowmaster mufflers were added and the tubes are new due to the highly modified suspension system.
When Edwards went to Solo to have them build his Bronco, he knew that he'd be spending time hitting the trail with his family, so he wanted it to be safe as well as fun. He wanted it to be reliable as well as capable. We think that he got what be paid for. As a Mortgage banker, he knows the worth of a dollar, and the equity of this Bronco is going up, big time.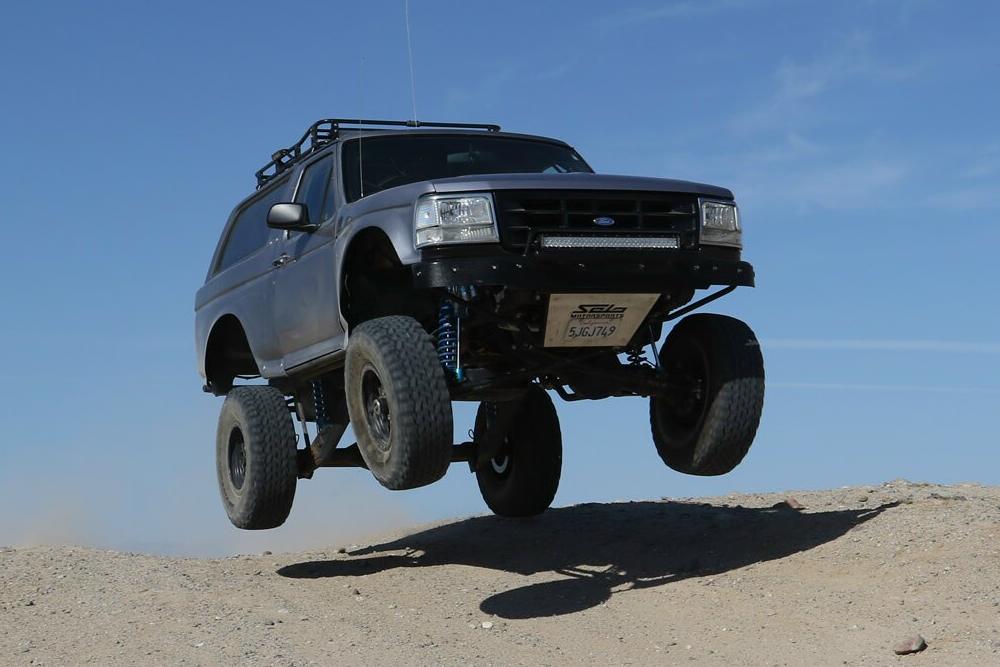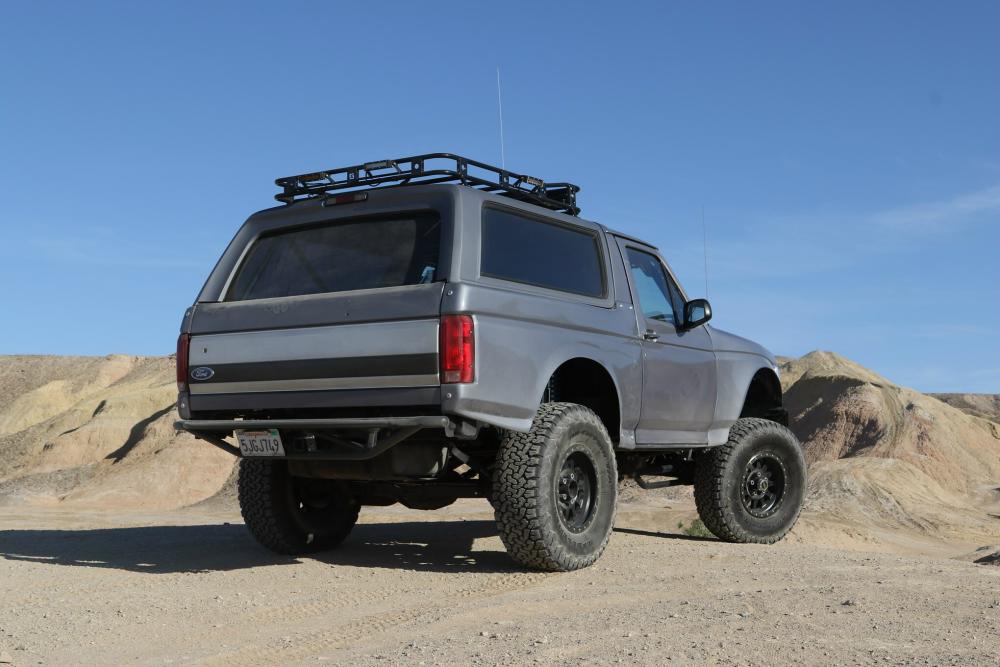 Resource: MotorTrend.com
More Photos: