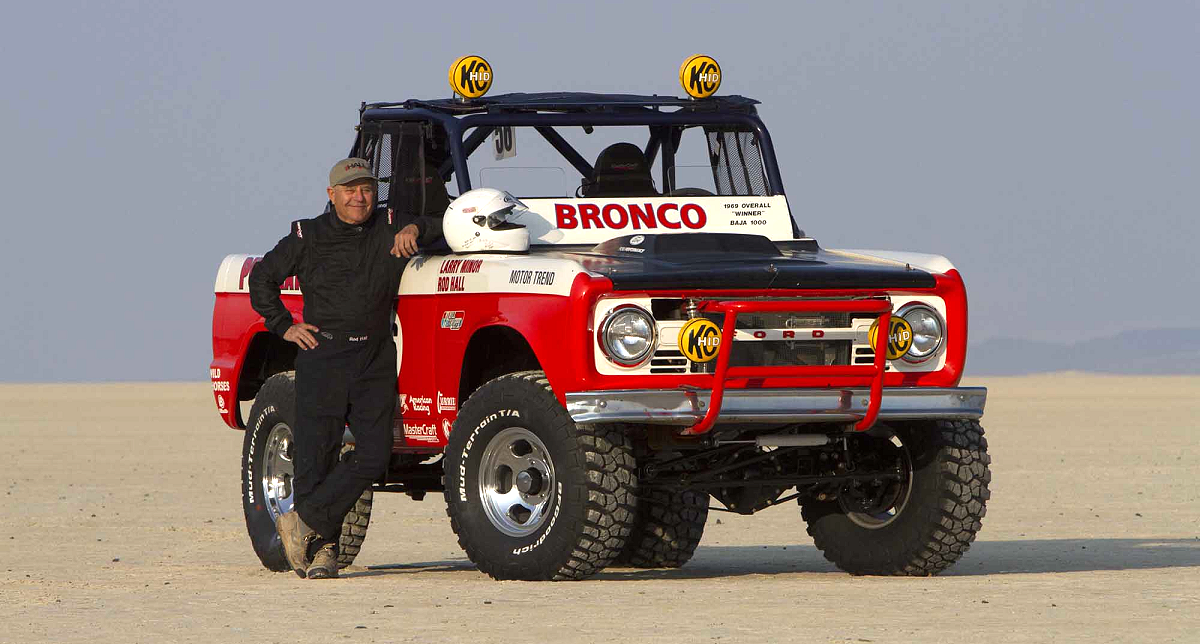 Rod Hall's 1969 Ford Bronco has got to be one of the most famous Bronco's in history. In 1969, Rod Hall pulled up to the starting line of the National Off-Road Racing Association (NORRA) Mexican 1000 (Now the SCORE International Baja 1000) in a Bill Stroppe Ford Bronco. This wasn't Hall's first desert race. Rod raced the 1967 and 1968 events in a Jeep CJ-5, but this time he and teammate Larry Minor were determined to finish at the top of the podium. When the dust settled in La Paz, they had won both their class and the overall Mexican 1000. Hall raced in the first (50) Baja 1000 races with his final start in 2017 when he was nearly 80 years old. He remains the only driver to win Baja overall in a 4-wheel-drive vehicle, and the only racer to have competed in every Baja 1000 in a 4-wheeled vehicle from its beginning to 2017.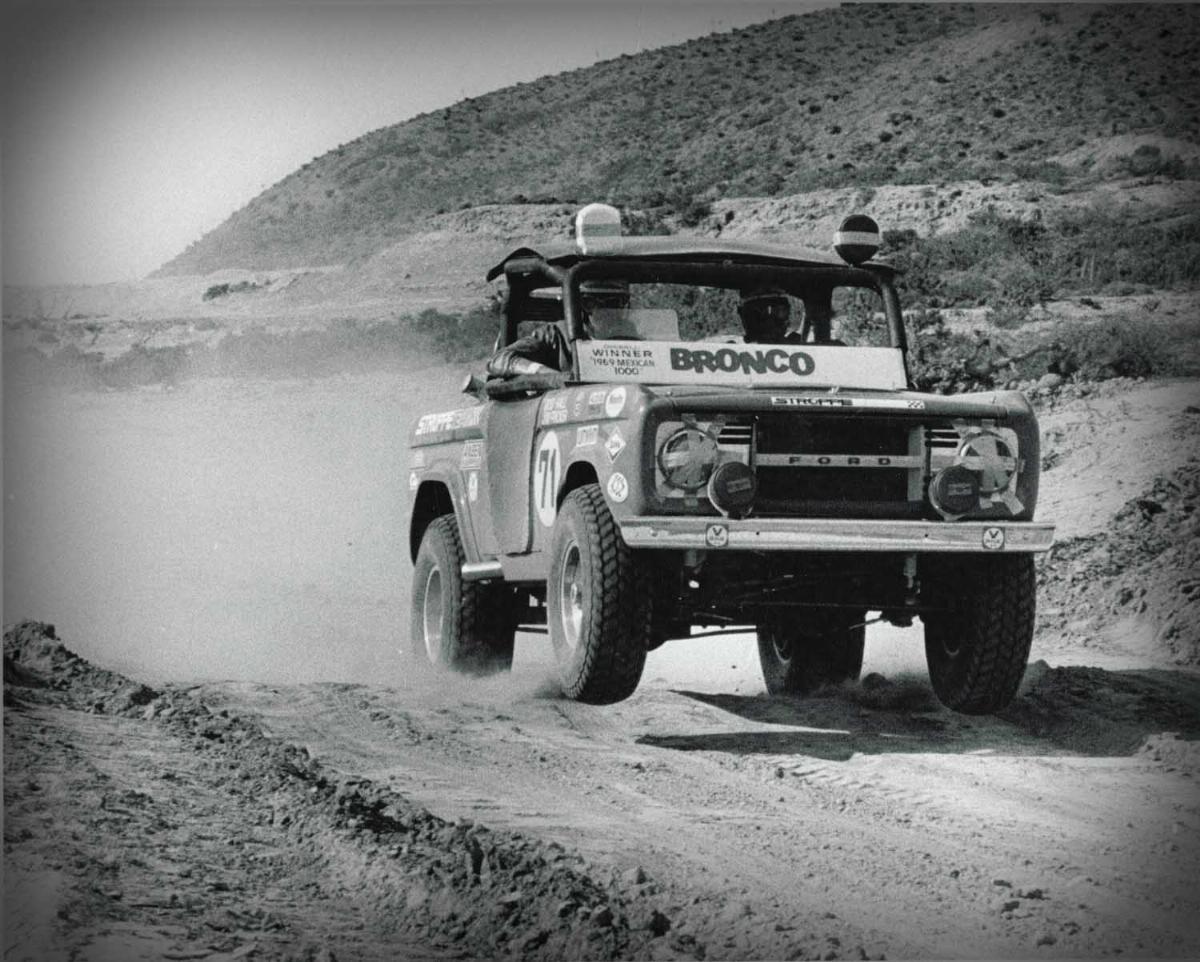 Rod Hall's string of 35 consecutive race wins in the early 1980's remains the longest unbroken string of race victories in off-road racing history. He competed in 50 straight Baja 1000 races, and had class wins in 25 of them. Hall's 160+ major event wins makes him one of the most successful off-road racers of all time.
Rod Hall died on June 14, 2019 at 81 years old. Former SCORE owner Sal Fish said, "Rod Hall was one of the founding fathers of desert racing and certainly a major pillar in the history of SCORE desert racing. Rod was one of the elite racers for over 40 years but he always maintained his humble personality and was as approachable, as friendly and as open with a handshake and a friendly smile as the first time I met him when I did a little racing back in 1969."
Rod Hall may be gone, but his 1968 Ford Bronco lives on. At some point the Bronco was sold, raced, resold, and then retired to a Barstow, California junkyard. Around 1999, restaurant owner Gale Pike spotted the Bronco's roll cage poking out of the sand, and recognized it as a Stroppe creation. He purchased the forsaken truck for $5,000, gave it a fresh paint job, and placed it on display in front of a local Denny's. When the Off-Road Motorsports Hall of Fame (ORMHOF) museum in Reno, Nevada was opened in 2002, Pike donated it to the museum for public display.
In early 2015, the old stallion was pulled from the museum, carted over to Samco Fabrication for a full restoration, and prepped to race the 2016 Mexican 1000.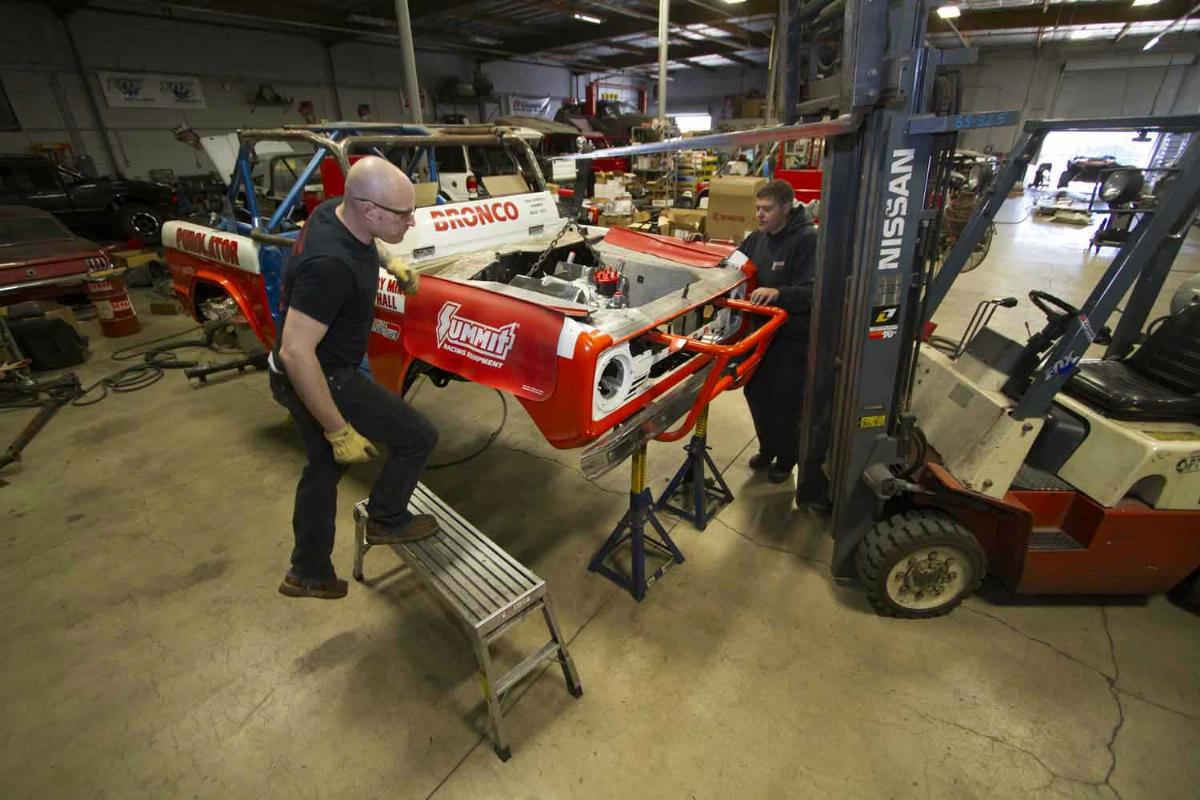 Rod Hall had some simple instructions: "Bring it back to how it was when I raced it in 1969. Above all it needs to be reliable. We have to first finish to finish first."
Project manager Alex Baker drafted a list of products that would survive the hardships of a 1,300-mile desert race and began stripping the Bronco down to its frame.
Under the hood is a Ford Racing 347-cubic-inch, 350-horsepower sealed crate engine capped with a Holley 650 cfm Ultra XP carburetor and a K&N air filter. An MSD 6ALN ignition and Blaster 2 coil supply the spark. Milodon supplied the oiling system. The exhaust consists of a pair of Hedman Elite headers, a pair of Flowmaster Super 10 mufflers, and some Walker U-bends. A Griffin four-core radiator and a Flex-a-lite flex fan tackle the cooling duties. All in all, a simple and reliable powerplant.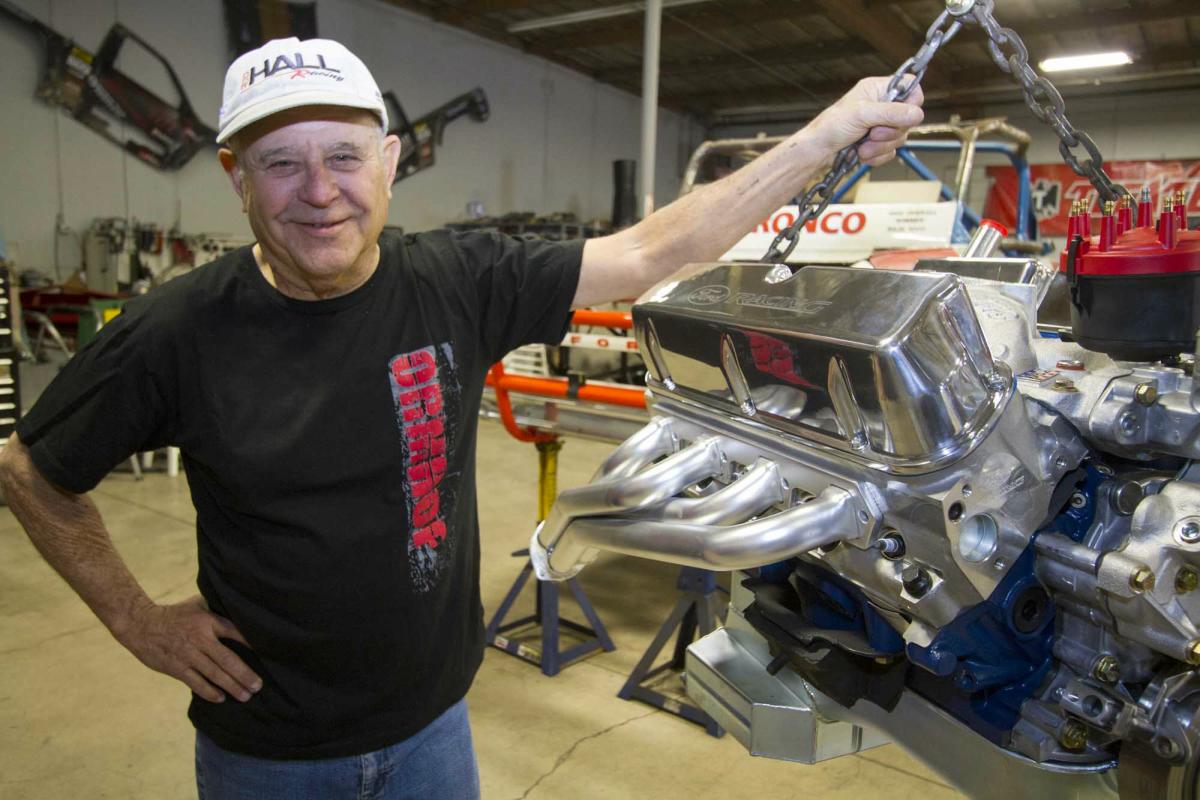 Legendary transmission builder Steve Culhane worked over the C-4 slush box and hooked it to a Performance Automatic 2,800 rpm stall torque converter. Bayshore Truck rebuilt the Dana 20 transfer case and driveline. The original Ford 9-inch rear axle was bent, but Samco managed to save the housing and fitted the axle with a spool, Motive Gear 4.56:1 cogs, and 35-spline axles from Currie Enterprises. The Dana 44 front axle got Motive Gear 4.56 gears, a Spicer open differential, Currie replacement shafts, and new disc brakes.
When asked about the suspension, Hall laughed. "We knew exactly how to build trucks back then—use the stiffest springs we could find and add a bunch of shocks so the suspension didn't flex at all!"
Samco kept the original suspension configuration and attachment points, but deviated from the stiff-as-a-board mantra with a Wild Horses four-inch lift suspension and Fox Performance Series 2.0 IFP monotube shocks at each corner. Heavy-duty two-inch limiting straps from MasterCraft Safety control axle droop.
Aluminum slot mags were the hot setup back in the 1960s, even for desert racing. After scanning the Internet, Alex Baker found American Racing Wheels Ansen Sprints, a near-perfect match to the Bronco's original wheels. BFGoodrich, one of Hall's long-standing sponsors, provided a set of Mud-Terrain KM2 tires.
Baker and his crew rewired and plumbed the entire vehicle. New Auto Meter gauges replaced the dysfunctional plugs on the dash, and KC HiLiTES HIDs were fitted up top and on the front bumper hoop. The interior is trimmed in Ford Blue and features MasterCraft Pro 4 seats, five-point harnesses, and window nets.
Two weeks after the Bronco was complete, a 78 year-old Hall climbed behind the wheel with co-driver/granddaughter Shelby Hall in Ensenada, Mexico for another charge down the Baja peninsula. When the dust settled in San José del Cabo after traversing 1,300 miles of Baja's best, Rod and Shelby finished second in their class.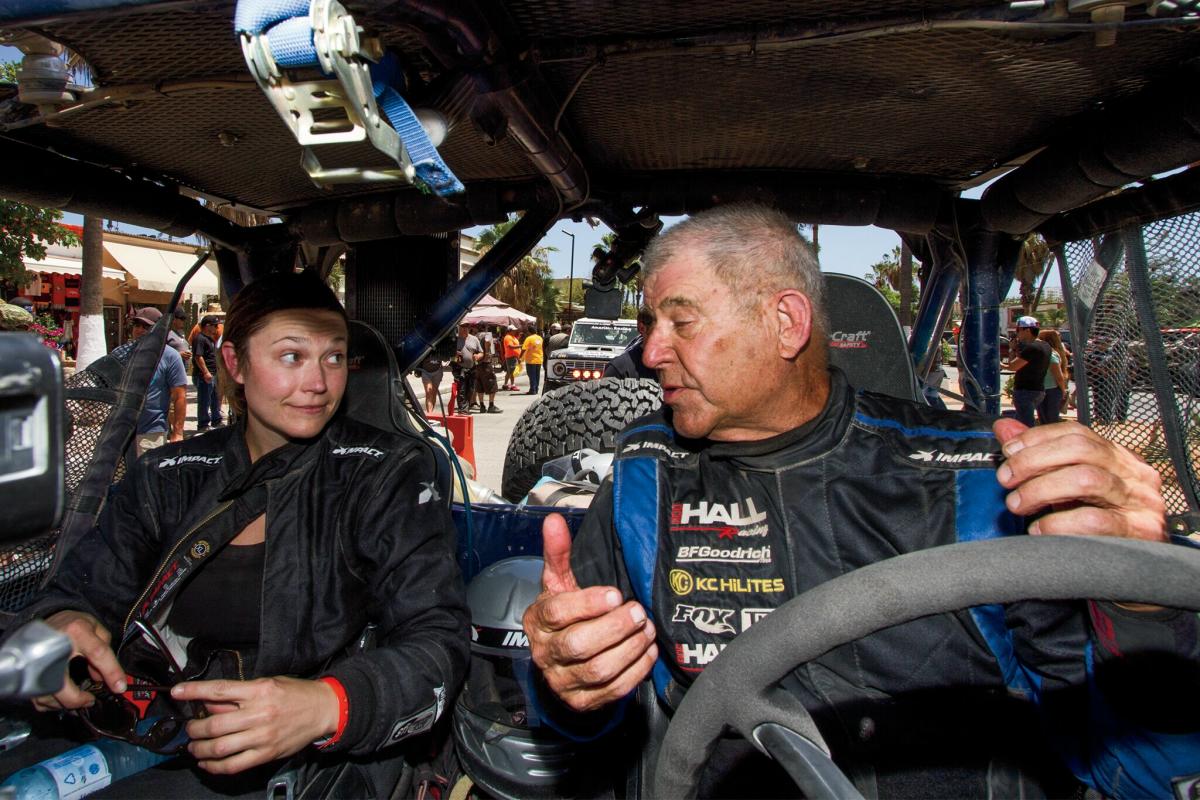 In 2017, Shelby Hall and Amy Lerner took 3rd place in the Ford Bronco at the Mint 400. "I am very proud of Shelby and Amy's third-place finish. I have been training Shelby since she was 4, and it was time for me to turn over the reins," said Rod Hall. "She is ready now to do her own racing, and can stand out above the crowd. She is very important to my racing legacy."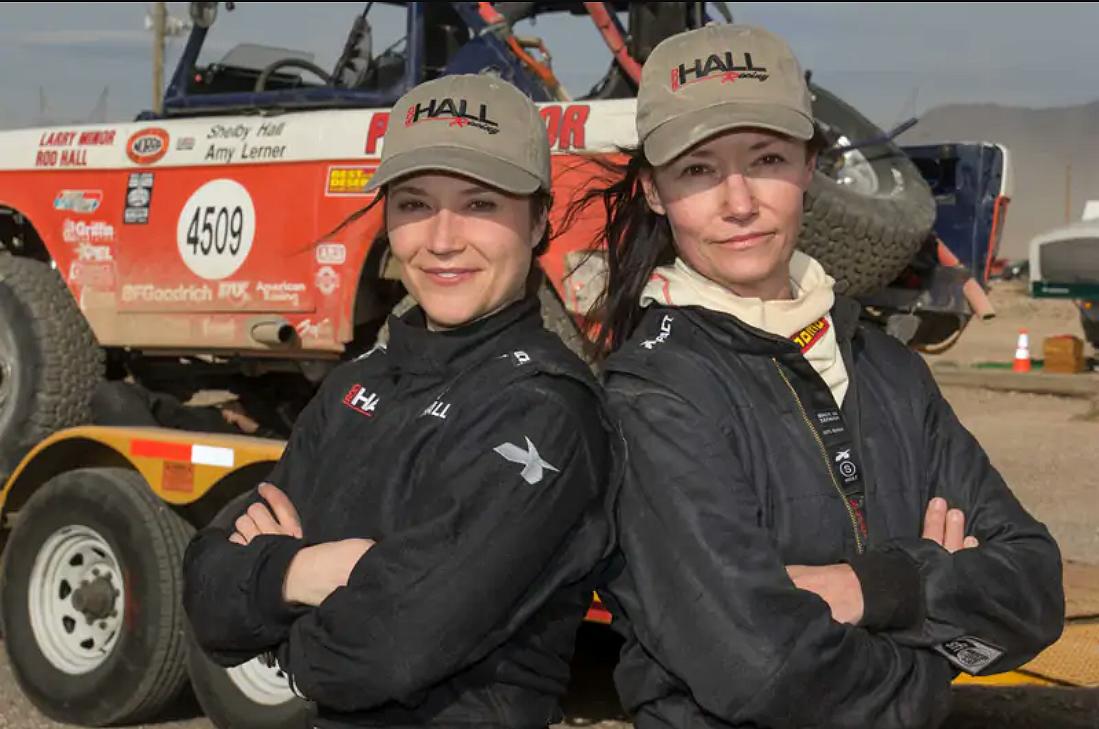 Links
Videos:
More Photos:
Click the photos to enlarge.