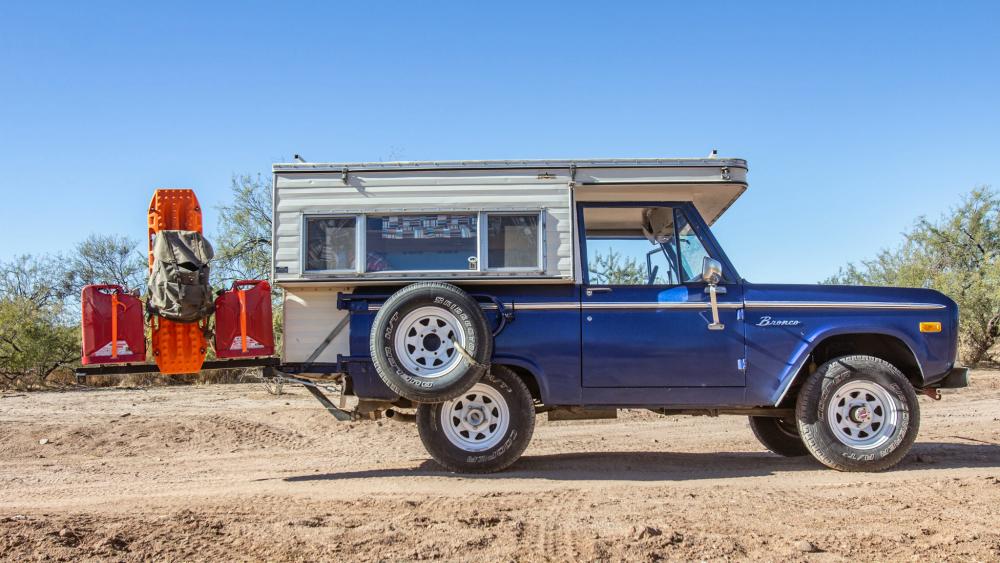 With all the excitement over the new 2021 Ford Bronco and the growing interests in overlanding and adventure travel, I occasionally find myself looking for examples of early Ford Bronco's being been used for adventures.
This 1967 Ford Bronco is owned by Bob DuBois and is fitted with a Four Wheel Campers pop-up camper. This camper was added in 1979, and is the Bronco's only major upgrade.
The only suspension modifications have been a set of cheap shocks and a set of 235/75R15 Cooper Discoverer A/T3 tires mounted on some white wagon wheels.
The Bronco is still powered by the original 302 cid. One of the few drawbacks of the Bronco's setup is the fuel range, which Bob remedies with his dual 5-gallon fuel cans mounted to a swing out carrier on the rear of the Bronco. The carrier also carries a set of recovery boards in the event Bob should get stuck. A pair of 6-inch KC Daylighters are mounted on the front bumper to light up the night.
The Bronco sees regular trips into the Bighorn and Beartooth mountains in Wyoming as well as the annual Relic Run. The Four Wheeler Camper makes the perfect basecamp for Bob, his wife, and their dog on those trips.
Link:
In case your wondering, Four Wheel Campers have been around since 1972. You can learn more about their campers at https://fourwheelcampers.com/
More Photos
Click the photos to enlarge.