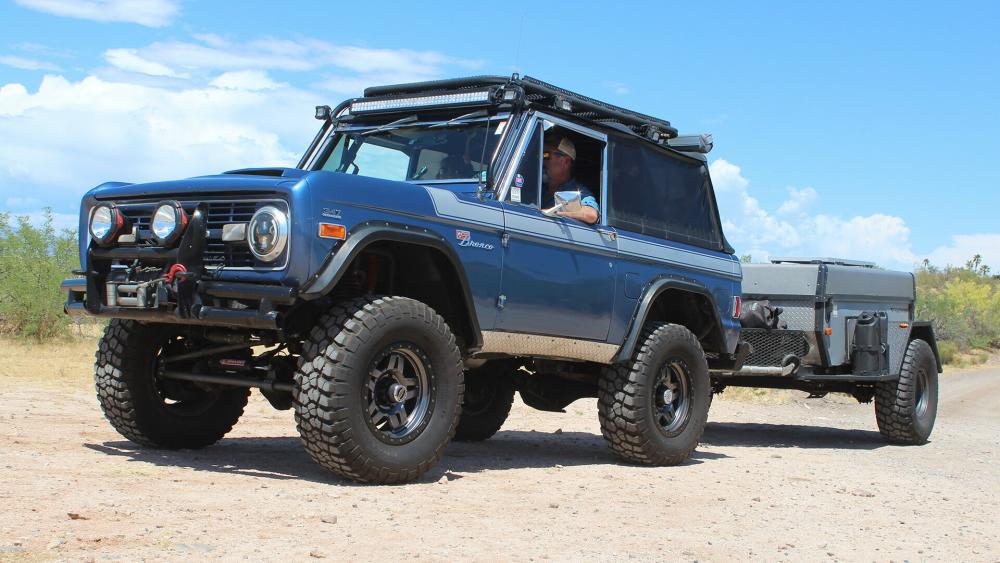 Paul Perry has always loved exploring dirt roads and finding out where they led to, or following power lines as far as they could. Paul built this 1977 Ford Bronco as a daily driver, tow vehicle for his small camper, as well as an off-roader and rock crawler.
Under the hood resides a stroked Ford 302 that makes about 383 horses and 402 lb-ft of torque. It has a Comp Cams Xtreme Energy XE266HR cam with .544 lift, 4.030×3.400 bore and stroke, and compression ratio of 9.60:1. The machine work was by Lick Creek Restorations in Virginia. Along with an HEI distributor is a triple-pass copper radiator and Ford GT40P heads. Single exhaust is via shorty headers. A FiTech fuel injection helps keep the engine running smoothly when rock crawling.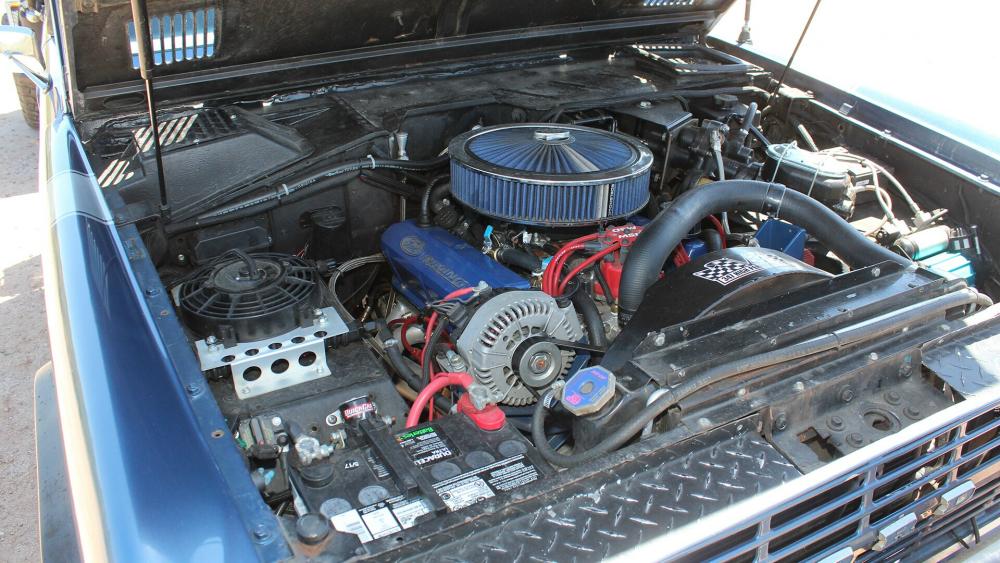 Paul swapped out the 3-speed transmission for a 4R70W with overdrive linked to a US shift computer. There's a remote transmission cooler for towing. It was an upgrade he didn't expect would be such an improvement for both highway speeds and crawling at slow speeds. Paul was able to save up some money and eventually purchased an Advance Adapters Atlas 4 four-speed T-case. The added control, the low gears make ascending and descending steep hills seem effortless.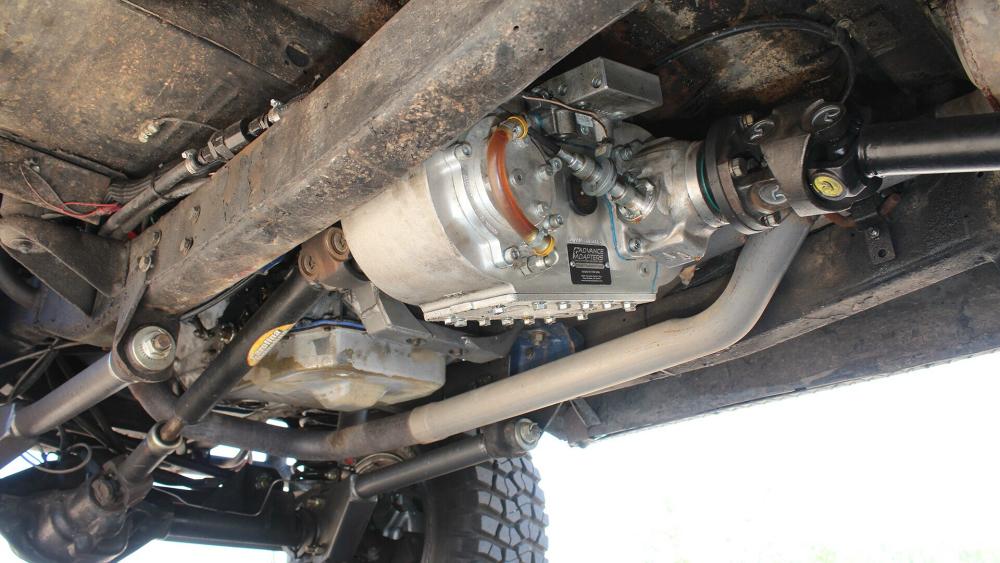 Paul added heated seats, Vintage Air A/C, cruise control, Jensen head unit and speakers, Tuffy center console, Garmin GPS, Cobra CB, and a dash-mounted Rugged Radio to make the drive more comfortable. The front has new bucket seats, but the rear still has the factory bench.
The suspension consists of James Duff radius arms, Rancho RS9000XL and adjustable shocks. The steering system includes a drop pitman arm, Heim-jointed linkage, ram hydraulic assist, and a Rancho stabilizer. Braking comes via the factory front discs and rear drums, plus hydro-boost. The fuel tank was upgraded to 22 gallons. The Ford 9-Inch rear axle is equipped with Warn full-floating rear axle kit, 4.88 gears, and an ARB air locker.
Paul got the matte Anthracite MHT Fuel Off-Road wheels wrapped in BFGoodrich KM2s. The camper's tire/wheel combo matches, as he wanted to be able to use the Bronco's spare on the camper.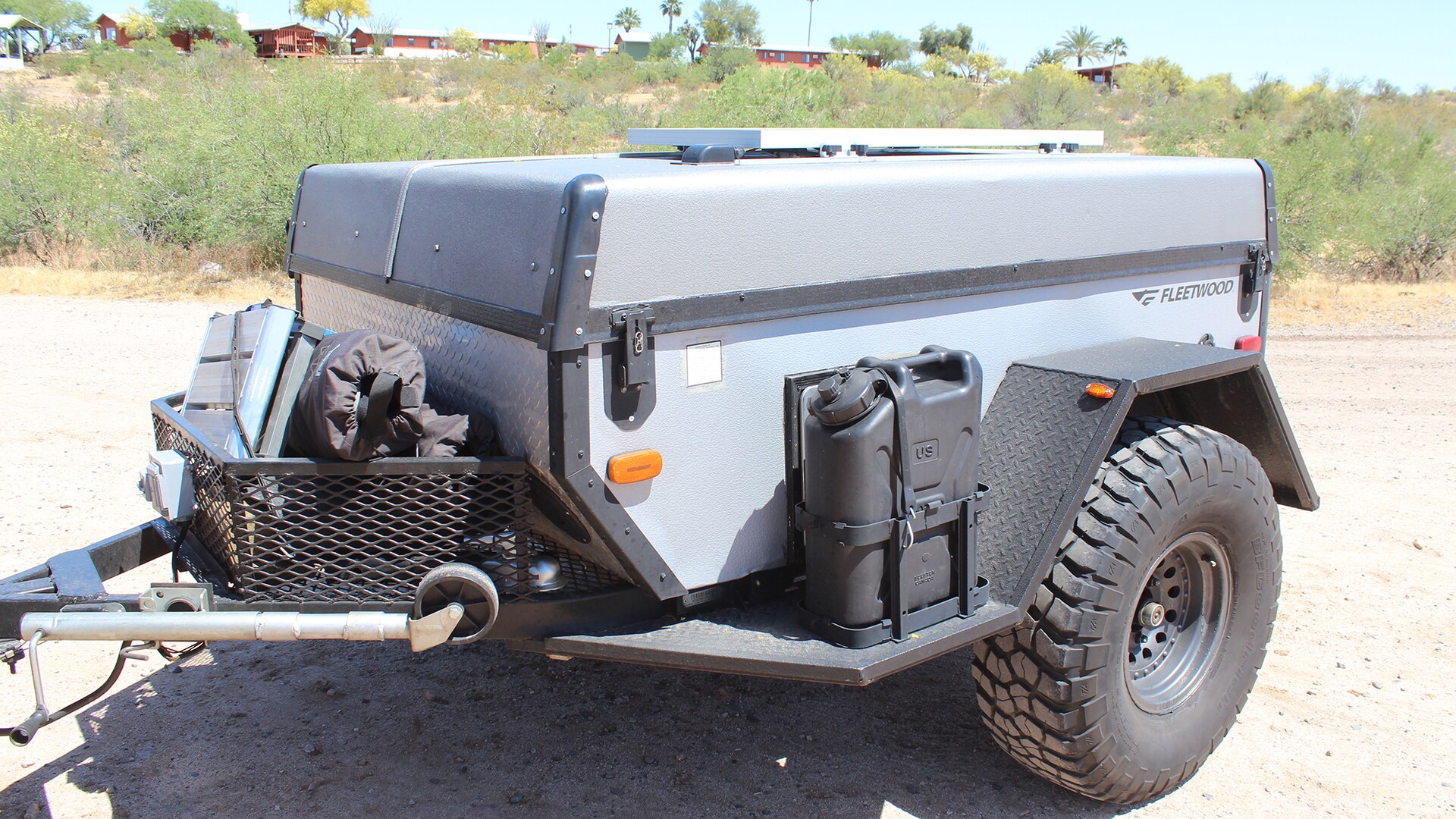 The 2006 Fleetwood Neon Element camper got an off-road/overland functionality overhaul. He yanked the lightweight factory axle and replaced it with a larger axle with trailer brakes for the big rubber, and there are leveling jacks at each corner. He also repaired small holes in the roof and sprayed the top with Line-X bedliner, which is color-matched to the camper. He built fenders to cover the larger tires and also to hold a five-gallon water can on either side. He added an articulating hitch, air conditioner under the bench seat, and heater for winter, which is connected to a small, external propane bottle mounted on the fender. Two deep-cycle batteries are linked to a 3,000-watt inverter, and solar panels on the roof link a Victron Energy MPPT solar charger to the battery pack. He monitors charging and battery levels through an app on his phone. An ARB awning provides shelter from bad weather and shade from the sun.
The custom roof rack allows Paul to carry his kayak and gear while the Rampage soft top allows him to zip out the side and rear windows. He ended up cutting four holes in the soft top and mounting the roof rack directly through the top to the 6-point rollcage.
The front bumper houses a Warn XD9000i winch and an ARB kinetic strap, shackles, Hi-Lift jack, onboard air via Power Tank, and other survival and recovery equipment helps keep the Bronco from getting stranded.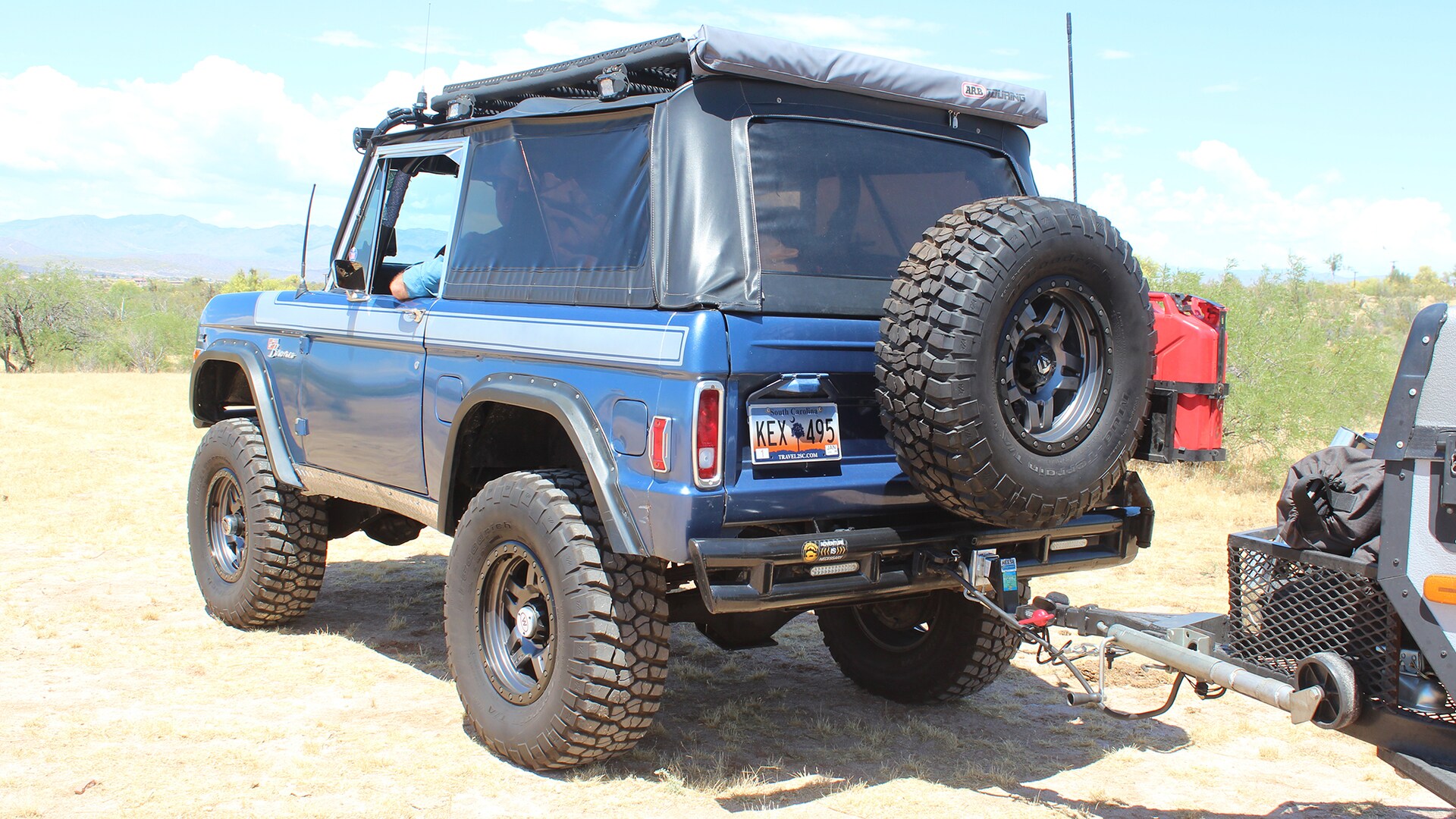 More Photos:
Click the photos to enlarge.