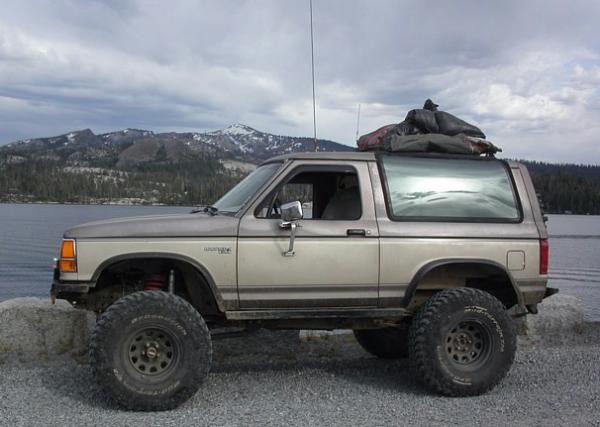 At the Bronco II Corral, we're interested in doing more with our rigs than just hitting the trails a few Saturdays out of year. The 1990 Bronco II you see here is owned and built by long time TRS (TheRangerStation.com) staff member 4x4Junkie. It's designed to not only traverse difficult trails, but to allow him to travel to remote locations and stay there for days.
Suspension & Drivetrain: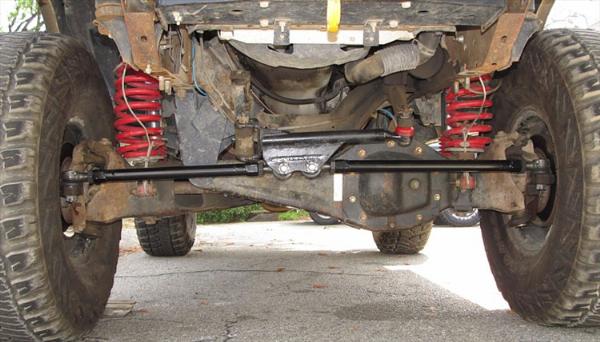 (Dana 35, Skyjacker JC60F Jeep Cherokee coil springs, and Superlift Superunner steering linkage)
In order to handle the difficult terrain, the stock Dana 28 and 7.5-Inch axles were replaced with a Dana 35 and 31-Spline 8.8-Inch axle (with disc brakes) from a Ford Explorer. Both axles are equipped with 5.13 gears and ARB air lockers.
The front springs were replaced with Skyjacker JC60F coil springs intended for a Jeep Cherokee. They give the Bronco II lift and allow it to flex more than it would with Bronco II springs. The upper coil spring mounts were raised, so the Bronco II only has 3-inches of lift versus the 5-inches the springs should have given it. Rancho suspension brackets drop the mounting points to compensate for the lift. The stock radius arms were modified and extended to help increase wheel travel and ride quality.
The front shocks are Fox 2.0 12-inch travel shocks on F-250 mounts. The shock and spring setup allows the Bronco II to have a lot of flex / wheel travel, without making it overly tall and unstable.
The steering has been upgraded with Superunner steering linkage from Superlift (beefed up even more by 4x4Junkie).
The front suspension has a limit cable to prevent the front suspension from unloading on steep hill climbs.
The rear suspension uses Skyjacker FR34 leaf springs and Fox 2.0 shocks.
The wheelbase has been stretched from 94-inches to 98-inches (3-inch rear / 1-inch front) to improve it's off-road ability.
A 2-inch bodylift, trimmed fenders, and Pacer fender flares work to make room for 35×12.50R15 Goodyear Wrangler MT/Rs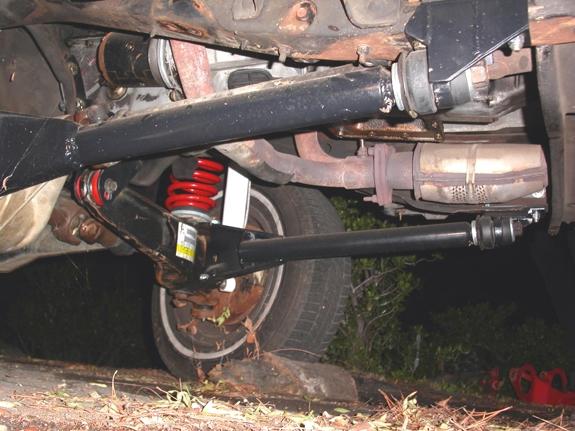 (Custom extended radius arms)
Engine & Transmission: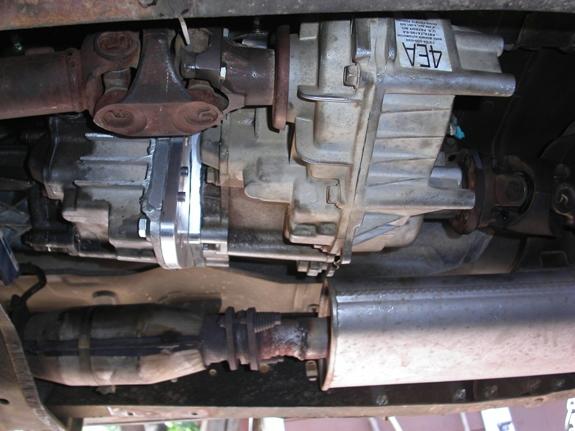 (Dual transfer case)
The stock 2.9L V-6 and 5-Speed was retained, but a dual transfer case was configured to give the Bronco II more crawling power. A D.D. Machine "Box 4 Rocks" doubler kit allows the gear unit from a 2nd BW1350 or BW1354 case to be mated up in front of the existing case. This makes for a 117:1 crawl ratio (3.72 × 2.48 × 2.48 × 5.13 = 117.37).
Other Vehicle Modifications:
Dual batteries were recessed in to the floor under the rear seat.
Fuel tank was raised 2-inches.
Warn M8000 winch with synthetic line.
Rocksliders, custom roll cage & bumpers.
The Camping Setup:
4x4Junkie needed a place to store tools, recovery equipment, and camping equipment, so he built a storage drawer & floor box for easy access.
The whole thing weighs around 80-pounds empty. It uses lightweight rectangle tubing from a broken Ez-Up folding canopy for the drawer and framework. Most of the weight comes from multiple heavy duty ball bearing drawer slides.
Camping Gear Overview:
Food – Cooking:
Edgestar FP430 12-volt fridge.
Coleman propane stove (circa 1986)
Coleman toaster
Tote bin with the interlocking flip-open lid containing:
10″ nonstick fry pan

3-quart nonstick sauce pot with strainer lid

Dixie plates, cups and plastic utensils

Spice holder

Other odds & ends such as can opener, ZipLoc baggies, paper towels, etc.
For large quantities of chilled drinks, 4x4Junkie sometimes brings a separate ice chest (perishable items of course stay in the fridge).
Water is carried in two to four (depending on trip length) 2.5-gallon Arrowhead jugs in their protective box.
Lighting:
Home-made rechargeable LED lantern w/four Cree XM-L soft-white LEDs (2500lumen output, bright like a 150W bulb), and several Clip Lights made with 12-volt MR16 LED floodlamps (each plugs into cig lighter),
A lightweight 16-foot sectional mast is available for mounting the LED floodlights for overhead campsite lighting, which can be mounted to an object 1-2 inches thick (a square-tube vehicle bumper or rockslider, certain wooden picnic tables, etc.)
Power Sources:
Ford 3G alternator swap (95 Amp),
170W portable folding solar panel kit.
Sleeping Gear:
Exxel Outdoors Golden Bear 5-lb-fill oversize bag, and old-skool roll-up foam mats.
Miscellaneous:
Other camping gear includes a 5-gallon Sun Shower, lightweight aluminum folding table, and Macabee folding chair(s).
I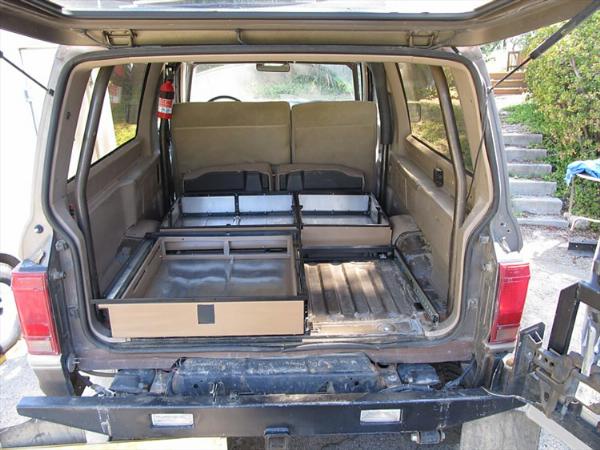 You can see the rollbar inside the truck. The frame work for storage / sleeping platform is in place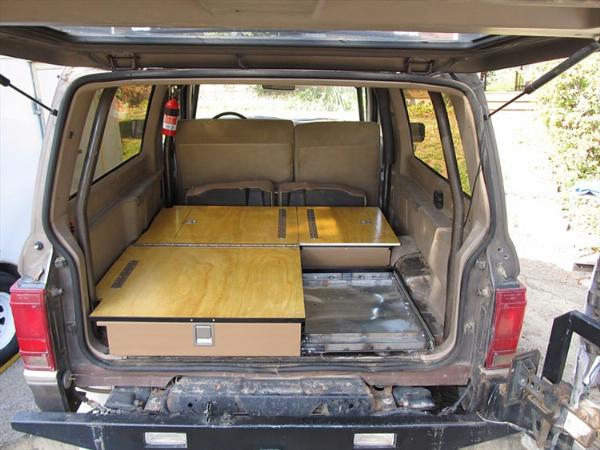 Here you can see the storage boxes completed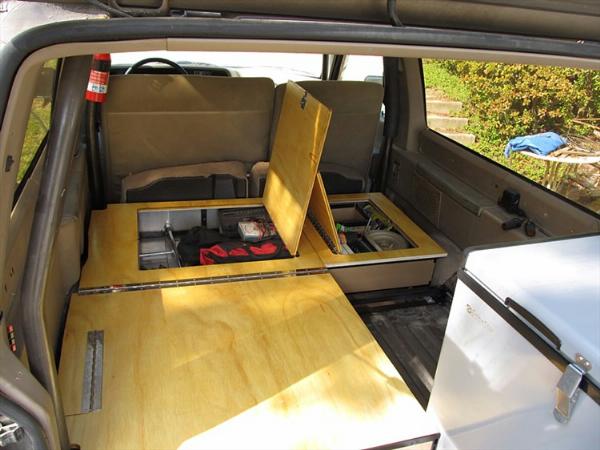 Main drawer + fridge slide which has a pull-out shelf to place items while cooking or for working on other things: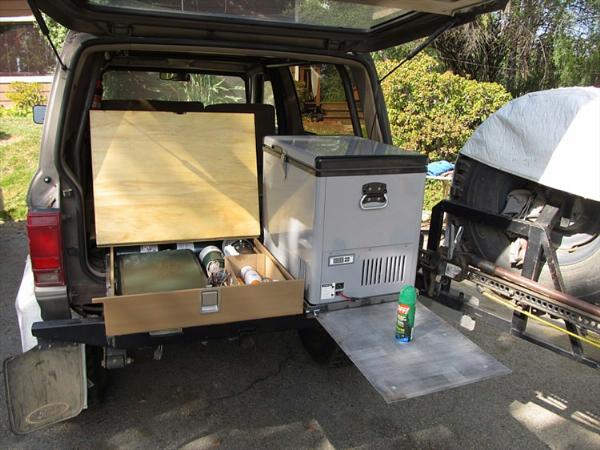 Drawer extends for a sleeping platform.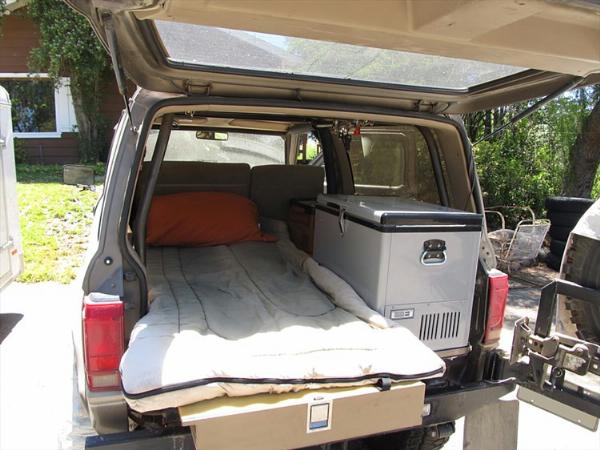 When asked about his sleeping platform sticking out of the rear with the hatch open, 4x4Junkie stated:
The hatch stays cracked, yes. It's been a rare event where I've been in inclement weather, but I do keep a small curtain or tarp on hand with some spring clamps to enclose it just in case (rain that isn't wind-driven doesn't normally get inside without the curtain though). Should be obvious I'm not really into hard-core wet-weather camping lol.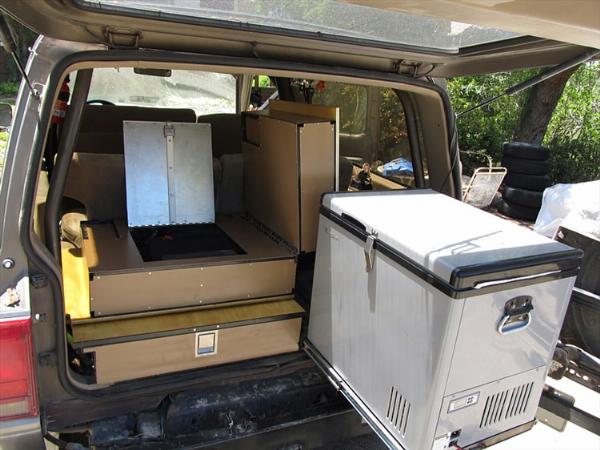 A 12 volt refrigerator sits on a slide platform to allow full access into it, which also has a pull-out shelf to place items during cooking or for working on other stuff (main drawer holds a camp stove, lantern, propane, and some other often-used odds & ends).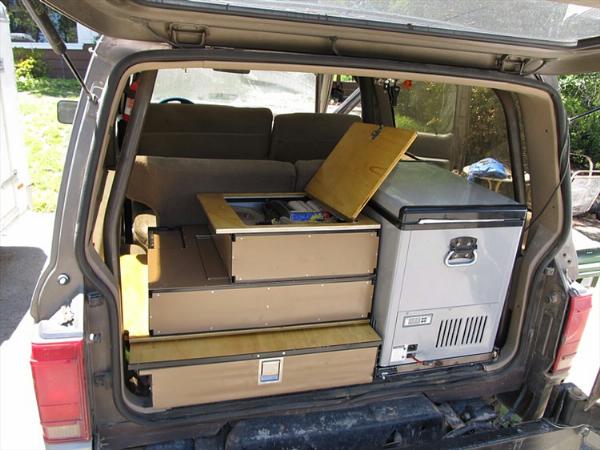 Finally the whole thing all flips to the rear so the back seats can be used. Access to contents is maintained with a 2nd door on the one unit.