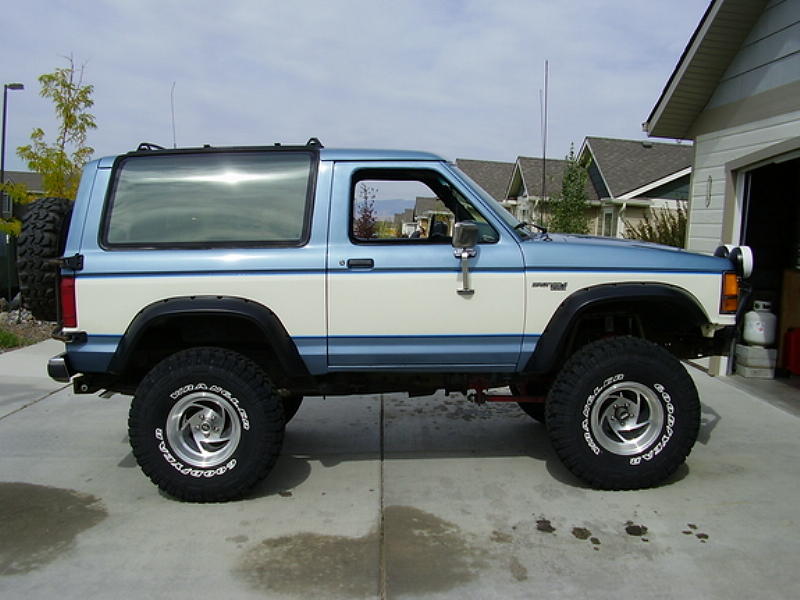 Chances are, if you've searched online very much for Bronco II photos, you've probably seen a photo of this one.
This Bronco II has been online for quite sometime, and is owned by internet user B2swiss. After rolling a previous Bronco II in Moab, he decided to build another one. This 1989 Bronco II XLT 4X4 features the stock 2.9L V6, and a 5-speed manual transmission.
It uses a combination of 3-1/2 inch lift coils and a 2-inch spacer for the front lift, and Ford Explorer rear springs with GM lowering shackles for the rear lift. GM lowering shackles will actually lift the rear of a Bronco II 1-1/2 to 2-inches. The Ford Explorer leaf springs are also used for another 1-1/2 inches of lift. A 3-inch body lift and fender flares gives it the extra room needed to clear the 35×12.5×15 Wrangler MT/R's.
After breaking the transfer case….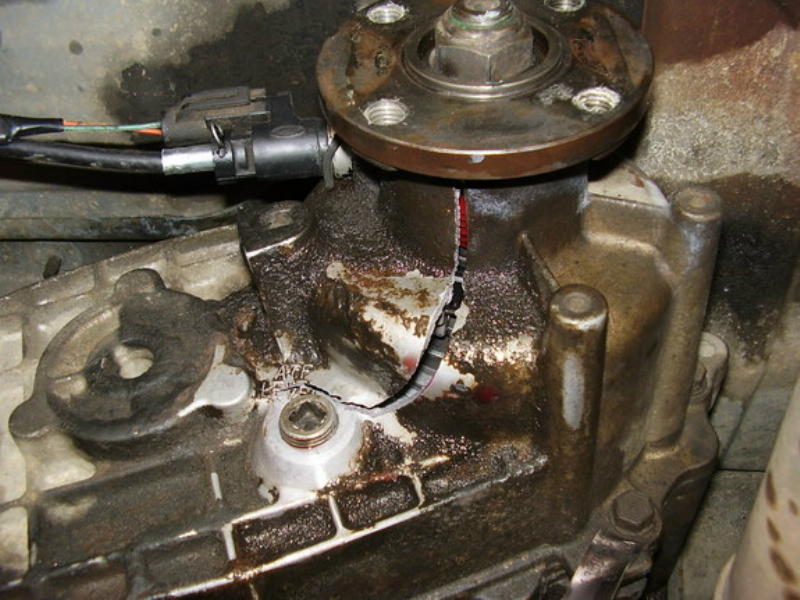 The Bronco II was upgraded with a replacement transfer case, and a custom T&M BW1350 Doubler. The 5.13 gears and 5-speed manual transmission results in a 120:1 crawl ratio.
The axles have been upgraded as well. The Dana 28 front axle, and Ford 7.5 inch rear axle, were swapped out in favor of a Dana 35 front axle, and Ford 8.8 inch rear axle. Both are equipped with 5.13 gears and an ARB air locker.
Other upgrades include James Duff shock hoops, a Ford Explorer radiator, ARB compressor, 3.5 gallon air tank, and a custom front winch bumper. For ALL of the modifications, check out the list below:
Specifications:
1989 Bronco II XLT 4×4
Engine: 4.0L from a 92 Ford Explorer rebuilt with 40k All Synthetic Fluids
Kurtz Kustomz Motorsports True Rev Kit
Explorer Radiator
Optima Blue Top Battery
Mitsubishi 5sp Transmission
Borg Warner 1350 Transfer Case
Borg Warner 1350 Doubler 120:1 crawl ratio
Front Dana 35 Yukon 5.13's ARB Rebuilt in and out Rear
Ford 8.8 Moser 5.13's ARB Rebuilt in and out
All Synthetic Fluids
(5) 35×12.5×15 Wrangler MT/R's
(5) 8.25×15 Blade Style Rims
Front Rancho 3-1/2″ Lift Coils
2″ Spacers
Trail Master Radius arms for fullsize bronco, modified to fit application
Explorer Rear Leaf Springs
Tuff Country Chevy Lowering Shackles
James Duff Dual Shock Hoops in front
ARB Air Compressor
3.5 Gallon Air Tank
Custom Front Bumper
Custom Transfer Case and Doubler skid
PIAA Rally 80 series lights
Diamond plate tool box
Explorer seats and arm rest
48″ High Lift Jack
Kenwood Excelon KCD X879 Head Unit
Kenwood Excelon Speakers all around
Kenwood 12″ Subs
1800W Legacy Amp
Sealed Box All wired with 4 GA wiring
Bearcat BCT4 Scanner
Cobra 40 ch CB
48″ K40 Antena
Garmin GPSMAP 60CS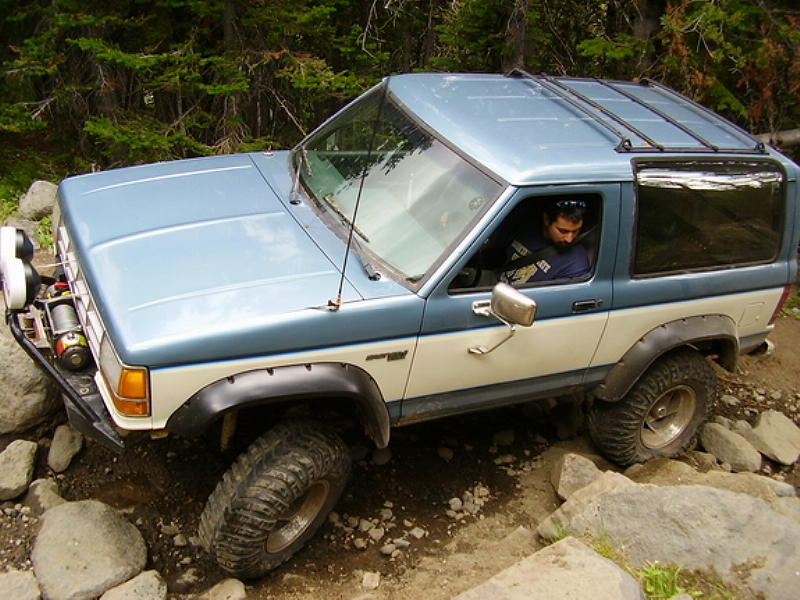 Photos:
Click the photos to enlarge – click the arrows to load more.