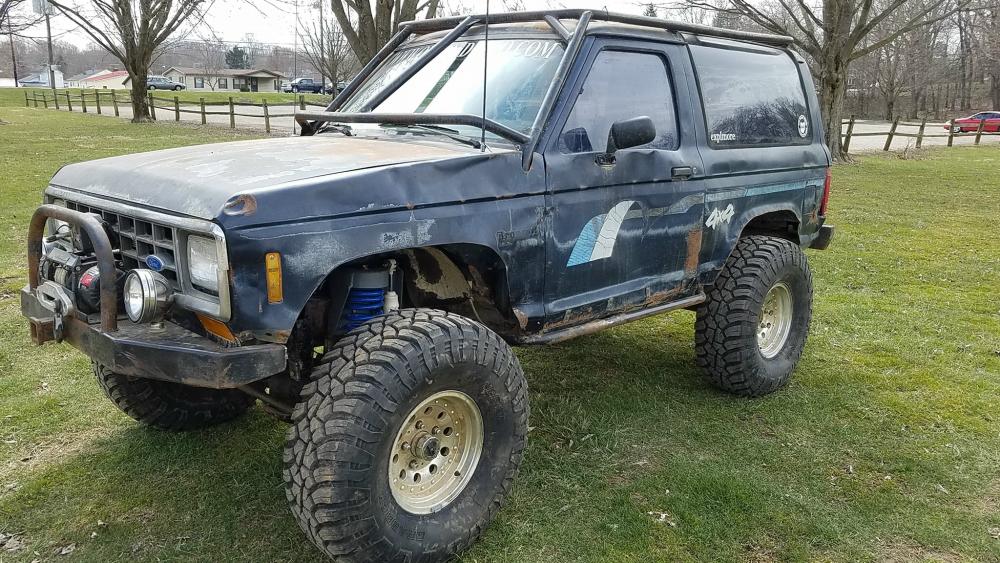 Some of you may recognize this 1988 Bronco II owned by Donnie Chambers AKA donaldcon. I'm happy to feature it here, and share some of the Bronco II's history with you.
Current Specifications:
1988 Bronco II
1991 Ranger 4.0 V6 Swap
M5OD Manual Transmission
BW1354 Trasfer Case
1974 Ford Bronco Dana 44 converted to disc brakes with Lock Rite Locker, 4,88 gears and chromoly axle shafts
Custom differential guard cover
1999 Ford Explorer 31-Spline 8.8-Inch rear with Aussie locker, 4.88 gears and Solid differential cover
Rear suspension is Stock leaf pack with an extra main leaf and 1-inch lift shackle
Front suspension is stock early Bronco radius arms, James Duff 2.5-Inch progressive rate coils
James duff 70/30 shocks
Custom built coil buckets
Internal/external hybrid roll cage
Custom bumpers
9500 pound Smittybuilt winch
35-inch GrabberX3 tires on stock f150 wheels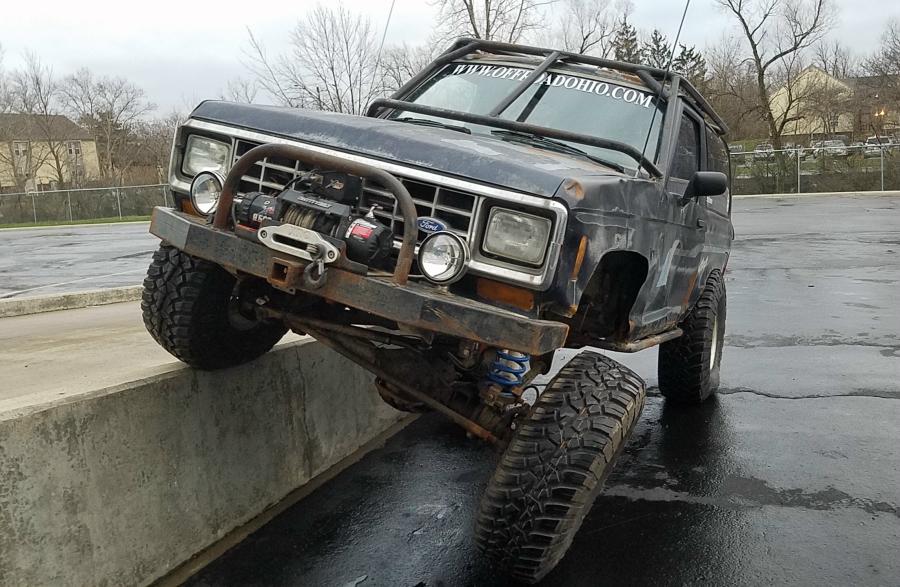 Donnie bought the Bronco II from Bob Myers (forum member), who had purchased the Bronco II in 1991.
Bob Myers did the original Dana 44 SAS (front Solid Axle Swap) to it, with a matching 28-spline Ford 9 inch. The axles had 4.10 gears, and rolled on 33-inch Super Swampers.
Bob swapped out the 2.9L and manual transmission for the 4.0L with an automatic. On a trip to Livingston in 2006, he had issues with the automatic, and replaced it with a 5-speed manual, a doubler, and regeared the axles to 4.88.
He also built the bumpers for it.
Donnie had met Bob in 2004, and was very familiar with the Bronco II. Bob got out of the hobby around 2009, and Donnie knew the Bronco II was just sitting in Bob's yard. Donnie hounded Bob, and Bob finally sold it to him in 2016. When Donnie purchased it, the doubler had been removed.
After purchasing it, he immediately moved into a set of 35-inch tires, and went through it fixing all of the gremlins it had developed from 8-years or so of sitting. On his 2nd outing with it, he broke the 9-inch, and replaced the shafts. After breaking it again on the next trip, he swapped the 9-inch for the 31-spine 8.8-inch.
Donnie added the cage during the winter of 2016/2017, and made a few other minor changes. He used it hard during the summer of 2017, but wasn't happy with the front suspension. It was very stiff, and unloaded really bad. It also sat about 3-inches higher up front than in the rear. Donnie called James Duff, and they suggested the 2.5-inch early Bronco coils, coil buckets and shocks. Donnie bought the coils and shocks, but made his own coil buckets.
Kudos to Donnie for bringing the Bronco II back to life.
Photos:
Click the photos to enlarge – click the arrows to load more.