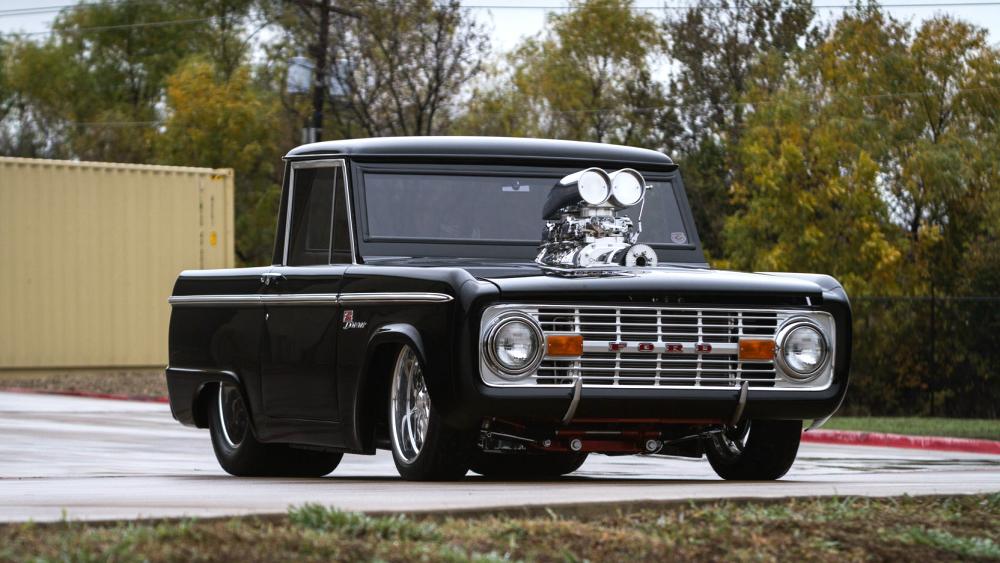 In the interest of building a personal Sport Utility Vehicle that would traverse nearly any terrain, provide efficient transportation to anyone—especially those in rural areas, and be a basic workhorse—Ford introduced the Bronco in late 1965 for 1966. Lee Iacocca was behind the project, but warned developers, led by Donald Frey, to keep costs way down.
Bronco found itself in many other markets, including racing. Bill Stroppe, with Holman-Moody, assembled a fleet of Broncos for long-distance, off-road competition for Ford. They competed in the Mint 400 and Mexican 1000 successfully enough over the years that by 1971 a "Baja Bronco" package was made available.
In 1966, Doug Nash built a Bronco funny car for quarter-mile competition turning in times as low as 8 seconds. This 1967 Bronco has been fully addressed with both racing and luxury in mind. It's powered by a 502 CI V-8 engine that's been ported, polished and blown. Fed by dual Demon carburetors and a stainless-steel 14-gallon fuel cell, it uses a Childs and Albert Supercharger, Brodix heads, Comp Cam, 10:1 ratio pistons and breathes through 2-1/2 inch headers and 5-inch jet coated exhaust. A Turbo 400 automatic transmission sends power to a narrowed Ford 9-inch rear end, and all the torque is held in check by a 4-link rear suspension, Mustang II spindles and a custom Art Morrison chassis. A rack-and-pinion steering system and Baer 4-wheel disc brakes add civility along with the full-custom interior by M&M Interior in Holy Pond, Alabama. Covered in tan with alligator inserts, the interior boasts a custom piston shifter, Auto Meter Pro Comp gauges and a billet steering wheel. Vintage Air and a Sony Xplod CD stereo system keep passengers comfortable and entertained over the massive drivetrain.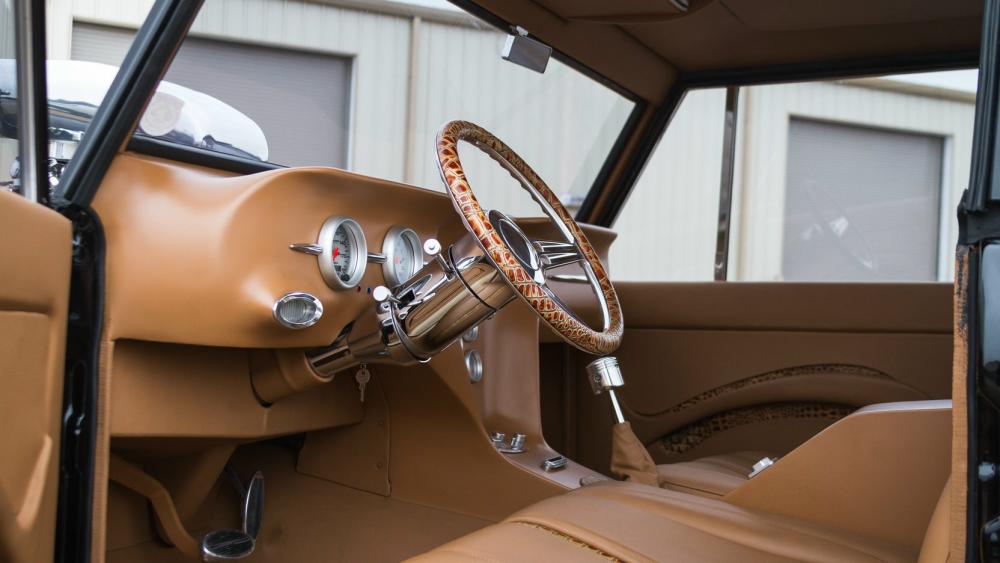 Highlights:
Ported, polished and blown 502 CI engine
Dual Demon carburetors
Childs and Albert supercharger
Brodix heads and Comp Cam
10:1 ratio pistons
2 1/2 inch headers
5 inch jet-coated exhaust
Turbo 400 automatic transmission
Custom Art Morrison chassis
Narrowed Ford 9 inch rear end
4-link rear suspension
Mustang II spindles
Rack and pinion steering
Baer 4-wheel disc brakes
Stainless steel 14-gallon fuel cell
Black PPG paint
Custom interior by M&M Interior in Holy Pond, Alabama
Tan leather upholstery with Alligator inserts
Custom piston shifter
Auto Meter Pro Comp Gauges
Vintage Air
Billet steering wheel
Sony Xplod CD stereo
Budnik wheels
More Photos: