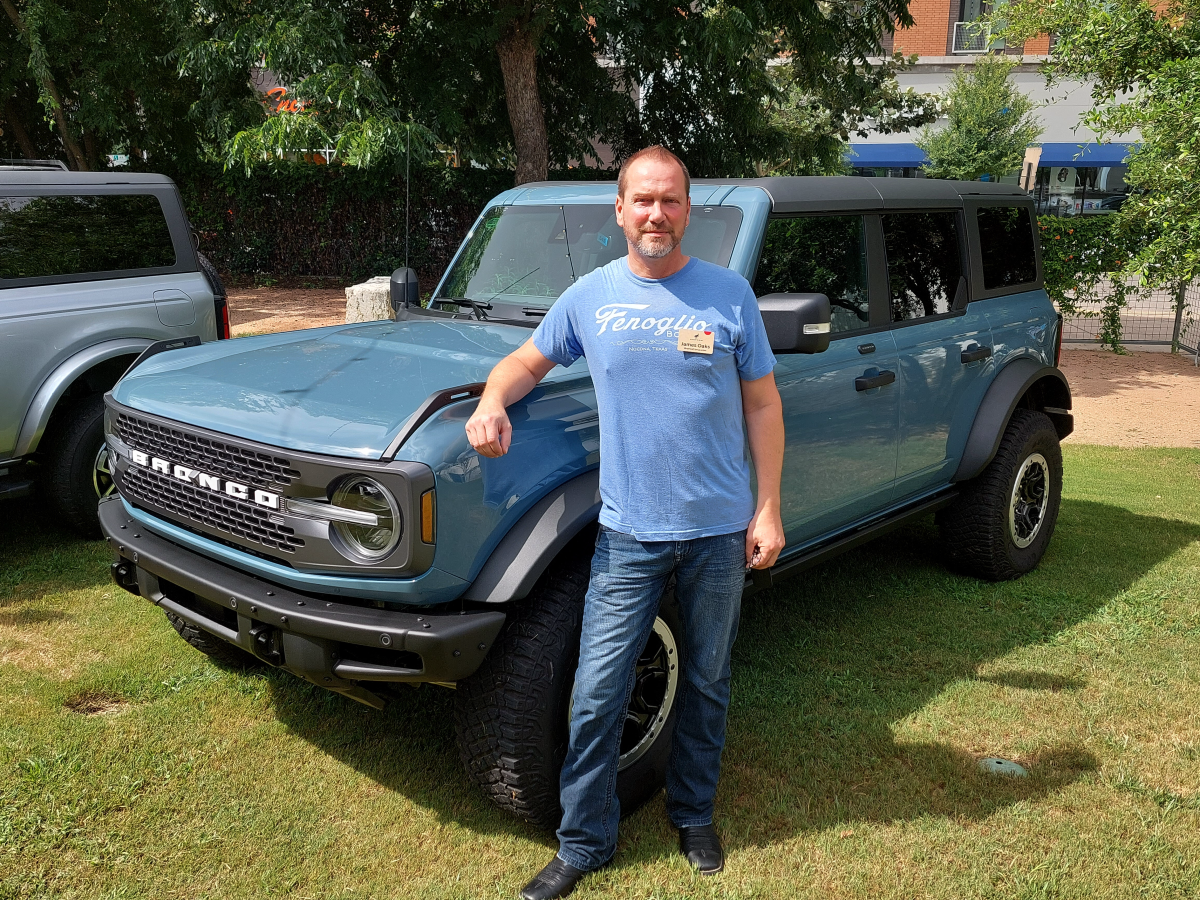 Austin Texas June 23rd, 2021
On June 23rd I arrived at the Fair Market event venue in Austin Texas to attend a Ford presentation and then drive one of the new 2021 Ford Bronco's. There were several Bronco's available, but I chose an Area 51 colored 4-door 'Badlands' edition.
Badlands offers Bilstein positive-sensitive monotube shocks, stabilizer bar disconnect, and the front and rear locking differentials make this a very capable off-road vehicle. Connecting all that torque to the ground are a choice of 35 and 33 inch mud and all terrain tires. On the inside, Badlands offers the full range of interior appointments, from a sparse vinyl interior to a leather technology packed option.
This Badlands Edition Bronco Featured:
Equipment Group 334A
Badland Series
Mid Package (1)
Dual-Zone Elec Climate Control
Front Row Heated Seats
Power Outlet
Sync4 W/ENHNCD Voice Recognition
Ford Co-Pilot 360
High Package
12″ LCD CTR Stack Touchscreen
360-Degree Camera
LUX Package
Adaptive Cruise Control
B&O/CNCTD Built-In Navigation (3-YR)
Heated Steering Wheel
Wireless Charging Pad
(1) Mid Package includes a remote start system (automatic transmission only), 2-door intelligent access with lock/unlock, 110V/150W AC power outlet, heated front seats, reverse sensing system, SYNC 4 with enhanced voice recognition, Ford Co-Pilot 360, pre-collision assist with automatic emergency braking (AEB), blind spot information system (BLIS) with cross-traffic alert, lane-keeping system, auto high beam headlights, and rear view camera with backup assist grid lines.
Optional Equipment / Other
2.7L EcoBoost V6 Engine
10-Speed Auto Transmission
LT315/70R/17 M/T Tires (35″)
Remote Start System
Sasquatch Package
17″ Black Aluminum Beadlock Alloy Ring
4.7/Rear Axle Locking Differential
Front Axle Locking Differential
Hard Top, Molded In Color
Storage Bags – Top And Door
Towing Capability
Keyless Entry Pad
Click HERE to view the 2021 Ford Bronco Badlands Window Sticker for this vehicle.
Ford programmed a route that I was to follow from Fair Market in Austin to Horseshoe Bay Resort in Horseshoe Bay. The route would take me out of the city and along rolling and twisting Texas roads that follow the Colorado River. There was even a designated stop along the river to stop for photos and a break.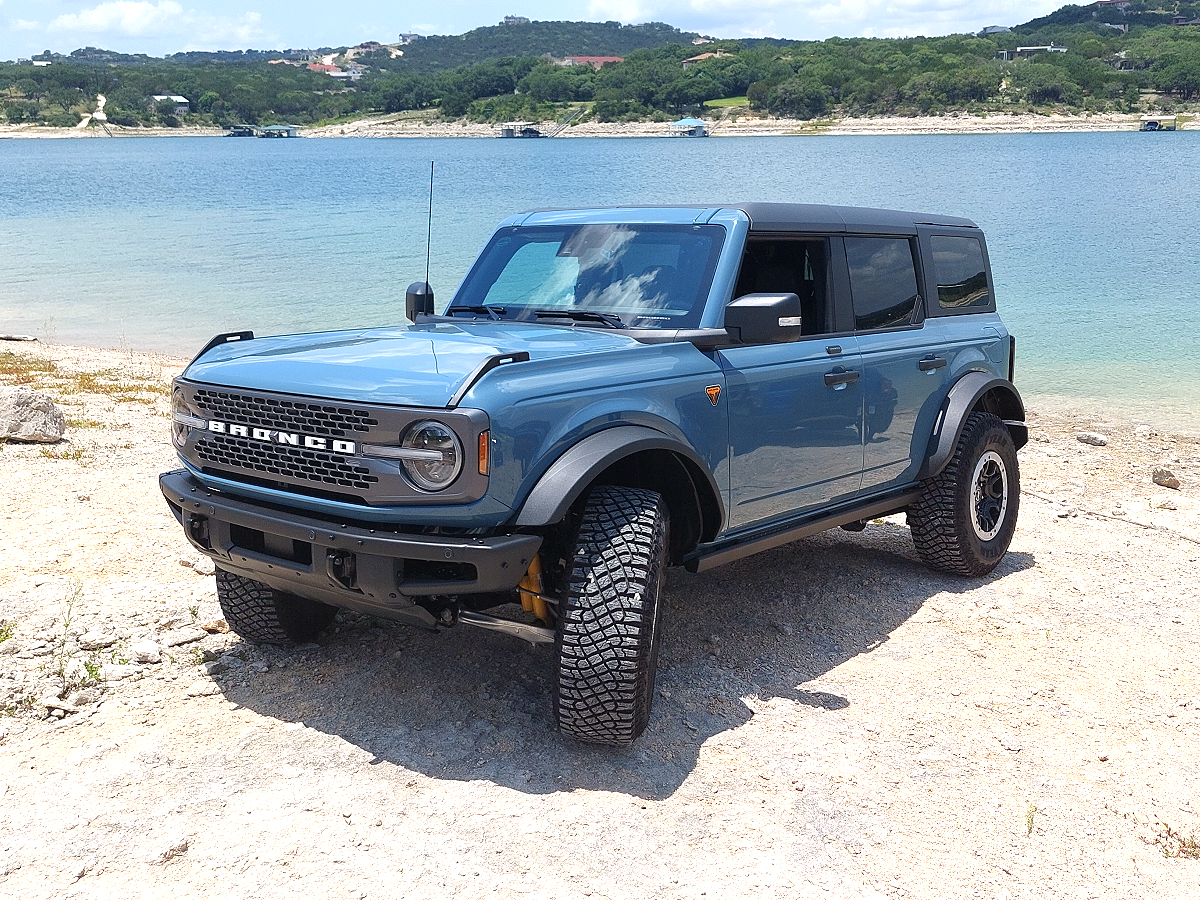 The Interior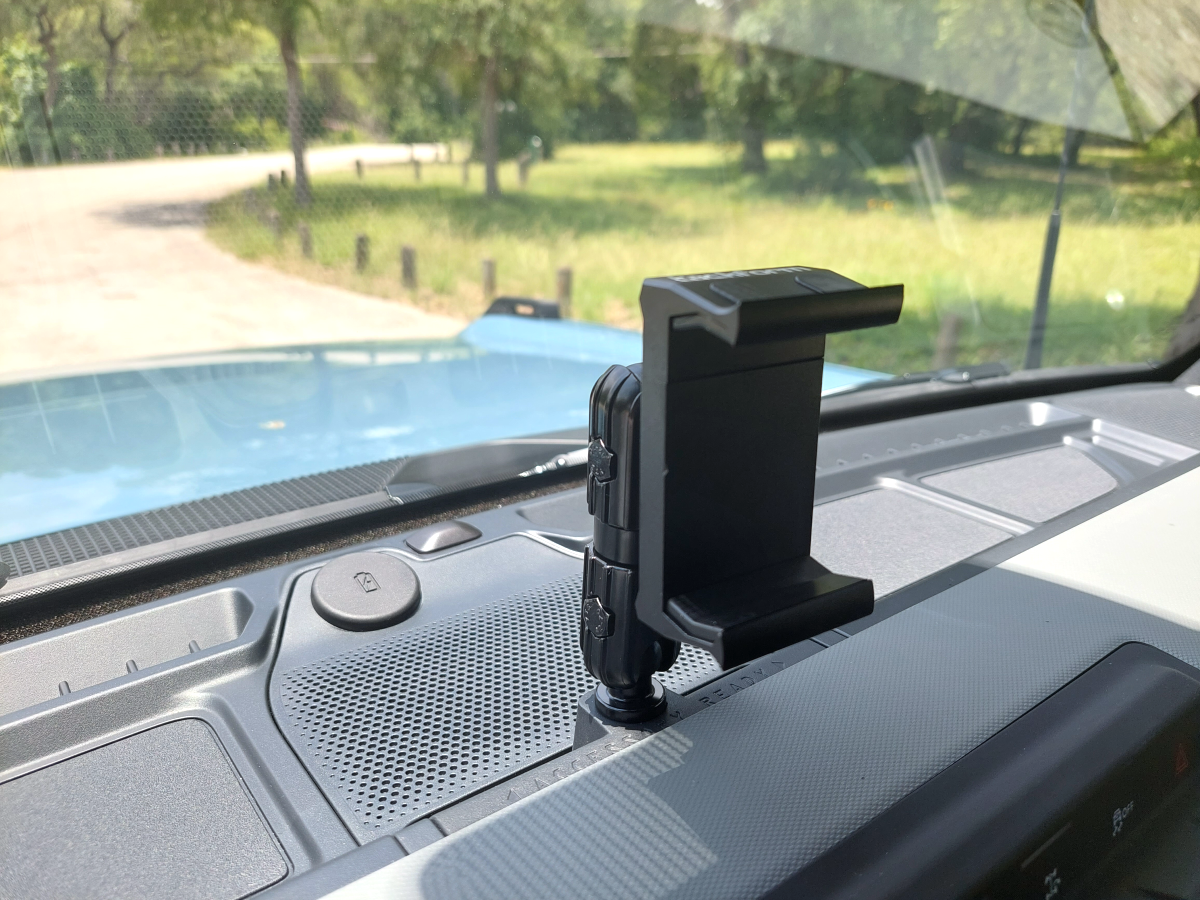 I like how there's a mount on the dash for a Go Pro or cell phone holder. I opted for the cell phone holder. I've used ones in the past that stick to the windshield, but they can occasionally fall off when they've been sitting in the hot sun. The adjustable Bronco mounts are made from sturdy metal and aren't going to become a projectile if you should have a collision.
It's also nice that Ford included a USB charging port on the dash behind the mount so you can plug your devices in while in the mount.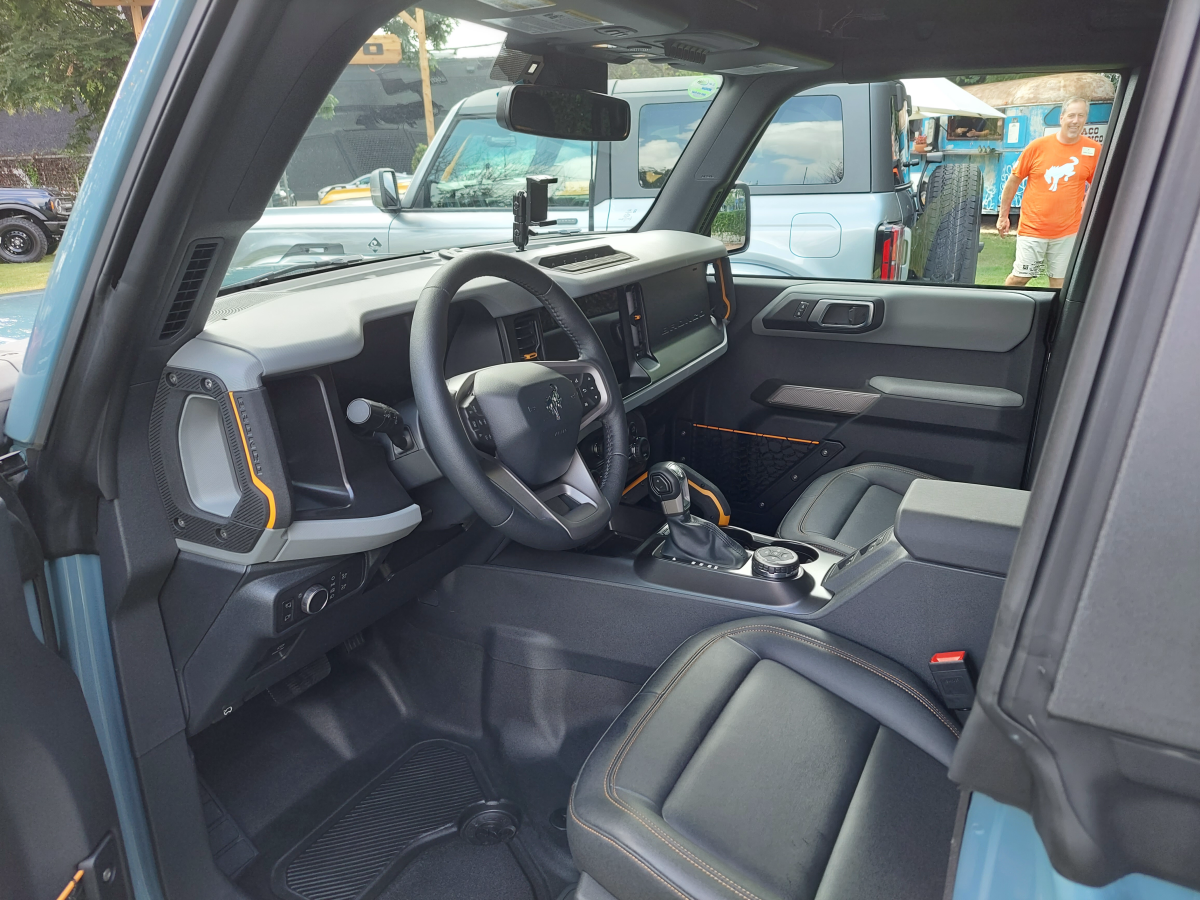 This Bronco had the rubber floor covering (no carpet) with marine grade vinyl seats. There were drain plugs in the floor so you could wash the Bronco out after some serious off-roading or adventure. Everything about the interior was so nice that it didn't strike me right away that the floor was rubber.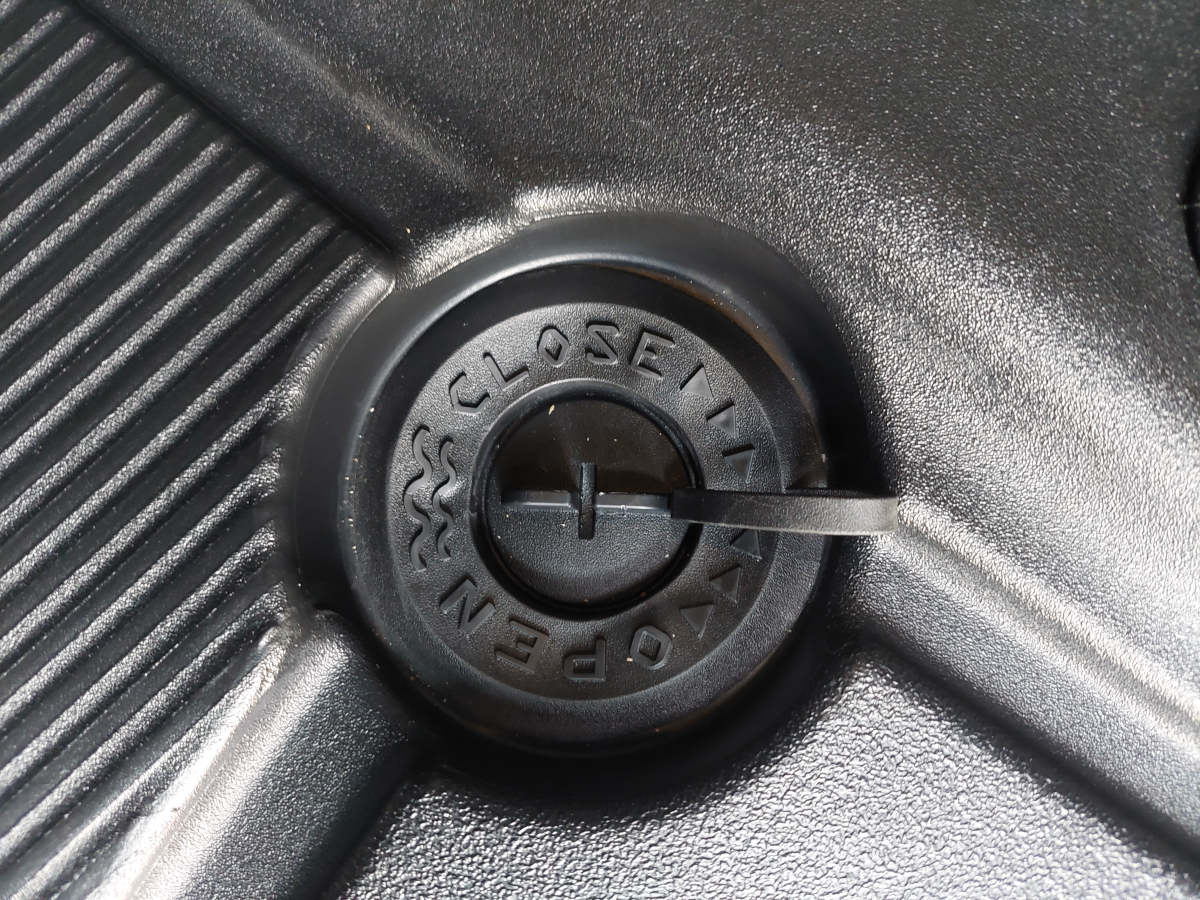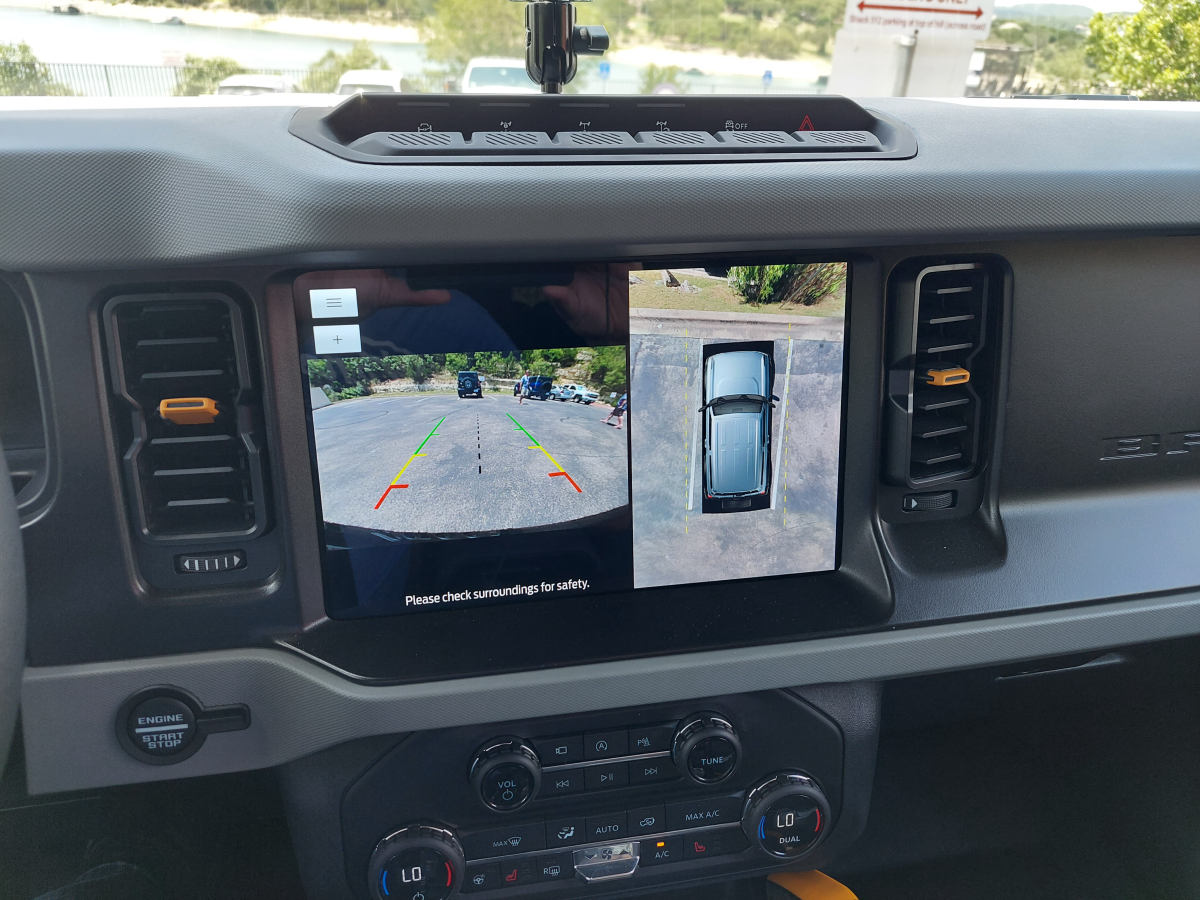 The hero switches for the sway bar disconnect, front locker, rear locker, and Trail Turn Assist are located on top of the dash and in easy reach and view of the driver. The switch panel has a rubber coating that seals the switches from water and dirt.
A large 12-inch screen not only provides a stereo and navigation, but a variety of camera views to enhance the Bronco's off-road capabilities. I'll discuss the camera views for off-roading in my Off-Rodeo review.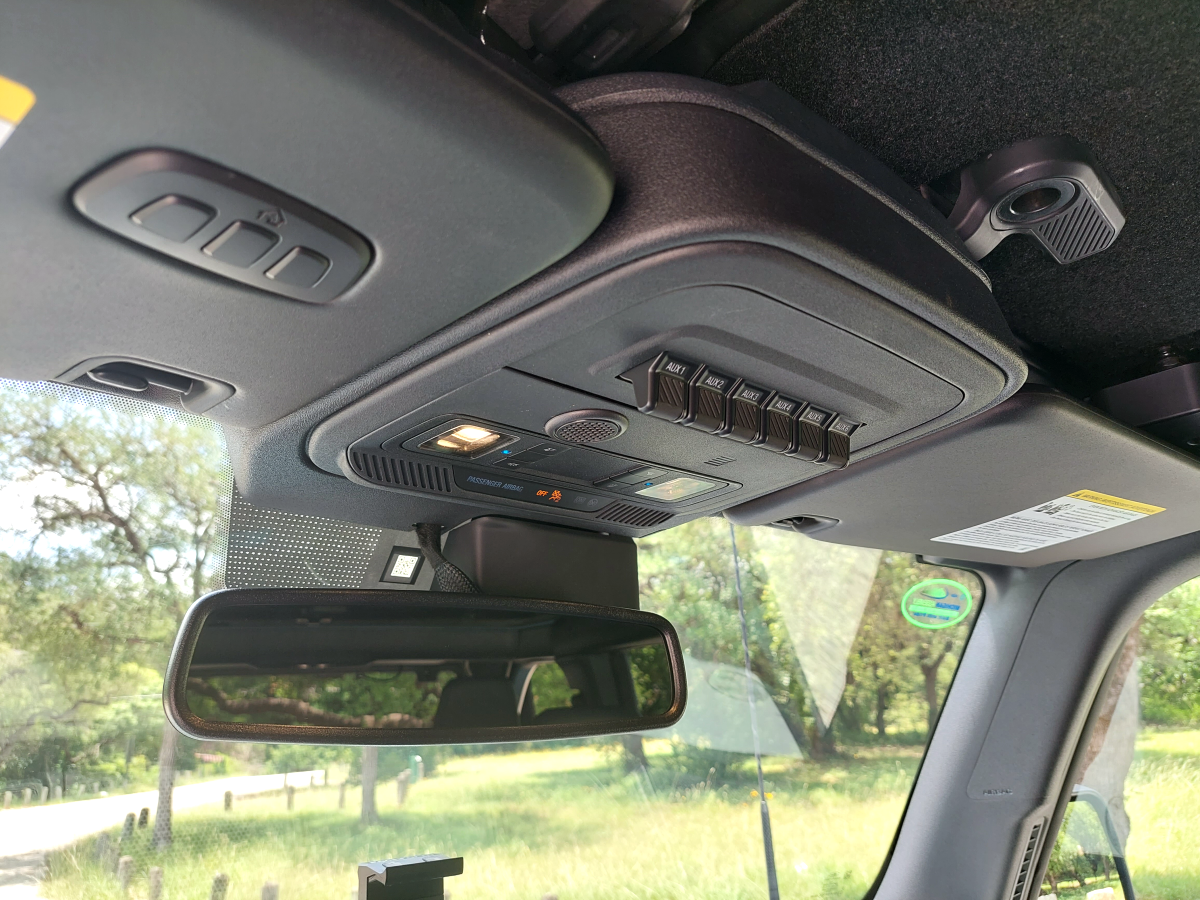 Six up-fitter switches in an overhead console provide plenty of options for controlling additional lights and accessories. This system is prewired making it easy to wire accessories without having to drill holes in your firewall or dash. Not only does this make installation easier, but also helps prevent owners from drilling holes that could allow water in to the vehicle.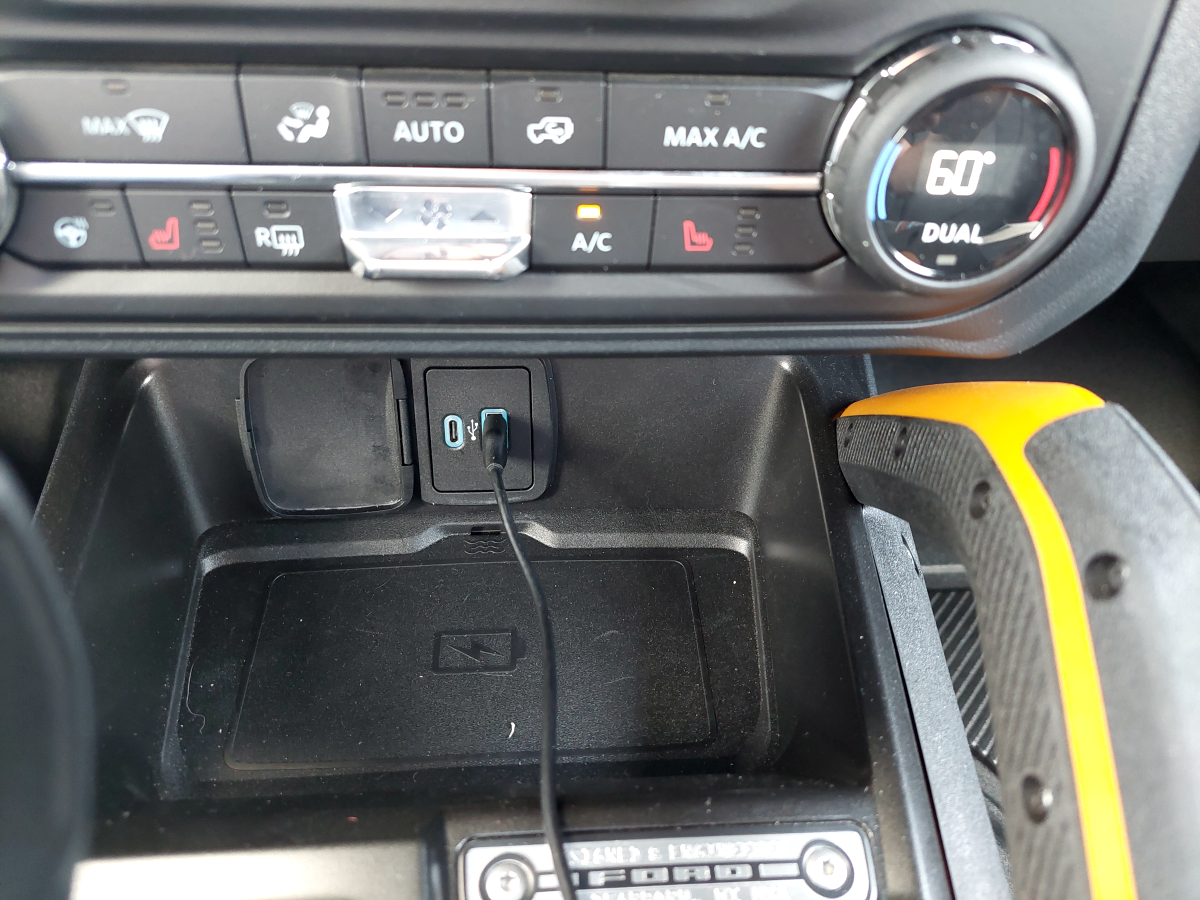 The forward part of the center console has a size A and C USB port. There's also a wireless charging tray to charge your phone. I laid my Samsung A52 there and it wouldn't charge. I removed the case from my phone to see if that would help, but the phone still wouldn't charge.
According to the Ford owners site:
"The wireless phone charger is certified to support the Qi v1.2.2 wireless charging specification. This does not guarantee the wireless charger will work with all wireless charging devices. Not all wireless charging devices on the market are certified by Qi."
This area needs another USB charging port. Not all phones will charge in the charging tray, so it would be nice to be able to plug in a phone without it wanting to connect to the vehicles SYNC. It would also be nice to have the extra charging port for passengers, or other equipment such as portable radios or camera batteries.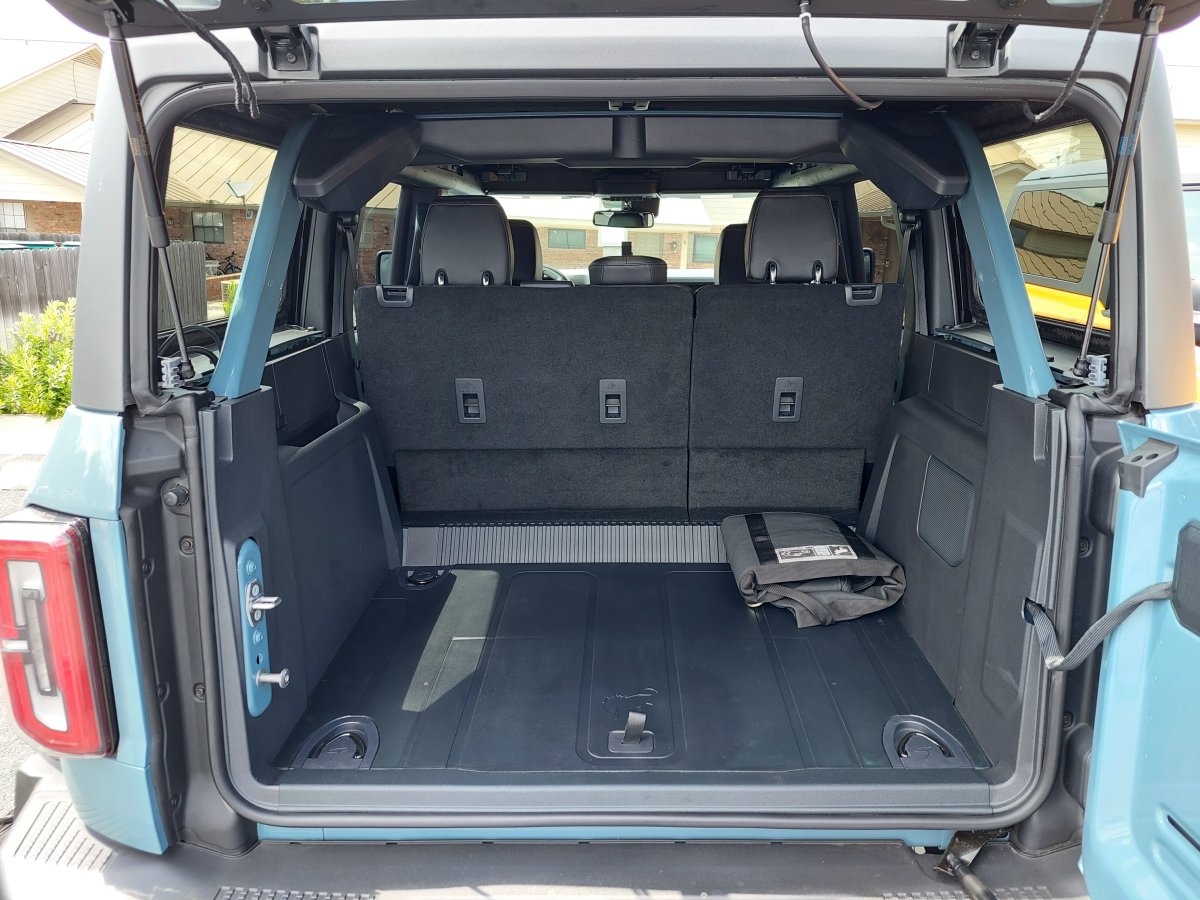 The rear of the Bronco has plenty  of space to store your doors and roof panels. The rear seats fold down to increase the Bronco's cargo space.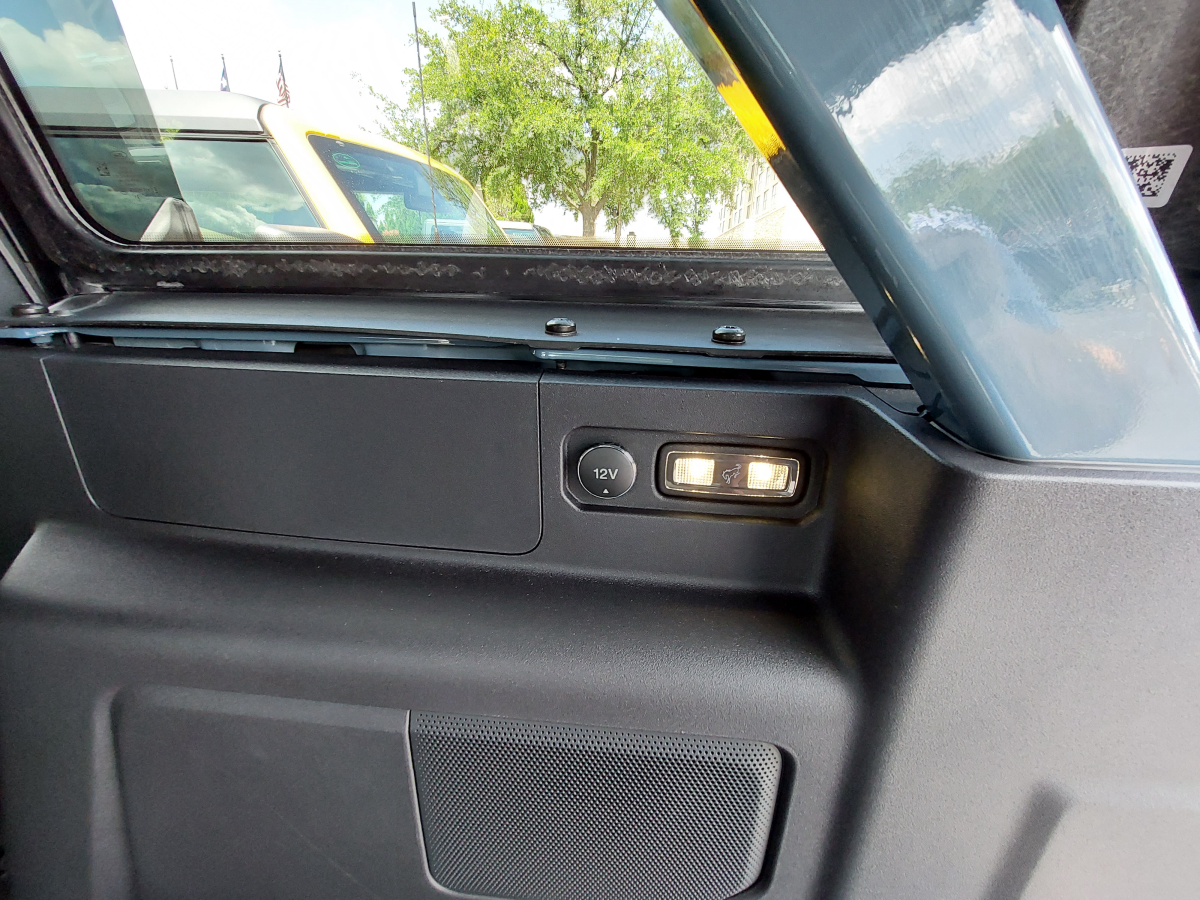 There's also a 12V port in the rear of the Bronco as well.
This was an issue that my daughter complained about with her Jeep Wrangler. When she laid her rear seats down they didn't lay flat and the incline would cause things to slide to the rear. The Bronco appears to offer a flat cargo area with the seats down.
Where are the cup holders?! I'm not sure what Ford was thinking here, but while in the vehicle I reached behind the seat to put an empty can in a cup holder and there wasn't one anywhere to be found. This is something that I think Ford needs to address and find a spot to include one.
Removable Roof Panels
Something I really like about the Bronco is the four individual roof panels to cover the front and rear seat occupants. It makes it much easier to open the roof by yourself. The rear part of the roof is 68 pounds but should still be removed by two people since it's bulky and contains glass.
Also note that there isn't a bulky crossmember going across the center of the roof between the front and rear passengers like you would find in a Jeep Wrangler.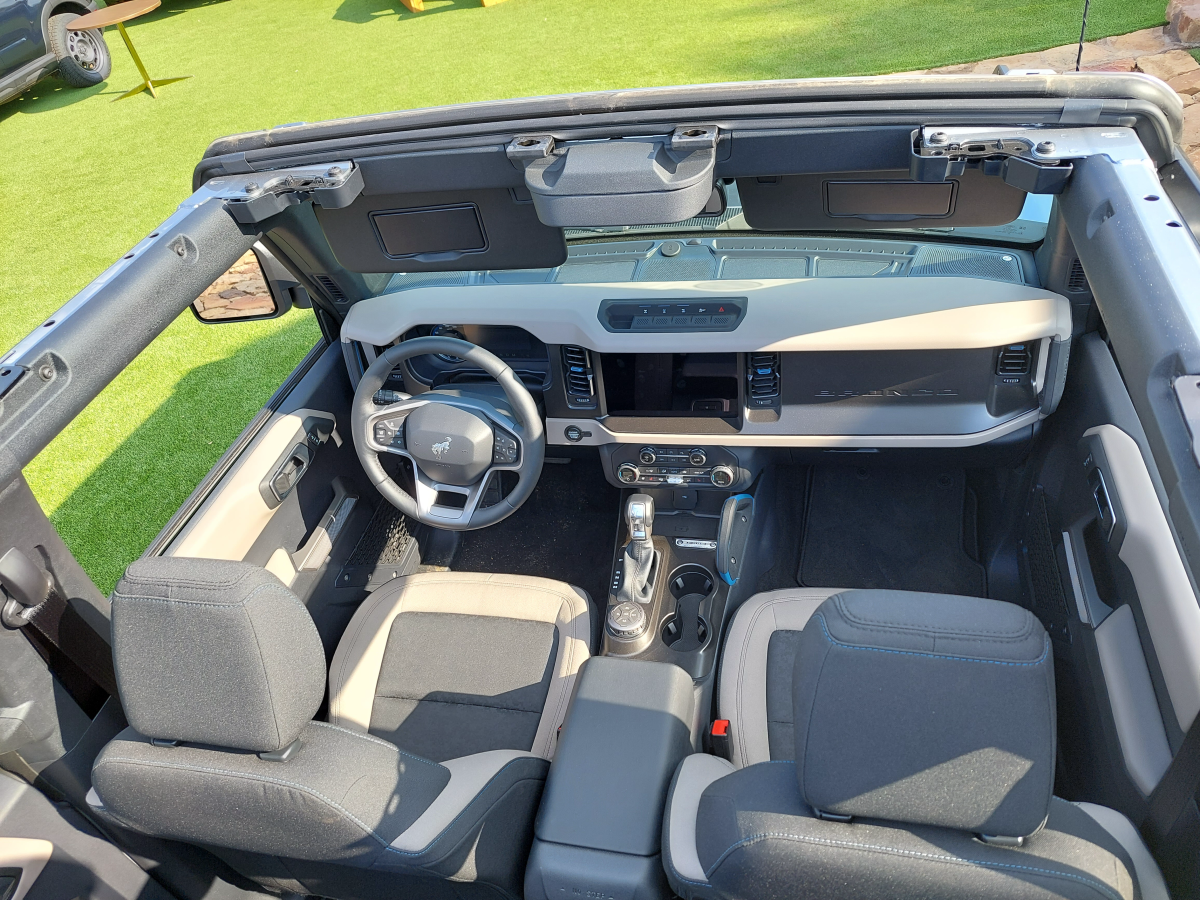 Side Mirrors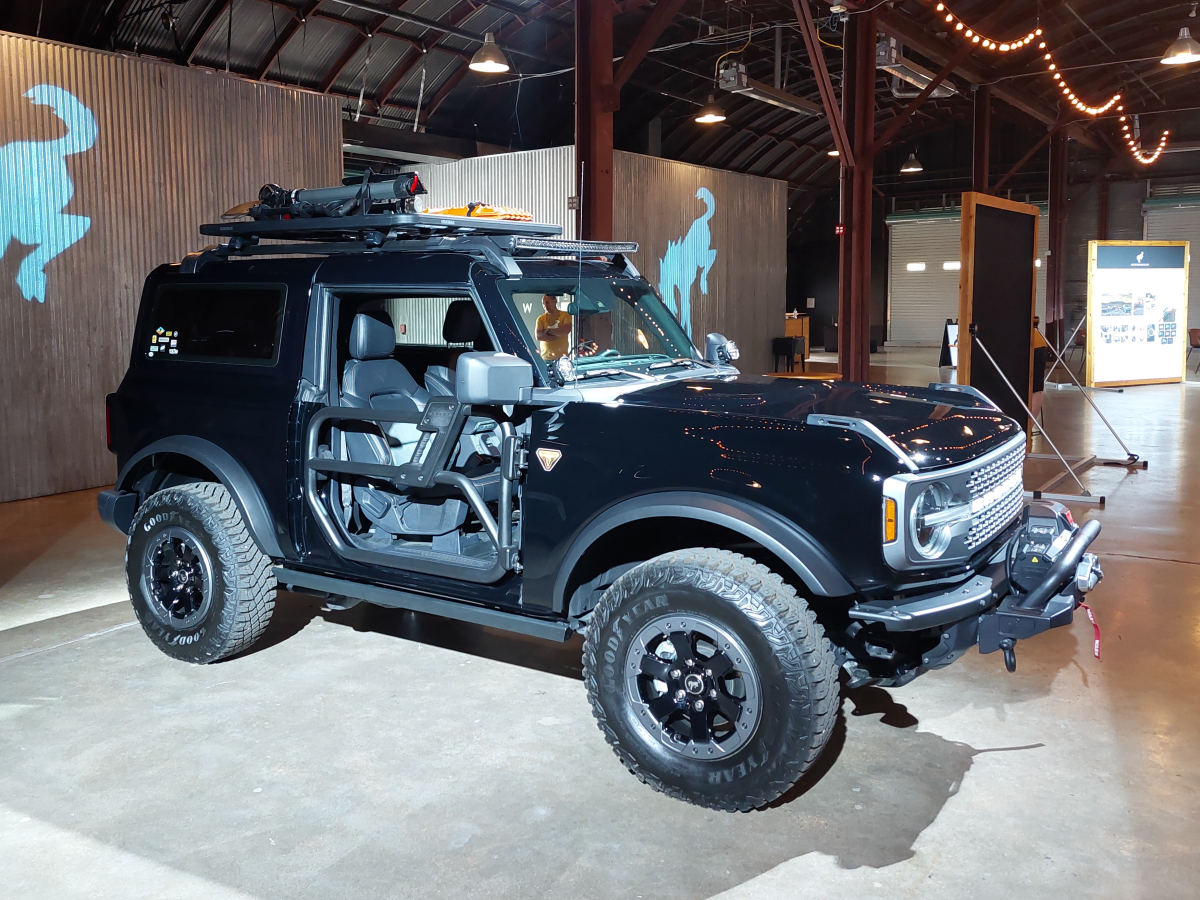 One of the neat features that people may not quickly notice is the side mirrors. Unlike the Jeep Wrangler that has the mirrors attached to the doors, the Ford Bronco actually has them mounted to the body. This way you still have side mirrors when you remove your doors. The mirrors also provide a place to mount some off-road lights.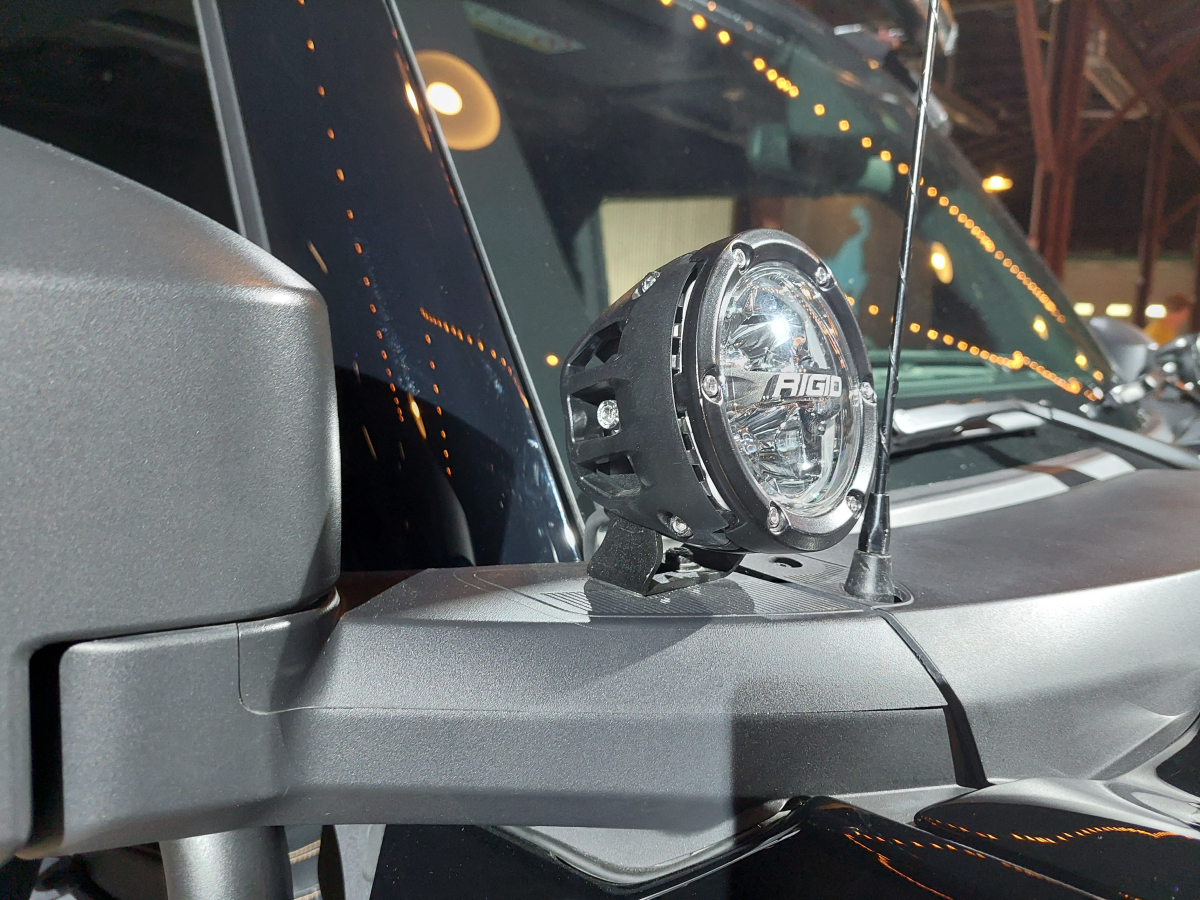 My On-Highway Driving Impression
This article is meant to discuss my driving impression of the 2021 Ford Bronco, so I'm not going to go in to great detail of all of it's features and options.
The Ford Bronco shares a platform with the Ford Ranger. Anyone familiar with the 1984-1990 Ford Bronco II know that it also shared a platform with the Ford Ranger. While the new Bronco was designed around the the original first generation Bronco, others could say it's a modern day Bronco II.
I've spent a lot of time behind the wheel of a new Ford Ranger with the 270 horsepower turbocharged 2.3L V6. It's a great motor and also available in the Ford Bronco. But the Bronco I drove came with the 310 horsepower 2.7L EcoBoost. Even with 35-inch tires this engine gets this Bronco moving and has a nice throaty sound to go with it. The ride was definitely more comfortable than a F-150 and only slightly less comfortable then a Ford Expedition. I was also impressed at how well the Bronco handled the rolling twisting hills of the Texas hill country with those 35-inch tires.
The only issues I experienced with the Bronco was a whistling sound coming from the right front roof panel. You can hear it in some of my video below. You can also hear how throaty that 2.7L EcoBoost sounds. I spoke to another writer driving one of the Bronco's and they were not experiencing any wind noises. It appeared that the noise issue was limited to my Bronco, and I suspect that someone had removed the roof panel and not properly re-installed it.
Speaking of noise, aside from the issue with one of the roof panels, the Bronco offered a quiet and smooth ride. Even with the rubber flooring the vehicle still seemed to be well insulated from road noise.
Be sure to check out 2021 Ford Bronco Off-Roadeo And Drive for my off-road driving impression.
Pricing
I don't want to get to much in to pricing because prices change and there are a lot of variables to consider.
Base two-door starts at $28,500
Base four-door starts at $33,200
A great thing about the Bronco is that you can add the Sasquatch Package to a base model for $4,995. The Sasquatch Package includes 35-inch tires with 17-inch beadlock capable wheels, front and rear locking differentials, Bilstein position sensitive monotube shocks, 4.7 final drive ratio and high-clearance fender flares. The Sasquatch Package is standard on Wildtrak and First Edition.
What this means is that you could have a new Ford Bronco with serious off-road capability for $38,195 plus any destination fees. That's $5,000 less than the base model Jeep Rubicon.
Success Story
Ford has already sold 125,000 Bronco's with 75-percent of those owners being new to Ford. While Jeep has been rehashing the same vehicle for decades, Ford has built a superior successor. The new Jeep wave will come from Bronco owners as they wave goodbye to the Jeeps they leave behind.
Video
Links
2021 Ford Bronco Off-Roadeo And Drive
More Photos
Click the photos to enlarge.