On June 23rd & 24th, 2021 I had the opportunity to drive the all-new 2021 Ford Bronco off-road at the Bronco Off-Roadeo facility in Horseshoe Bay, Texas.
The Off-Roadeo facility is built on 365 acres near the Horseshoe Bay Resort in Horseshoe Bay Texas. Horseshoe Bay sits next to the Colorado River about an hour and ten minutes west of Austin, and just to the west of Marble Falls. Developed with the help of Formula Drift Champion and "professional fun haver" Vaughn Gittin Jr., King of the Hammers champion Loren Healy and distinguished off-road experiential manager Bob Burns, the Texas Bronco Off-Roadeo experience comprises over 50 miles of trails.
I found the trails to be more challenging than I would have expected considering that this course is intended to educate people new to off-roading. There are three different trails to choose from with each having their own level of difficulty:
Jalepeno
Habeneo
Ghost Pepper
On my first day I got to do quite a bit of on-highway driving (See 2021 Ford Bronco First Highway Drive) with the new Ford Bronco before arriving at the Horseshoe Bay Resort. From there I was transported to the Off-Roadeo facility where I got to learn how the different features of the Bronco worked. These included:
Trail Turn Assist
Trail One Pedal Drive
Sway Bar Disconnect
Various Camera Views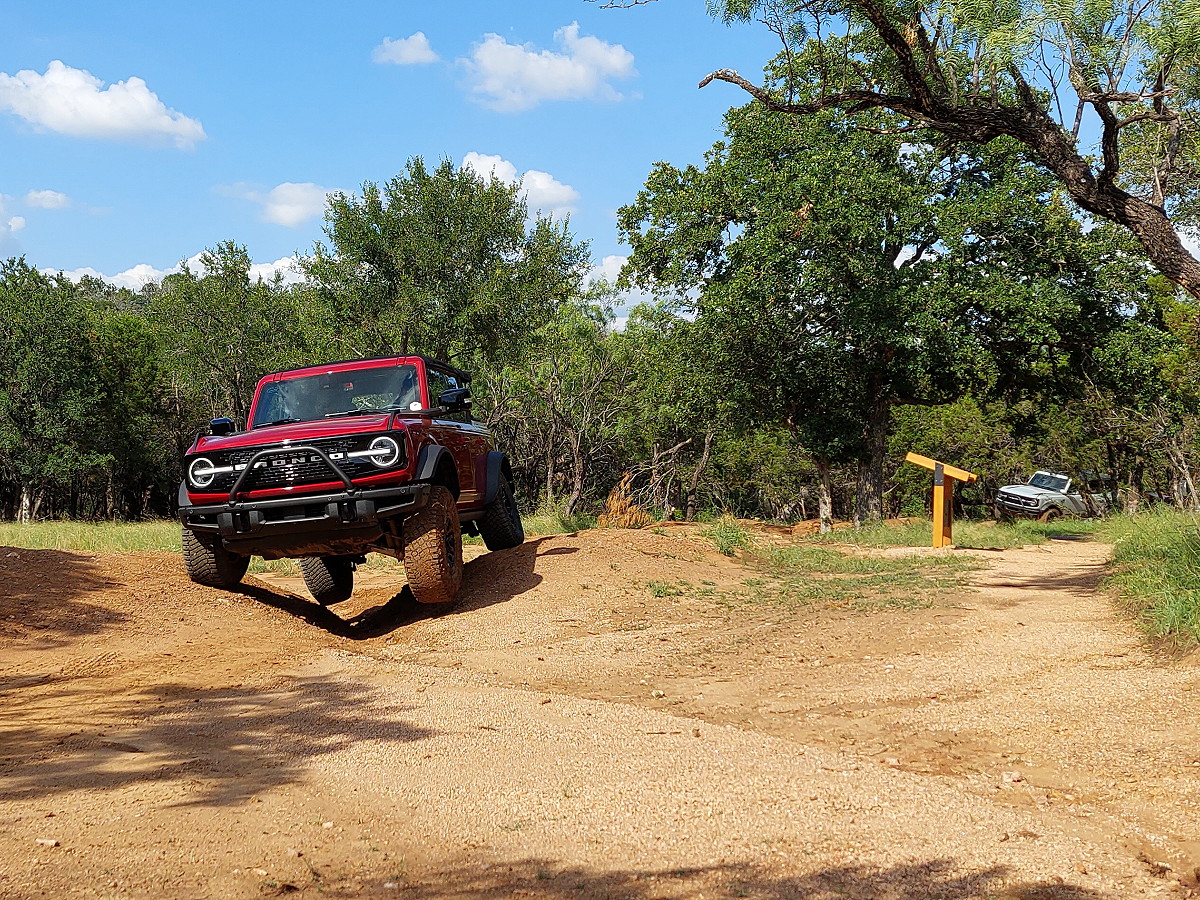 (Swaybar Disconnect Course)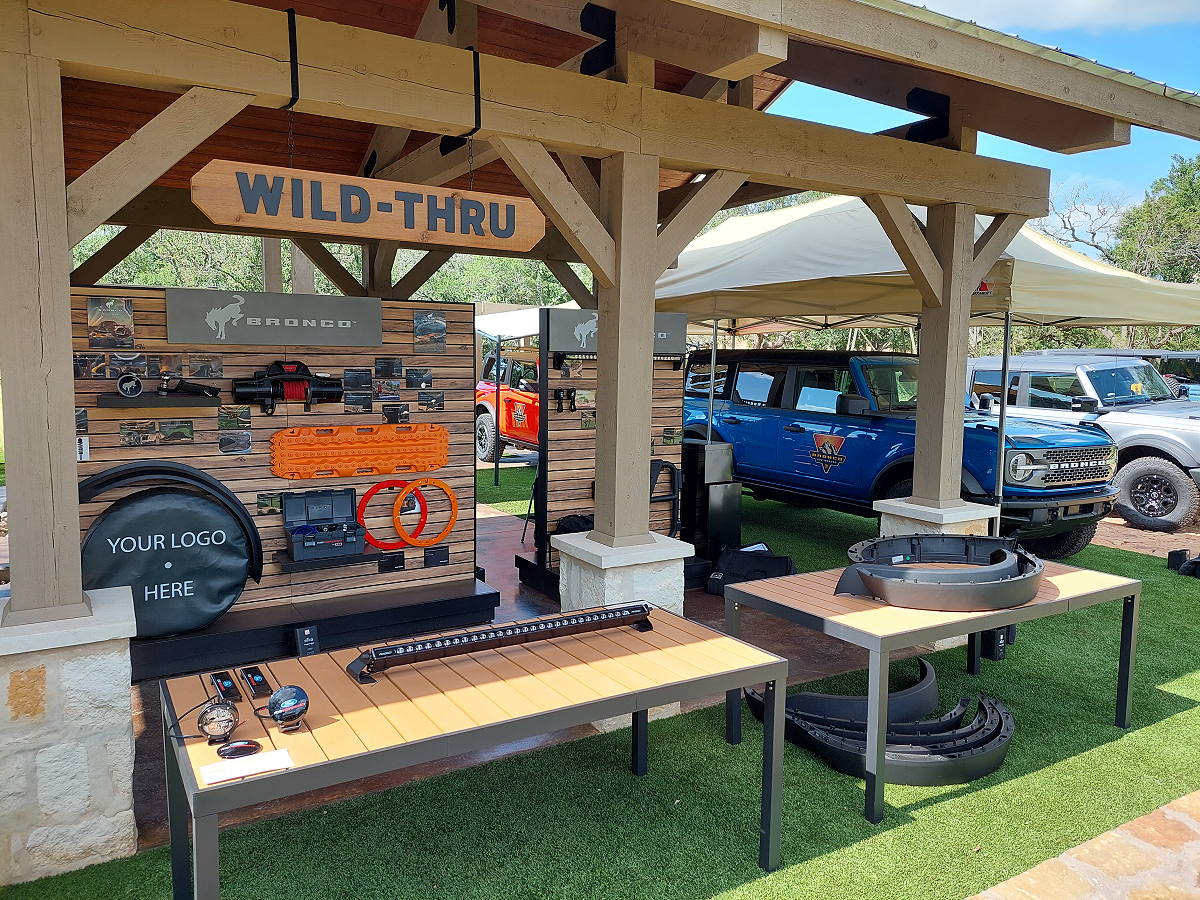 Ford also had accessory items on display, a first generation Ford Bronco that I could drive, and hands on demonstrations on how to remove and install the doors, roof panels, and fender flares.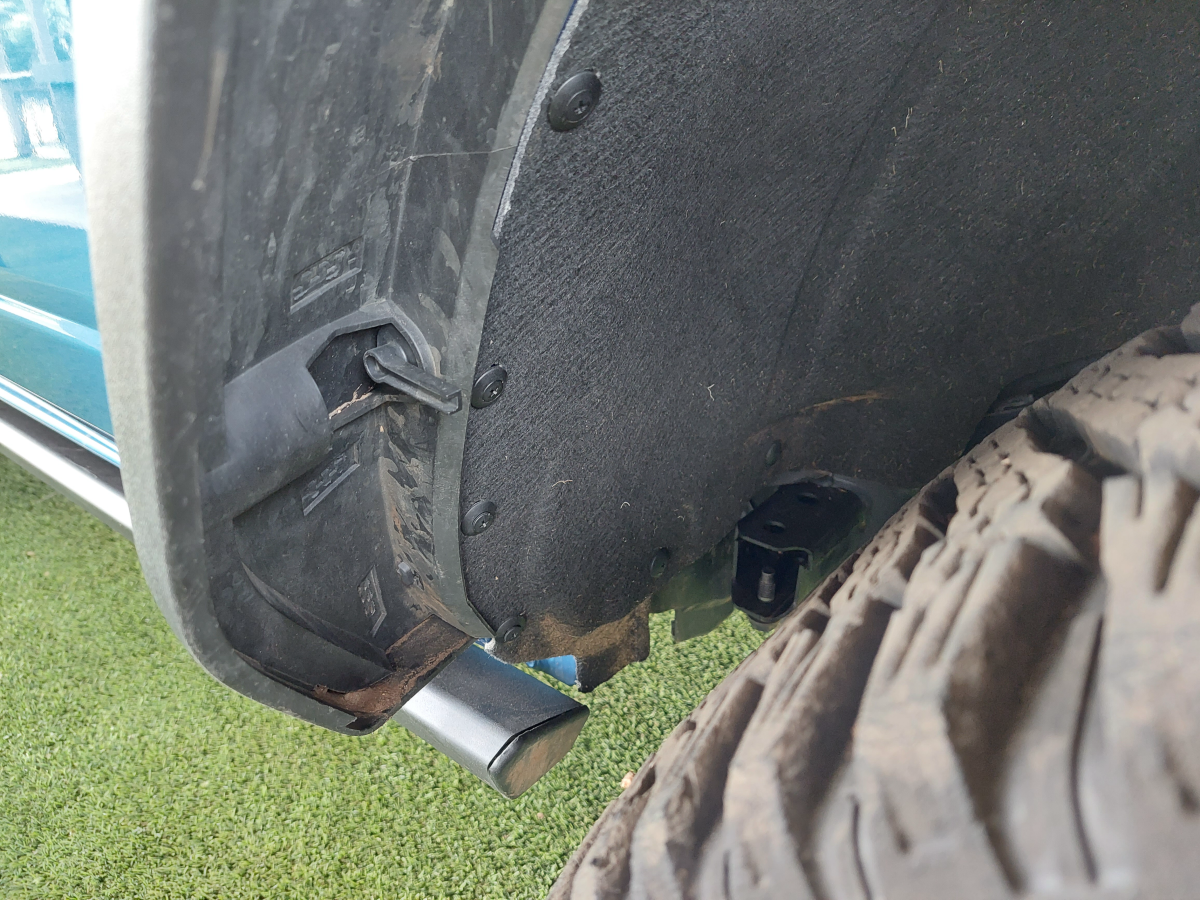 (Here you can see the tabs to unlock and lock the fender flares in place)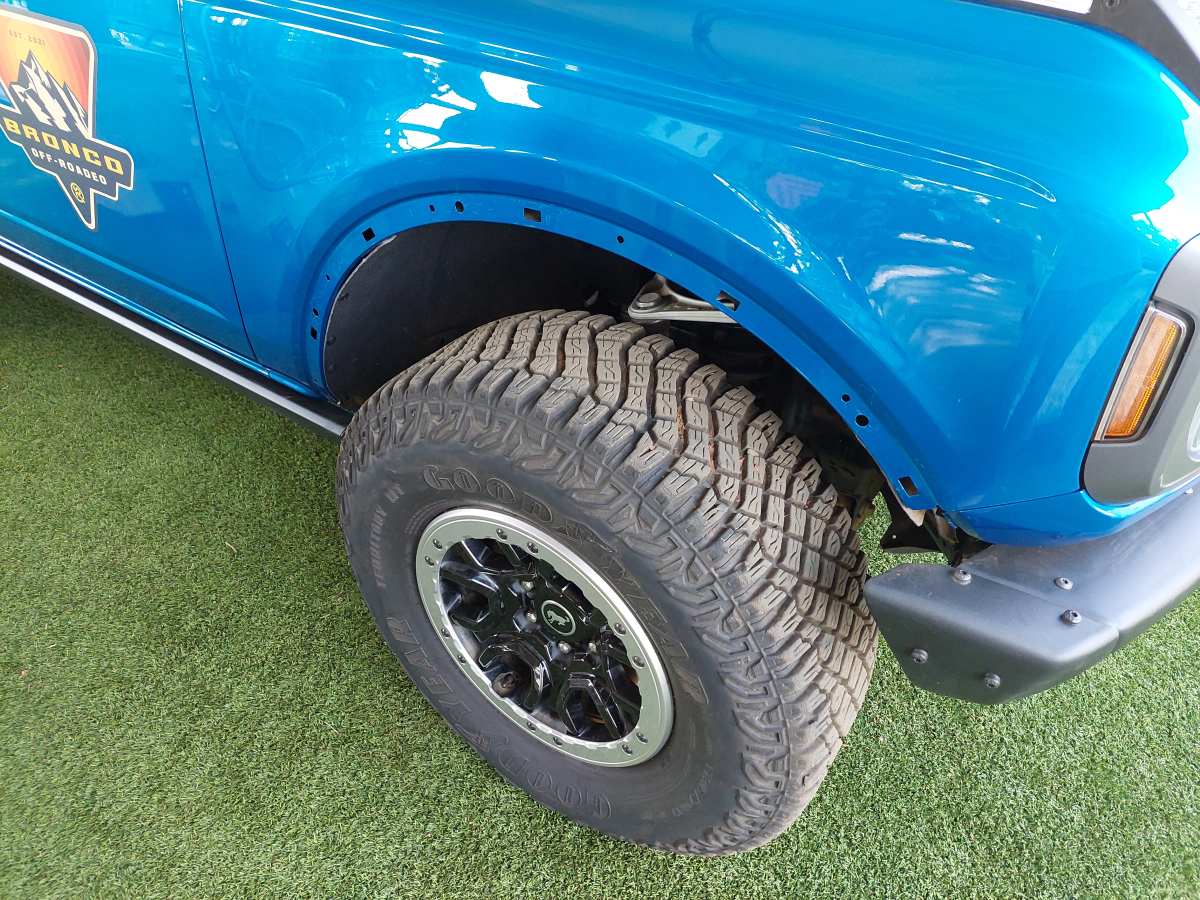 Yet another great feature of the Bronco is the drain plugs in the floor. I would definitely want the rubber floor over carpet.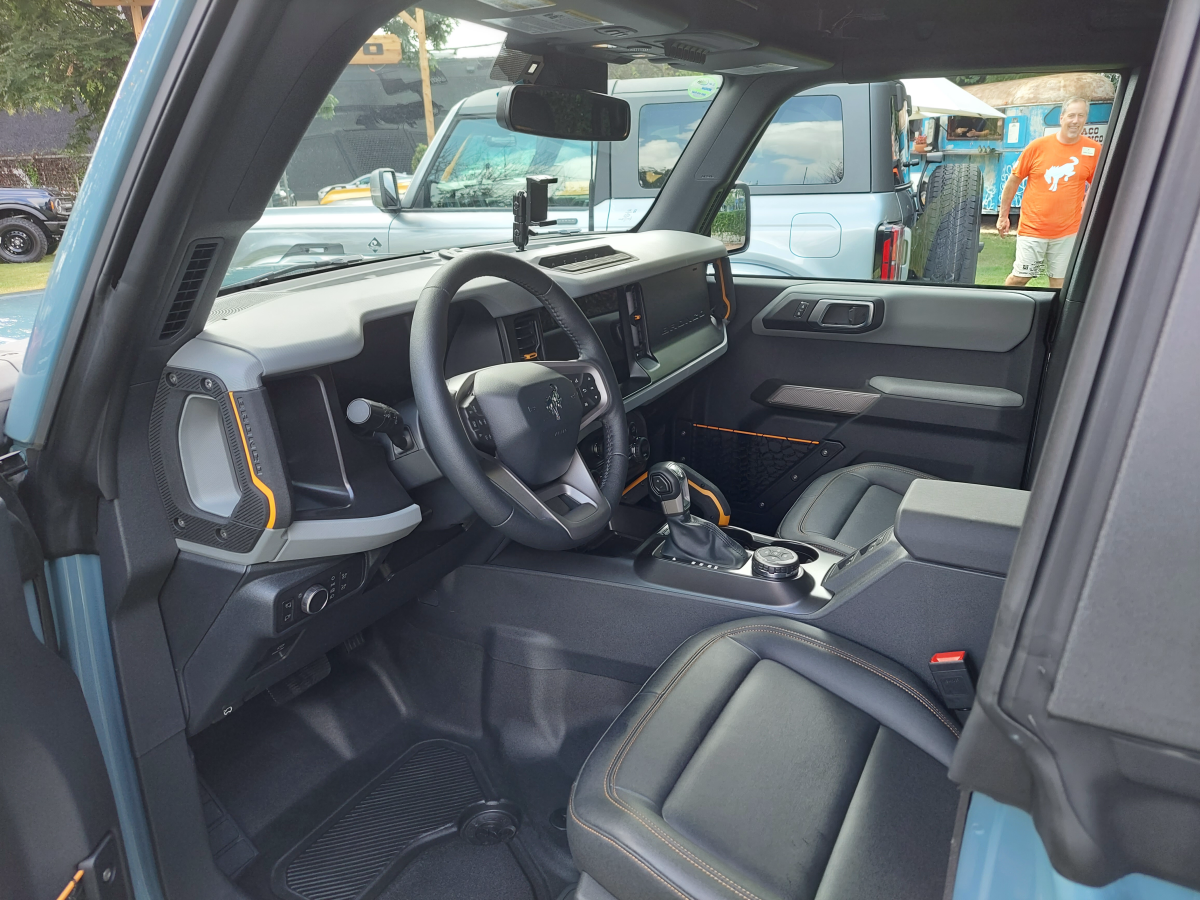 Later that evening I was treated to some great food and beverage before heading back to Horseshoe Bay Resort for the night.
On the second day (June 24th) I returned to the Bronco Off-Roadeo facility where I got to drive a new Bronco on each of the trails they offer. A guide / instructor leads a small group in a Ford Bronco, and another guide / instructor follows at the rear of the group. Each vehicle is equipped with a 2-way radio so the guide can communicate with you, and you can call them for help if you need it.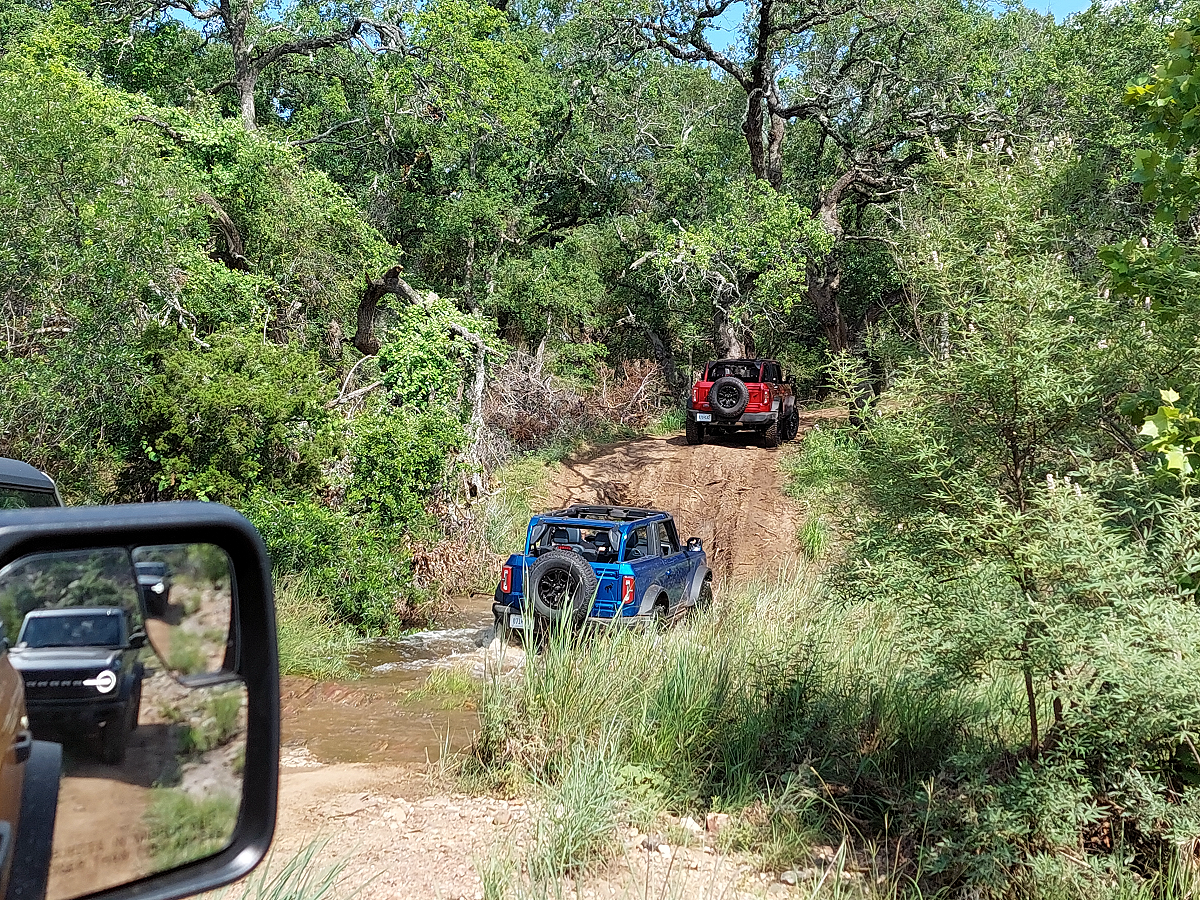 Vaughn Gittin Jr & Shelby Hall
Vaughn Gittin Jr and Shelby Hall were both present taking people on hot laps around the Fun Haver course in a stock 2021 Ford Bronco. I had the opportunity to ride with Vaughn. It was like being on the verge of crashing as he drove and calmly talked about the Bronco. It definitely felt faster in the Bronco than it looks on the video. Perhaps it's because you're not getting thrown around in your seat while watching the video. LOL.
Yes he really does mention "lined up for the jump" at the start of the video above.
Built Wild 4×4 Confidence
Just like the first-generation Bronco, nicknamed G.O.A.T. (Goes Over Any Type of Terrain), the mission of the all-new 2021 Bronco is to deliver maximum 4×4 capability and confidence. Bronco incorporates off-road mapping and drive technologies to give novice adventurers as much fun as hardcore off-road experts, while its Built Wild durability makes for lasting performance in the harshest of conditions.
Advanced four-wheel-drive technologies and chassis architecture are the core of the Bronco SUV off-road capabilities, and at the heart of it all is the Bronco exclusive Terrain Management System with G.O.A.T. Modes, designed to help drivers better navigate any type of terrain. Up to seven driver-selectable modes are offered including Normal, Eco, Sport, Slippery and Sand, with Baja, Mud/Ruts and Rock Crawl for off-road driving.
Two 4×4 systems are offered – a base two-speed electronic shift-on-the-fly transfer case, and an optional advanced system that features a two-speed electromechanical transfer case with an auto mode for on-demand engagement to select between 2H and 4H. Power is distributed to a Dana 44 AdvanTEK solid rear axle and Dana AdvanTEK independent front differential unit – both with available Spicer Performa-TraK electronic locking differentials for improved traction over rough terrain in models equipped for higher capability.
Available Trail Toolbox gives Bronco owners a suite of off-road technologies to elevate their off-road experience. This includes available Trail Control, cruise control for low-speed trail driving, then adds class-exclusive available Trail Turn Assist to tighten off-road turning radiuses through torque vectoring, plus innovative available Trail One-Pedal Drive acceleration/braking control for more precise and confident slow-mode rock crawling.
High-capability Sasquatch Package-equipped Bronco two-door SUVs deliver confident all-terrain driving thanks to its wide 43.2-degree approach angle, class-leading 11.6-inch maximum ground clearance, 29-degree breakover angle and a generous 37.2-degree departure angle. Bronco four-door with optional Sasquatch Package offers equally impressive off-road attributes, with 11.5-inch ground clearance, 43.2-degree approach, 26.3-degree breakover and 37.0-degree departure angles. Both two- and four-door Bronco models offer available best-in-class water fording up to 33.5 inches with the optional 35-inch tires installed.
Strategically placed steel shields protect critical hardware on higher-capability Bronco models, including an available front bash plate, plus shields for the engine, transmission, transfer case and fuel tank. For those taking on the roughest rocky terrain, available side rock rails are strong enough to support the weight of each side of the vehicle. Exposed tow hooks are standard in the front and rear, with optional heavy-duty modular steel front bumpers featuring an integrated Ford Performance accessory winch mount for more extreme off-road use.
Race-bred EcoBoost engines plus class-exclusive 7-speed manual and available 10-speed automatic transmissions give the all-new Bronco the optimal combination of power, torque and gear ranges to perform in a wide variety of terrains and uses.
The standard 2.3-liter EcoBoost I-4 engine delivers 275 horsepower and 315 lb.-ft. torque the most four-cylinder gasoline torque in its class, while the available 2.7-liter EcoBoost V6 engine produces 315 horsepower and 410 lb.-ft. torque, the most gasoline-powered six-cylinder horsepower and torque in its class.
With premium gasoline, the 2.3-liter I-4 engine achieves 300 horsepower and 325 lb.-ft. torque† and the 2.7-liter also makes gains with premium fuel, producing 330 horsepower and 415 lb.-ft. torque.
For maximum low-speed rock-climbing capability, a class-exclusive 7-speed (6+1) manual transmission paired with the available advanced 4×4 system with automatic on-demand engagement generates a best-in-class crawler-gear ratio of 94.75:1. An available class-exclusive SelectShift 10-speed automatic transmission makes for easier driving on- and off-road, while offering a maximum 67.8:1 crawl ratio with the optional advanced 4×4 transfer case.
Camera Views
I found the different camera views to be a great feature, but years of off-roading still had me wanting to look over the hood and out the window. I had to make an effort to remember to look at the big 12-inch screen on the dash while on the trail. I'm sure it wouldn't take long to break my habits and get use to the cameras.
There is a demonstration where you climb a hill and the camera shows you the other side since you can't see over the hood. Other views display tracks showing the path of your tires along with an aerial view, as well as a view that shows where your left and right front tires are.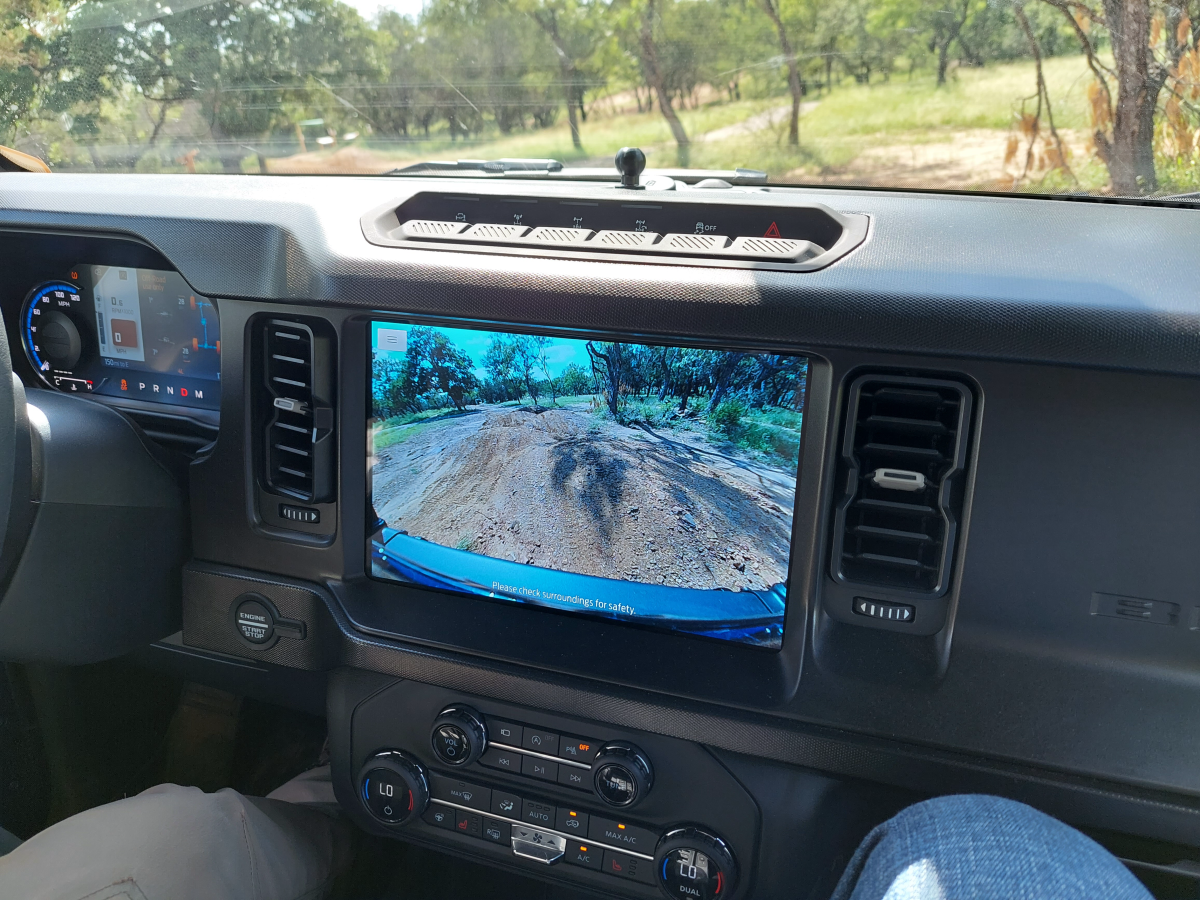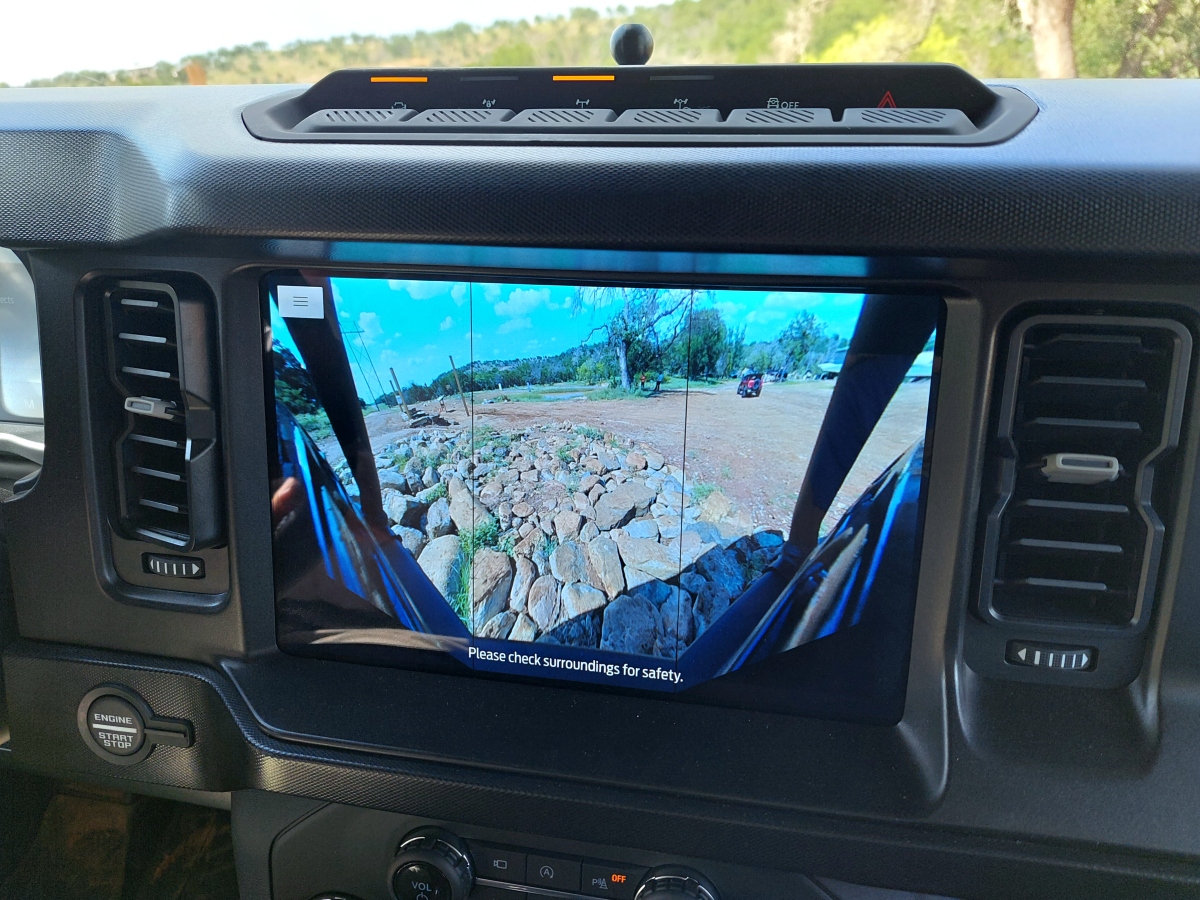 (Note the Hero switches above the screen to activate the lockers, sway bar disconnect, and Trail Turn Assist)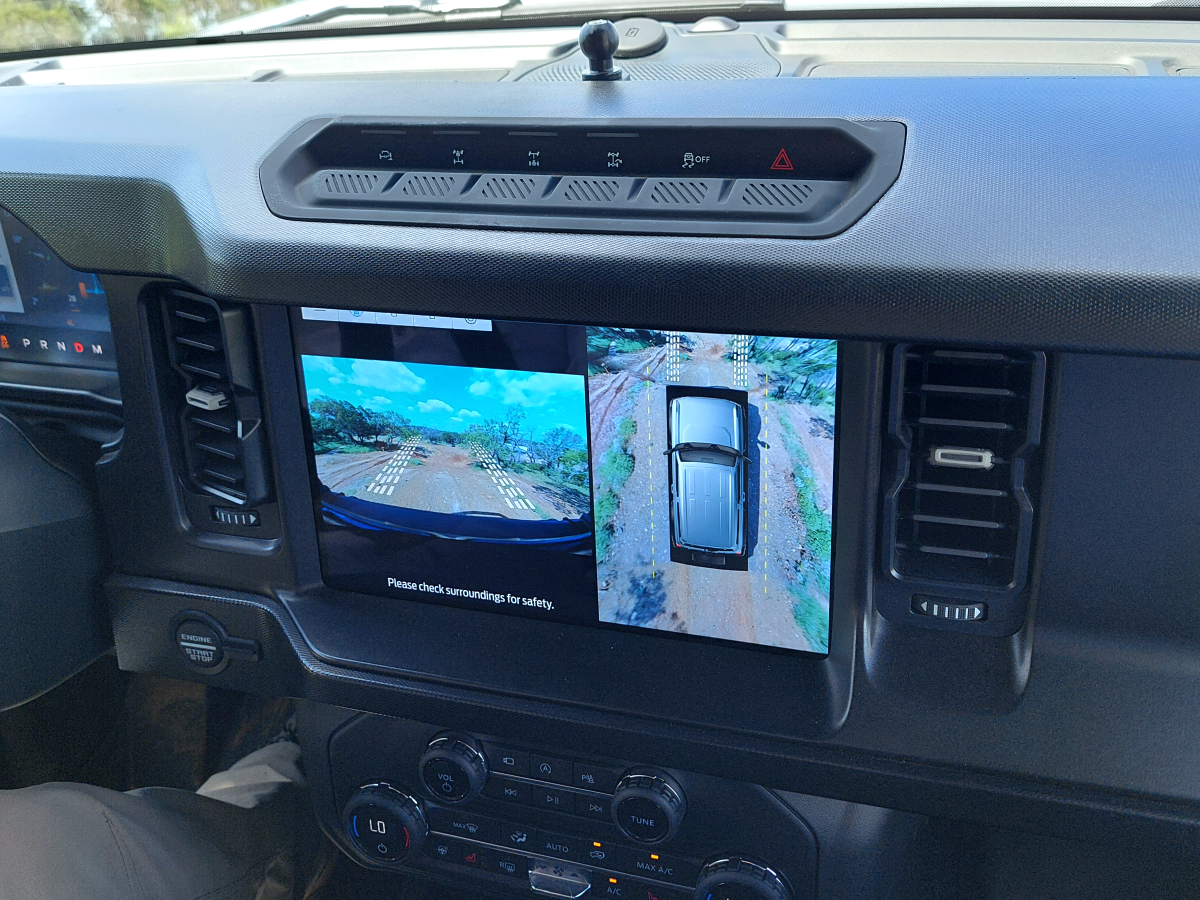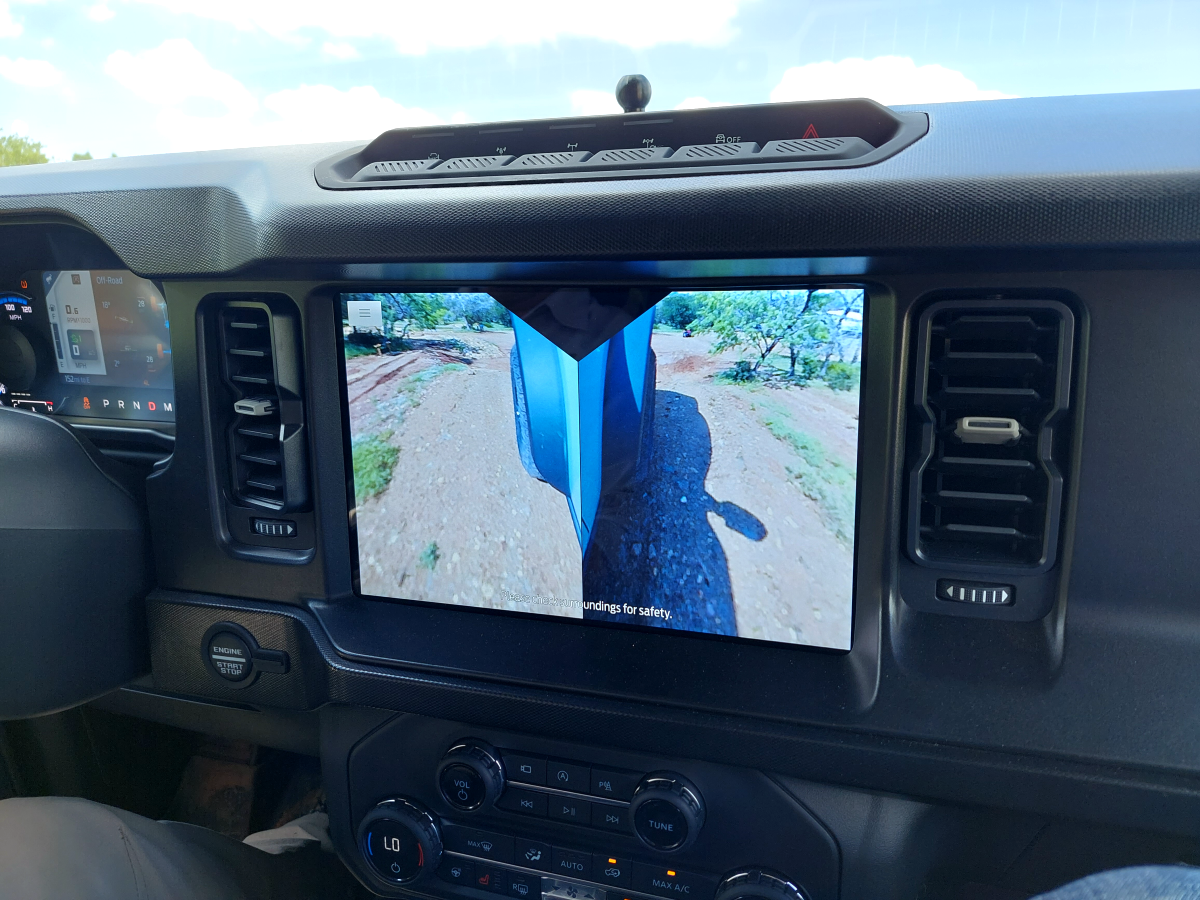 (This one is a weird view. It's actually the left and right front tires)
Driving Impression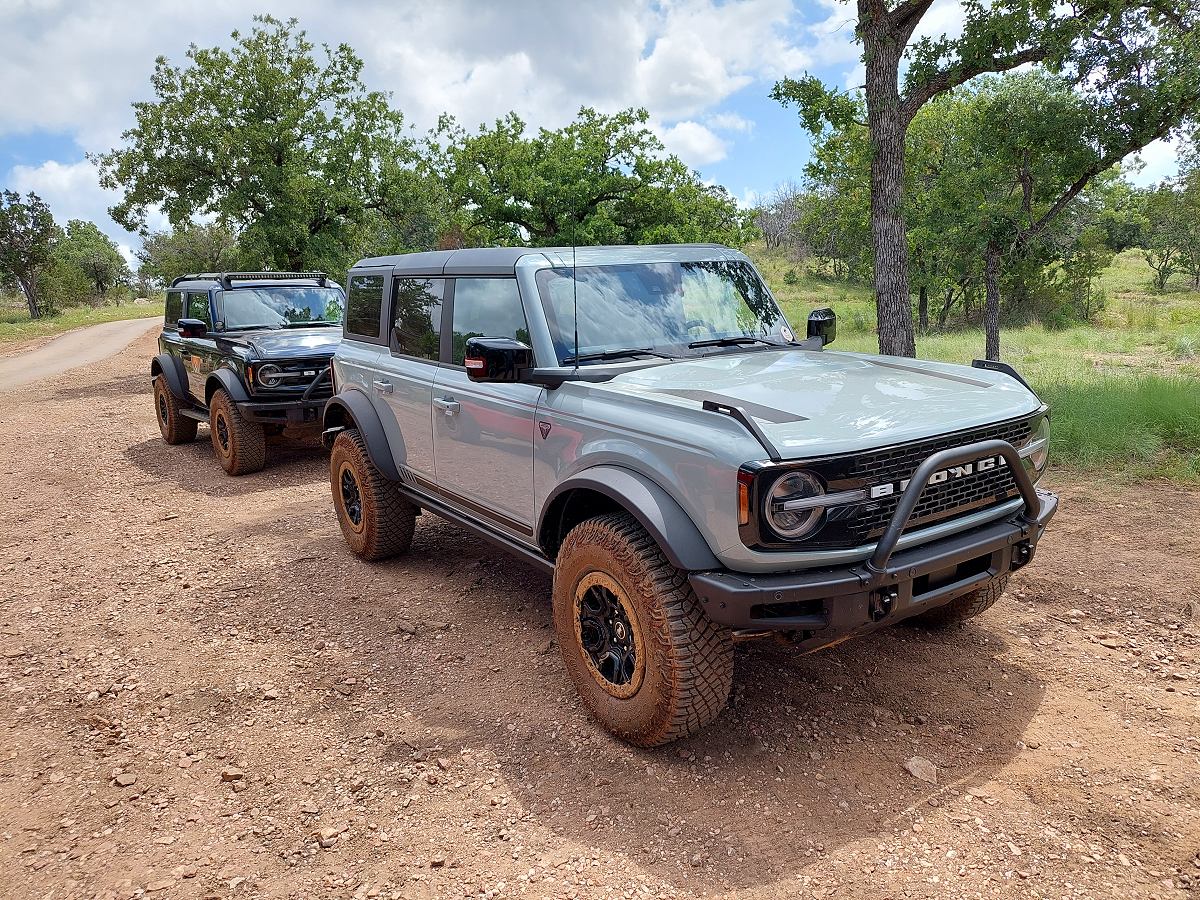 (I drove this First Edition Bronco with the Sasquatch package on the 'Ghost Pepper' trail)
I'm not new to off-roading. I've been doing it for over 20-years. My current off-road vehicle is a 1996 Ford Ranger with a 6-inch suspension lift and front and rear Detroit lockers.
The fact that I can purchase a new Ford Bronco with front and rear electric lockers is pretty impressive. There was a time when real off-road vehicles were built not bought. But the new Bronco has proves that we can in fact buy a true off-road vehicle from the factory. Driving a new Bronco on the trails here more than proved it's capability to me.
The 2.7L engine would be my engine of choice combined with the 10-speed automatic. The combination of horsepower and gearing in the transmission, transfer case, and axles provides the Bronco with plenty of power to easily get the Bronco anywhere you want to go with it's 35-inch tires. I found the Bronco to have plenty of power on both the trails and highway.
Using the swaybar disconnect helped smooth out the ride and increase the Bronco's wheel travel.
I'm fairly certain that at one point I ended up hitting the drivers side Rock Rail which likely saved the Bronco's body from damage.
I also had the option to try out the Trail One Pedal Drive. Basically when you let off the gas the Bronco applies the brake and holds itself in place. This keeps you from rolling back and forth as you're crawling over trail obstacles.
Another feature I really like is the Trail Turn Assist. I activated it by one of the Hero switches on the dash as I entered a tight turn on the trail. While making a right turn the right rear wheel locked up allowing the Bronco to pivot on that point and make an incredibly sharp right turn. No need to back up and re-align the Bronco with the trail.
Speaking of the Hero switches, they're located on the dash in easy reach of the driver (see further above). The switches are sealed in a rubber cover to protect them from water and dirt.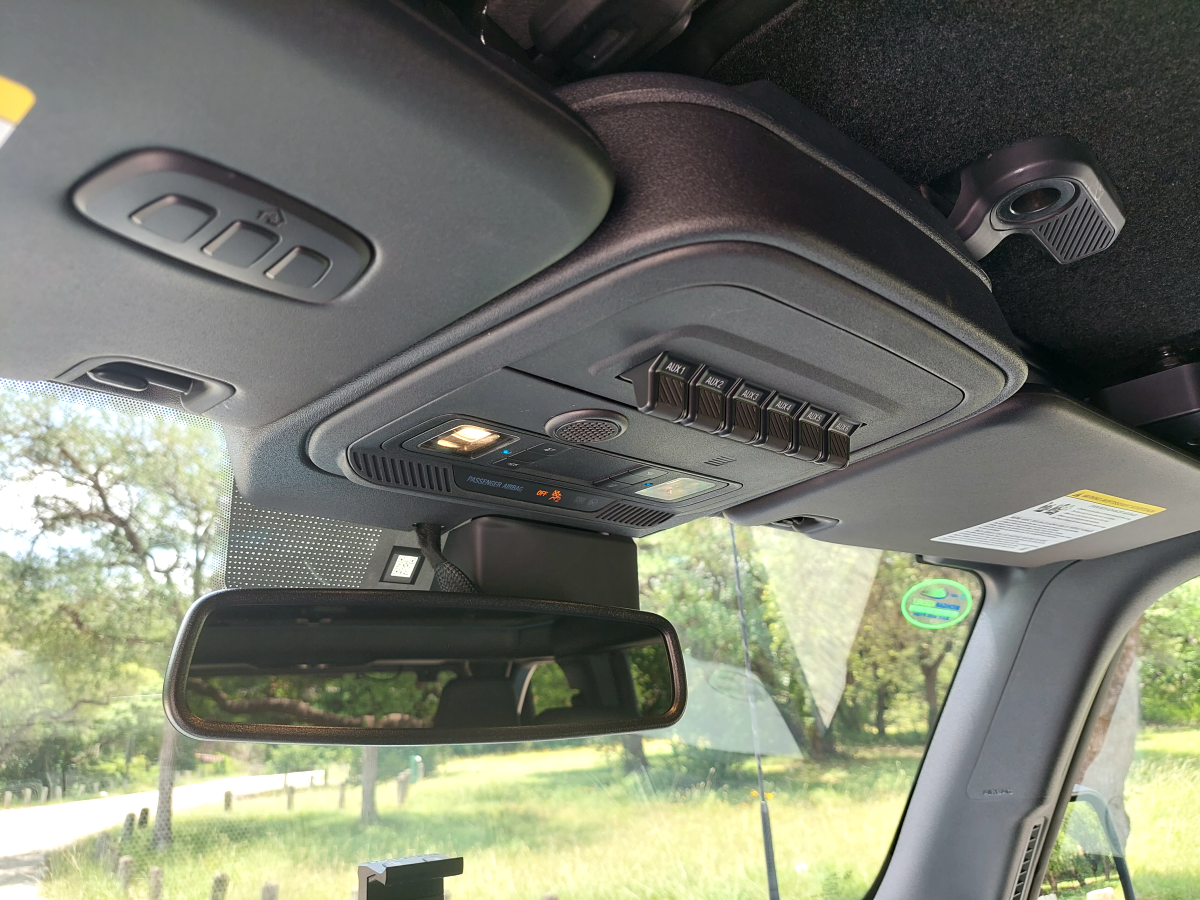 Six up-fitter switches in an overhead console provide plenty of options for controlling additional lights and accessories. This system is prewired making it easy to wire accessories without having to drill holes in your firewall or dash. Not only does this make installation easier, but also helps prevent owners from drilling holes that could allow water in to the vehicle. I'm so grateful that Ford is finally adding these to vehicles besides the Super Duty and Raptor.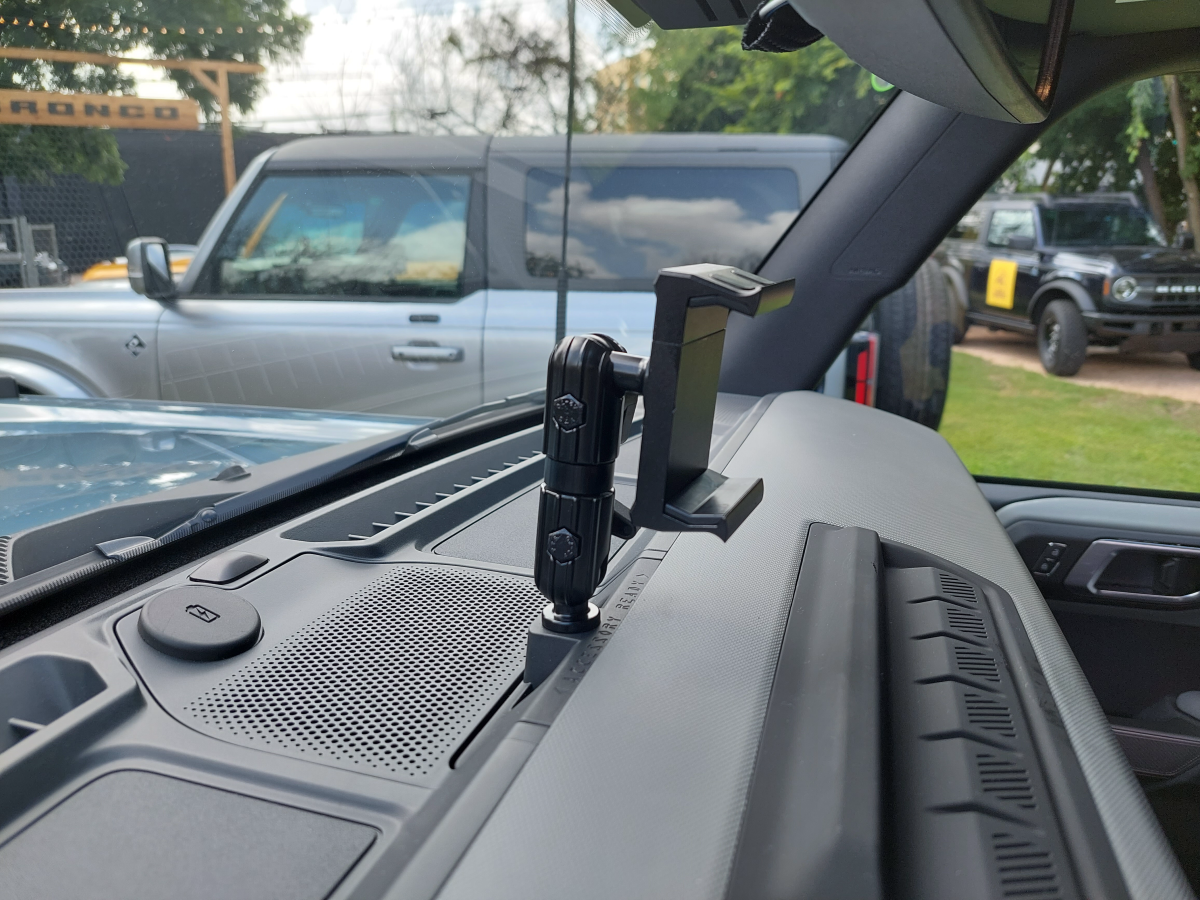 I also like the factory mount for holding a phone or Go Pro. I used it to hold my phone, and then used the camera in my phone to record trail video. This is a very solid mount with a power outlet behind it. There's no chance of my phone becoming a projectile like there is with the suction cup style mounts.
If you watch the videos below you can see how easily the Bronco traversed all of the trails. It performed shockingly well.
I've always had the confidence that my Ranger could go anywhere I wanted it to. It's built specifically for off-road, and does it very well. I'm convinced that a new Ford Bronco with the Sasquatch package could easily run circles around my Ranger. That's a hard thing to admit. It's left such a powerful impression on me that I will probably purchase one in the future.
Be sure to check out my 2021 Ford Bronco First Highway Drive for my on-highway driving impression.
Trail Videos
More About The Facility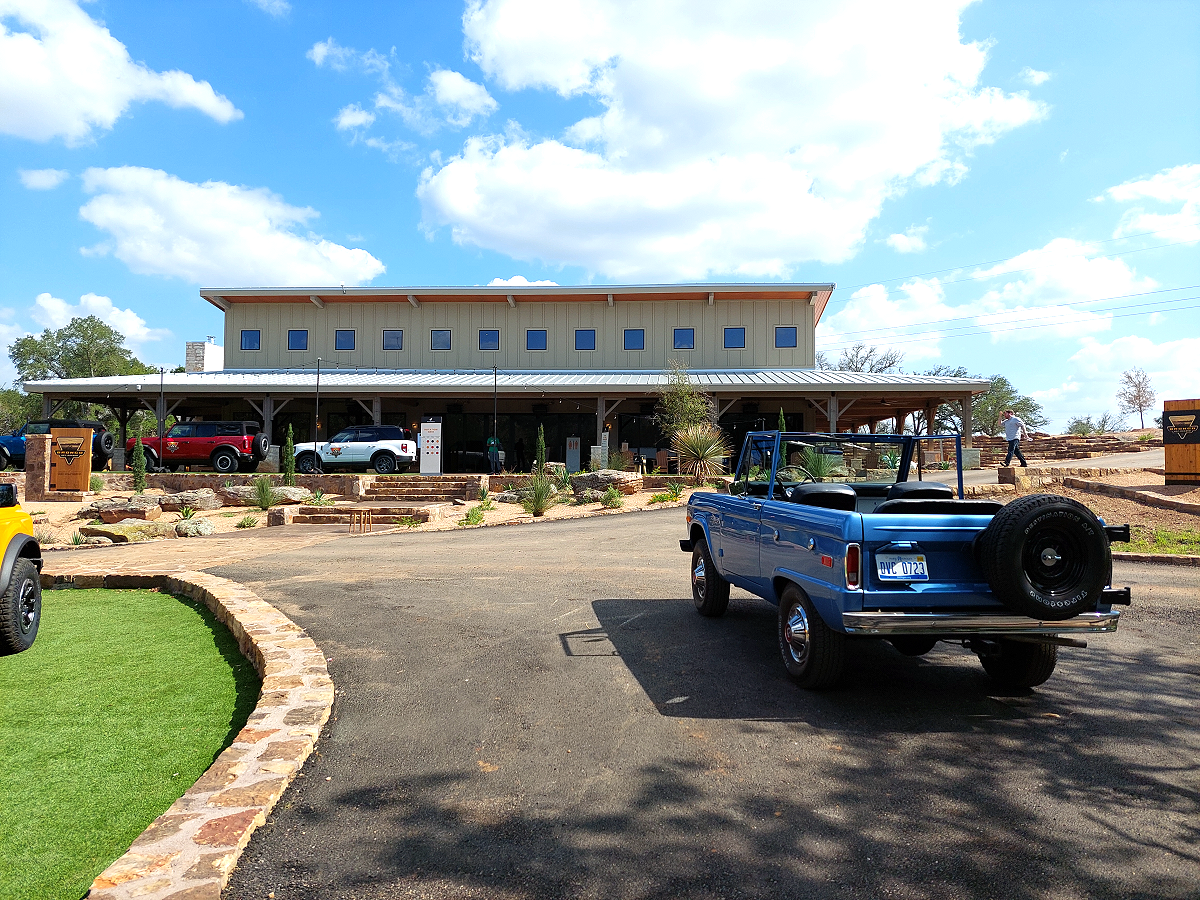 Ford built a beautiful Texas facility for the Off-Roadeo. As mentioned above it sits on 365 acres and features 50-miles of trails. It has a rustic adventure feel with plenty of room for dining, class room, as well as a section for merchandise. There's even a modified Bronco sitting inside. The building also houses an area to prepare and serve food.
The exterior has a large wrap around porch and bench seats that resemble tailgates from old Ford Bronco's. It's far nicer than any off-road park I've been to, and you should definitely go if you get the chance.
I had as much fun wheeling these trails as I do when I go on trail rides with experienced off-roaders. Ford also fed us breakfast lunch and dinner here, so it was like being on vacation.
I'd love to do it again!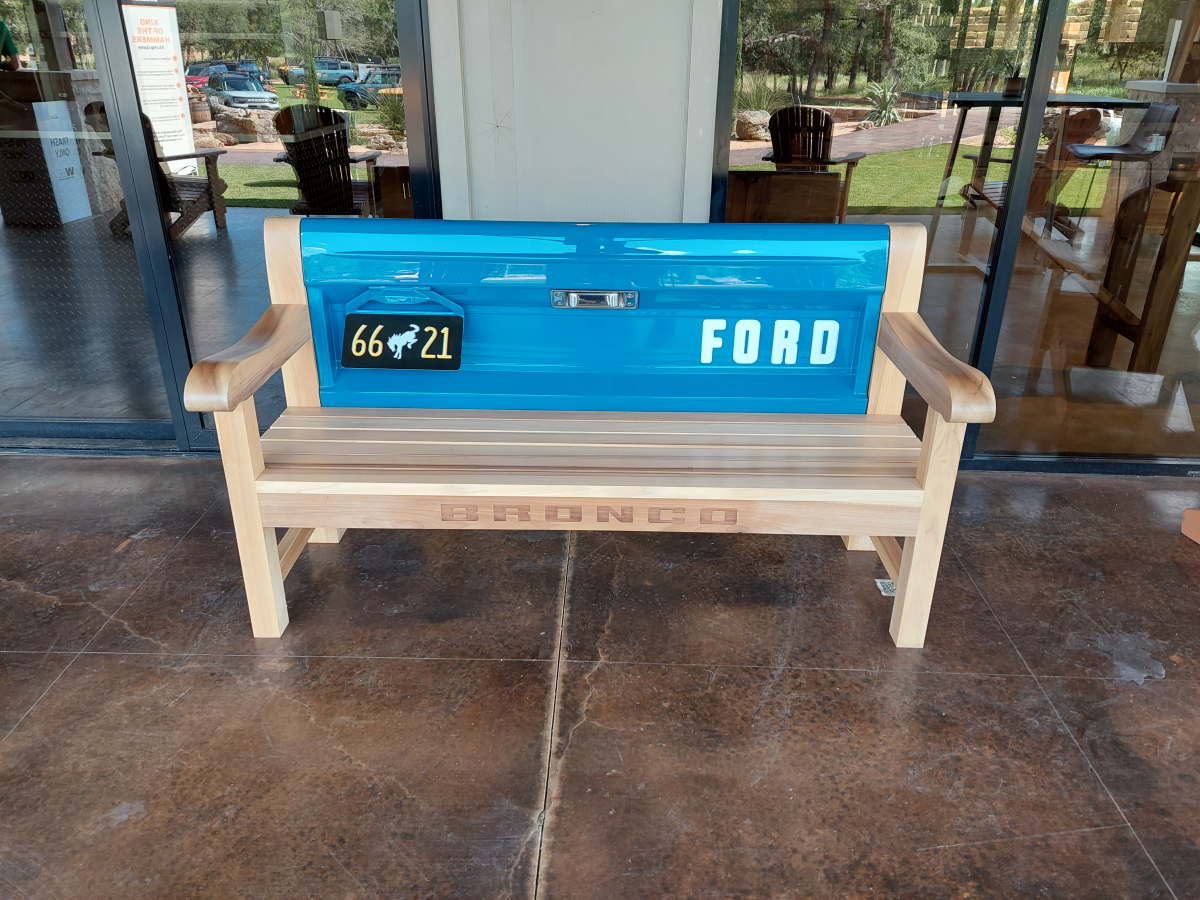 Links
2021 Ford Bronco First Highway Drive
More Photos
Click photos to enlarge.