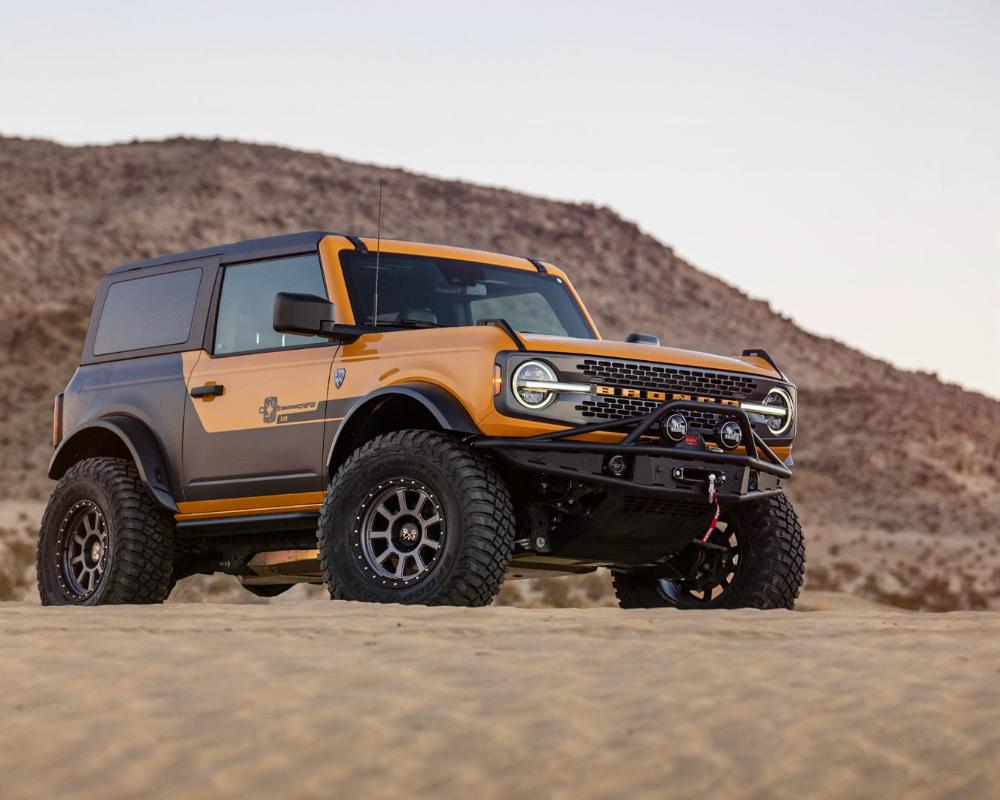 The King of the Hammers started as a competition among friends for bragging rights. Over the years, it has grown into an international event that has changed the face of off-road racing forever. The competition is tough, and the competitors are tougher.
Scherer, a multi-time KOH and Ultra4 Champion, designed and tuned the ultimate daily-driven trail runner inspired by the legendary race. Harking back to his time crawling the Rubicon Trail and racing 4400 class cars, he chose a familiar platform to create his dream, everyday driver. The 2023 KOH Edition Bronco is equally at home in the dirt as it is on the street.
Using his 20-plus years of off-road expertise, Jason designed the KOH Bronco to be lightweight, agile, and strong. He teamed up with his sponsors and industry connections, FOX, BDS, JKS, BF Goodrich, Rage4th, and Vision wheels, to ensure the finished product lives up to the KOH brand. The KOH Bronco thrived during testing in Johnson Valley, which means it is ready to take on whatever terrain you throw at it.
Comparison: Bronco Raptor LiveValve vs. KOH vs. Wildtrak
While the Bronco Raptor uses brute force and Fox's LiveValve semi-active technology to conquer harsh terrains fast, the KOH Bronco is designed to be nimble and comfortable on and off the trails with analog adjustable Performance Elite shocks. Most importantly, it's built to be fun.
What is the difference between the Wildtrak package with FOX 2.5 Internal Bypass shocks and the 2.5 Performance Elites on the KOH Bronco? Both are excellent products. The Wildtrak uses FOX's position-sensitive technology that shines in fast desert conditions. Jason chose the FOX 2.5 Performance Elite shocks with dual-speed compression adjusters for their versatility, tuneability, and familiarity with the adjusters that he uses to dial in the control of his race car.
This shock package came from the Ultra4 4600 class Broncos raced at King of the Hammers. Jason took full advantage of his long-standing relationship with FOX's race engineers. Together they tuned the shock package to achieve the comfort and fluid-like ride quality Jason was after on and off the dirt.
Features:
Fox Shocks: Tuned by Jason Scherer
Jason chose the 2.5 Performance Elite shocks for their versatility and adjustability via dual-speed compression adjusters. This shock package came from the Ultra4 4600 class Broncos raced at King of the Hammers. Jason took full advantage of his long-standing relationship with FOX's race engineers. Together, they tuned the shock package to achieve the comfort and fluid-like ride quality Jason was after on and off the dirt.
FOX Performance Elite 2.5 Series shocks for the new full-size Ford Bronco are designed and engineered by off-road enthusiasts to enhance comfort, maximize articulation, and increase compliance in the dirt.
FOX's progressively wound springs provide extra clearance and movement to unlock your Bronco's entire range of usable travel in both jounce and droop positions. These springs were specifically chosen to complement the Bronco's IFS design to offer a uniquely soft ride and better control through rough terrain.
The shocks' 2.5-inch aluminum bodies and external reservoirs efficiently dissipate heat by increasing internal oil capacity, while the remote reservoirs with Dual Speed Compression (DSC) adjusters are strategically mounted to clear aggressive mud tires and leave space for aftermarket skid plates and bumpers.
Easily adapt your shocks for load, environment, and driving style using the DSC adjusters, as the large capacity dampers manage stability through all types of terrain. Additionally, you have a generous amount of preload adjustment to maintain your Bronco's ideal ride height while supporting a wide range of essential added gear.
FOX Performance Elite 2.5 Series shocks provide the versatility required to navigate backcountry terrain on the weekend and tackle your daily commute while you remain comfortable and in control.
BDS Suspension: A Closer Look
BDS is known in the industry for building high-quality suspension components that maintain factory ride quality. Scherer chose several BDS products, including their adjustable rear control arms and an adjustable track bar, for the KOH Bronco. Both use factory-style rubber bushings that are low maintenance, quiet, and provide comfort on-road for daily driving. In addition, the adjustability allows for suspension geometry correction needed to maintain safe handling and articulation when off-road. Jason also chose JKS front lower control arm skid plates to protect the Bronco's front suspension.
"Ford put much effort into creating stout arms that are light," he says. "It would be hard to produce a better product in steel. Adding protection to the control arms and shock mounts help minimize the damage that can occur when you are wheelin."
The new BDS Uniball performance control arms are built from high strength 1.5″ OD heavy-wall tubing specially formed to provide optimal clearance for both suspension-coilover as well as wheel/tire clearance.
Lower Control Arm Skid Plates
Looking for some protection for those vulnerable aluminum lower control arms on your new Ford Bronco? Look no further than the JKS Front Shock Mount Skids. These heavy duty skids are constructed from 3/16″ steel, specially formed to provide the ultimate rock and offroad protection for the stock lower control arms, lower strut mount and CV shafts when you hit the trail.
Max Tire Clearance Kit
JKS builds on the capability of the new Ford Bronco with the Max Tire Clearance Kit designed to optimize the front wheel-well to make room for the massive BFGoodrich 37″ KM3 Mud-Terrain Tires. High strength body mount brackets improve clearance and compliment the KOH Edition Bronco bumpers perfectly.
Rear Lower Shock Skids
Despite the impressive off-road capability of the new Ford Bronco, the position of the rear lower shock makes them very susceptible to damage. Each KOH Edition Bronco features JKS Rear shock skids to protect the FOX Factory Shocks from damage.
Steering Sleeve Kit
As capable as factory Broncos are out on the trail, the factory steering tie rod ends have proven to be a weak point when running larger tires, failing at the threaded rod. Every KOH Edition Bronco features the stout JKS sleeve kit designed specifically for the Bronco's factory tie rod ends.
Link:
Video:
More Photos:
Click the photos to elarge.