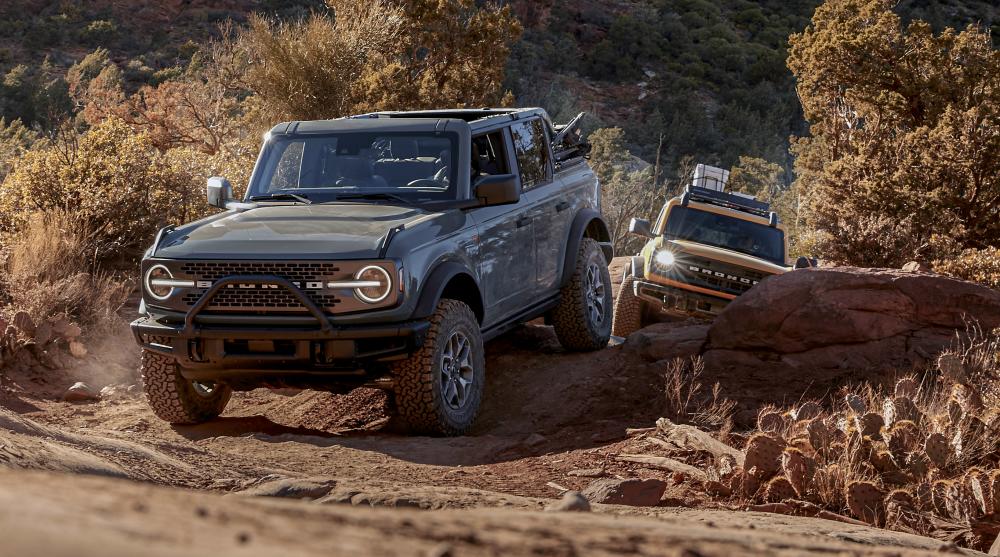 Showcased at the 2021 Woodward Dream Cruise and delivering Built Wild™ extreme off-road capability, the all-new family of Bronco® rugged SUVs is built with High-Performance Off-Road Stability Suspension (HOSS) systems to help keep trail drivers in charge even when the terrain gets tough
Inspired by Baja trophy trucks, Bronco two- and four-door SUVs feature HOSS-tuned independent front suspension and coil-over shocks for high-speed agility in the sand and traction on the rocks; available Bilstein® position-sensitive dampers add more capability
Bronco Sport SUV delivers thrilling high-speed off-road capability with HOSS-tuned independent suspension, uniquely tuned steering system and available hydraulic rebound stops on higher-capability Badlands™ series models
DEARBORN, Mich., Aug. 20, 2021 – Bronco® brand, the all-new family of only-4×4 SUVs from Ford, is redefining the off-road landscape with suspension designs to elevate off-road driving performance on various types of terrain without sacrificing on-road drivability or control.
"We listened to what off-road enthusiasts wanted in terms of capability and control – and heard a lot about what could be improved in the current off-road SUV offerings – namely harsh ride, sloppy steering and discomfort above crawling speeds," said Mark Grueber, Bronco consumer marketing manager. "Our answer was to design a lighter, more agile suspension system tuned to deliver more confident off-road capabilities without having to trade comfort and control."
For the all-new Bronco two-door, Bronco four-door and Bronco Sport models to deliver the Built Wild brand promise, every model is built with the unique High-Performance Off-Road Stability Suspension (HOSS) system featuring independent front suspension, taller coil springs on every corner for added articulation and HOSS-tuned heavy-duty dampers for improved stability on-road and off.
The HOSS systems up the off-road ante further on Bronco and Bronco Sport models such as Badlands™ series, or the Sasquatch™ off-road package available on the two- and four-door models. The systems feature heavier-duty off-road-tuned dampers, as well as end stop control valve technology to increase impact absorption and further improve high-speed pitch control.
Bronco Two – And Four Door SUV: Legendary HOSS Capability
With a legacy of innovating the off-road landscape that began in 1966, the all-new 2021 Bronco two-door and four-door models deliver a strong, undisputed statement with their high-speed off-road capability and confidence, like surefooted wild horses running in the desert.
On the Bronco two- and four-door chassis, HOSS delivers pitch and roll control inspired by today's trophy trucks. It starts with the same second-generation Ford T-6 chassis used in the Bronco R Baja race prototype, utilizing an independent front suspension modeled after the Ford F-150 Raptor forged twin aluminum alloy A-arms with long-travel coil-over springs, HOSS-tuned shock absorbers and stabilizer bar.
This modern off-road design reduces unsprung front axle weight up to 20% – or up to 42 pounds – over competing solid front axle designs for a far superior ride and more consistent tire-to-surface contact. And with the three-mode electronic-assist rack-and-pinion steering, it offers better on-center steering and precision on-road and off-road while minimizing steering wheel kickback.
At the back, Bronco adds compliant coil-over progressive rate springs for pitch control and a five-link geometry 220-millimeter (about 8.6-inch) solid axle balanced for optimal payload capacity, plus stabilizer bar-delete for added articulation. In higher-capability models, available three-zone position-sensitive dampers are added for even greater rear pitch control and reduced head toss in higher-speed off-road environments, while increasing suspension articulation in low-speed environments.
"This design combination of low-mass, high-compliance chassis tuning improves high-speed off-road confidence and lets drivers 'get on plane' across a series of whoops like you see with trophy trucks," said Jamie Groves, Bronco engineering manager. "And when it comes to rocks, we get significant levels of articulation to crawl through extreme terrain."
For even more aggressive off-roading, the HOSS system is designed into the more capable Sasquatch Package and Badlands series option groups. This includes available HOSS-tuned long-travel Bilstein® position-sensitive dampers with end-stop control valves with increased ride height to help improve ground clearance, plus downsized front stabilizer bar to help improve roll disturbances. Badlands series adds the front stabilizer bar-disconnect system with class-exclusive* semi-active hydraulic design to further maximize articulation on uneven surfaces.
"The hardcore off-road performance and drivability advantages of a well-executed independent front suspension you see on 4x4s like the F-150 Raptor and the unlimited class trophy trucks are all but making solid axles extinct," said Groves. "Following this trend, HOSS gives both novice and experienced off-roaders a 4×4 that elevates their off-road experience on all sorts of terrain and speeds."
Bronco Sport: Specially Tuned For The Trails
From the base model up to the high-capability Badlands and First Edition models, every Bronco Sport is equipped with a HOSS system that gives drivers the confidence of specially tuned hardware calibrated specifically for higher-speed trail running. Every Bronco Sport is outfitted with HOSS-tuned front and rear springs for better wheel articulation, as well as unique front struts and rear monotube shocks.
"The spring rates and shock tuning were chosen to ensure a level of off-road performance worthy of the Bronco name," said Nathan Musleh, Bronco Sport vehicle dynamics engineer. "While attacking a rutted trail or sand dune, you can feel the difference the HOSS tuning makes by reducing unwanted pitch and allowing the driver to focus on what's ahead."
Front suspension on all models features independent MacPherson struts with coil springs, stabilizer bar and twin-tube hydraulic gas-pressurized shocks. Rear suspension on all models includes independent double lateral link semi-trailing arms with coil springs, stabilizer bar, monotube hydraulic gas-pressurized shocks, and isolated steel subframe with steel knuckles. Bronco Sport benefits from three-mode electric power-assisted steering to provide more subtle response in choppier trail events and lighter steering effort at low speeds in Rock Crawl mode.
Badlands and First Edition models expand Bronco Sport performance further, with the addition of hydraulic rebound stops that rapidly increase control at the end stop to reduce the jarring impact of rugged terrain. Upgraded 46-millimeter diameter rear monotube shocks are specially tuned for Badlands and First Edition models and further help improve off-road control and comfort.
More compliant front and rear anti-roll bars and springs were selected for the high-capability Badlands and First Edition models to increase off-road articulation. Badlands and First Edition models also include larger all-terrain, thick-sidewall tires. Badlands models come standard with 28.5-inch Pirelli Scorpion all-terrain tires, while 29-inch Falken Wildpeak all-terrain tires with thick sidewall treads are optional on Badlands and standard on First Edition models.
Longer springs on Badlands and First Edition models also contribute to improved off-road metrics. Bronco Sport features a maximum running ground clearance of 8.8 inches when riding on available 29-inch all-terrain tires, unsurpassed in the non-premium subcompact utility class.
Bronco and Bronco Sport are on sale now. To learn more, visit Ford.com/Bronco.
*Class is Medium Traditional Utility.
Always consult the owner's manual before off-road driving, know your terrain and trail difficulty, and use appropriate safety gear.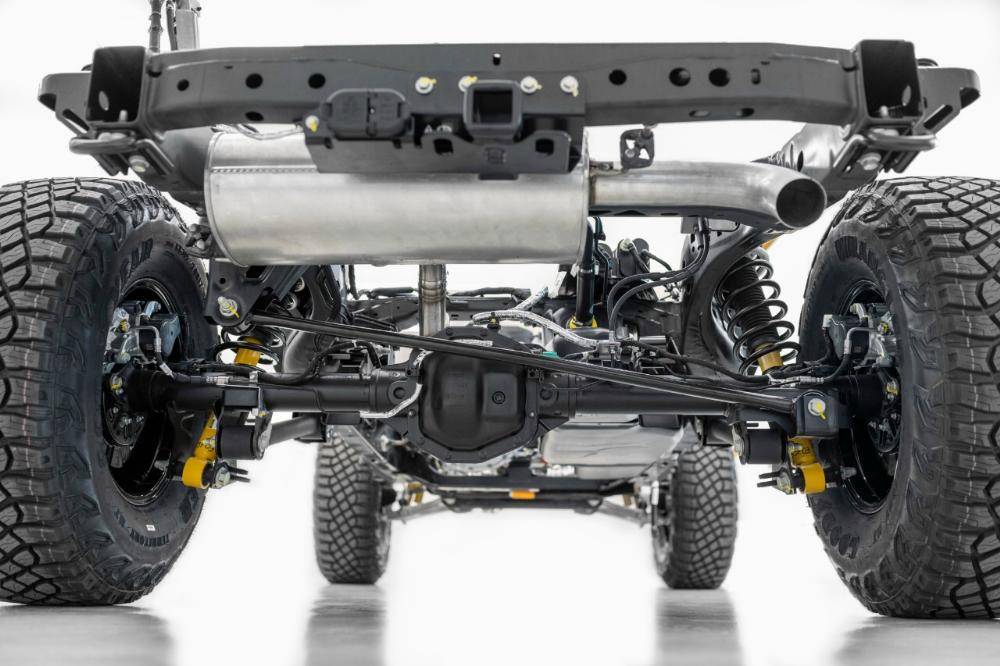 Video: