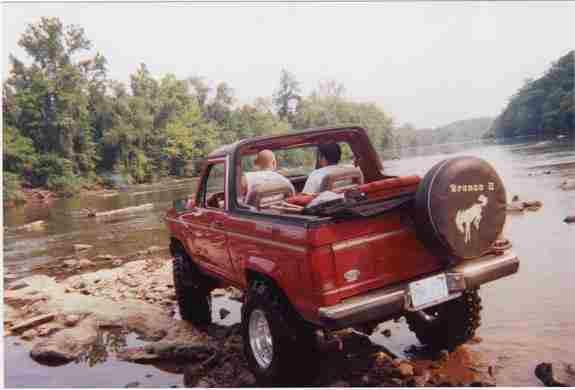 A look at a 1989 Bronco II convertible available from the dealer
By Reid Hinsley
Here's the story on how I came to have it:
About four years ago I made a Trip to Appalachian University in western North Carolina to see a friend. On this trip I saw this Bronco II…my exact bronco II that I have now. When I saw it, I wanted it so bad, but we saw it on the highway and it was going the opposite direction. Well, last September (2001) my '89 Bronco II was stolen. Last November my dad and I were on a job in an unfamiliar area about 20 minutes from where we live. We were…..err….temporarily on the wrong road and decided that at the next street we came across we were going to turn around. When we got to the next street we saw this little red convertible Bronco II sitting on the corner. It had a for sale sign in the window so we called the guy and had him meet us out there. He said it didn't run well and he thought the engine was about to go, so he'd let me have it for $1600. I asked him where he got it from and he said he bought it at an auction, and all he knew was that it came from somewhere in western NC. I jumped on the deal and bought it.
Details………
The Bronco II was done in Sherrods Texas plant which is now closed.  The number of convertibles made is unknown.  The black trim is fiberglass/bondo that's been painted. The convertible top was a dealer option in 1988.  The dealer (not sure which one) hired a company called Sherrod Conversions to do the convertible top. I know this because of the "Sherrod" decals on the tailgate. I have contacted Sherrod, but they don't remember doing such a conversion, and they also said they don't have any records for that far back. They said that they wouldn't sell a kit to do it, they do all their work themselves.
The info I have on it being a dealer option was given to me by the owner of another Sherrod Bronco II. He said he picked out his Bronco II brand new off the lot, and the dealer sent it to Sherrod for the conversion. I am assuming that the dealer was around here somewhere since both of the Bronco's that I have seen in person were here (North Carolina). I forgot to ask the other owner what dealership it was and I haven't seen him since then.
The top snaps on similar to a Jeep top. There is a groove just above the windshield that the front edge of the top slides into. There is also a groove behind the door, vertical. the rest just snaps on. I guess that's all I know about it. I just purchased it last November so I have only had it for a year.
The original running boards have been removed and a suspension lift along with new tires and wheels were added.
Editors Note: The Sherrod Bronco II conversions were done in Ponder, Texas.