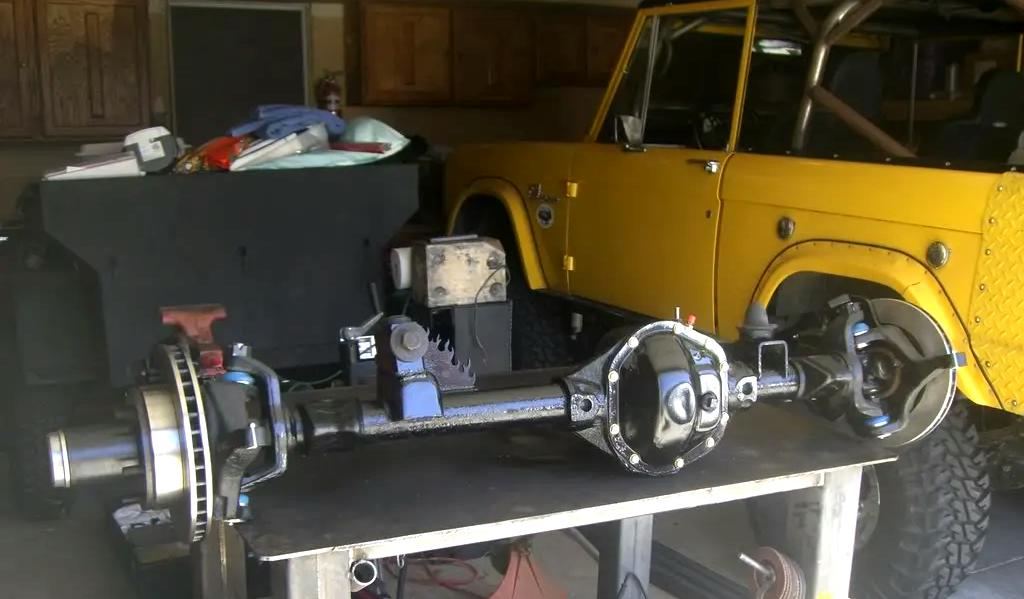 The 1971-1977 Dana 44 is a desirable axle, but has to shortcomings:
1971-1975 Dana 44 axles have drum brakes.
1971-1977 early Ford Bronco axle shafts have small 5-260x u-joints.
U-Joints
One of the major drawbacks of an early Bronco Dana 44 is it's small 260x u-joints. You'll need to replace the axle shafts in order to swap to a larger (stronger) u-joint.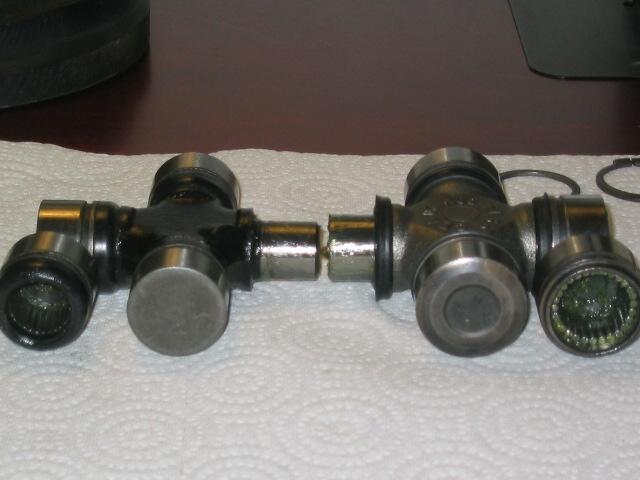 Above: 260x u-joint (left) versus a 760x (297x) u-joint (right)
Below: 760x (297x) u-joint cap (left) versus 260x u-joint cap (right)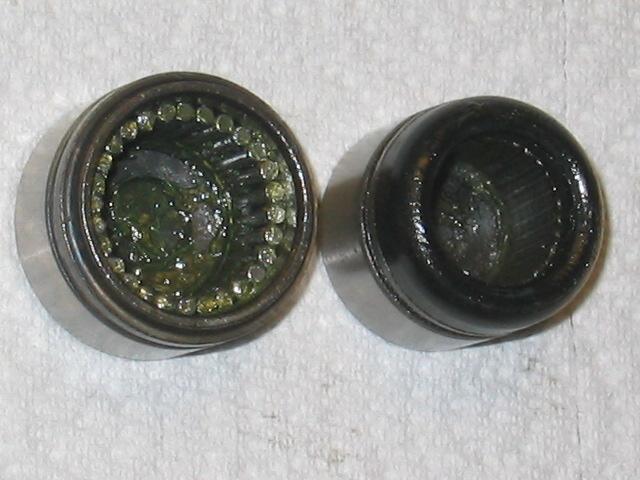 Replacement Axle Shafts:
Due to the Dana 44's popularity, there are aftermarket axle shafts and axle shaft kits to upgrade your Dana 44 with stronger axles, larger u-joints, and even CV joints.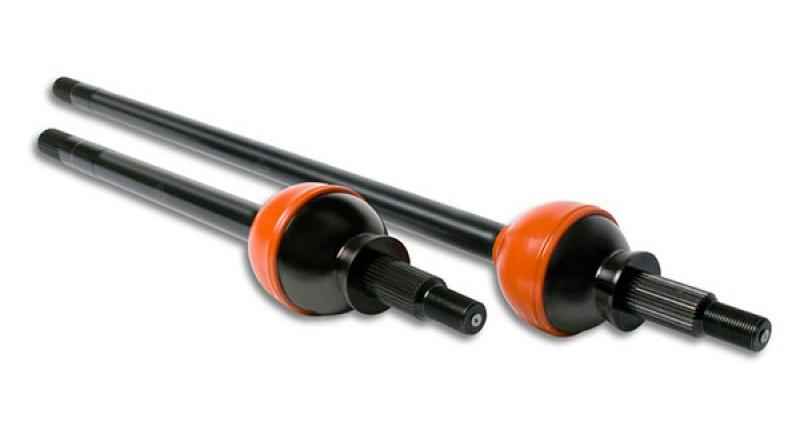 RCV CV Axles – RCV Performance Ultimate CV Axles simply replace your Ford Bronco's weak Dana 44 U-joint axle shafts with a high-strength constant velocity design. Tests prove Ultimate CV Axles to be twice as strong as OEM axle shafts, and they're just as tough at a straight angle as they are at extreme angles – where U-joints are weakest. Ultimate CV Axles also eliminate U-joint binding to allow smooth transfer power to the ground. Even if you have big tires and big power there are no worries. Ultimate CV Axles are low maintenance and operate with a smoothness you can feel – whether off road or on the street.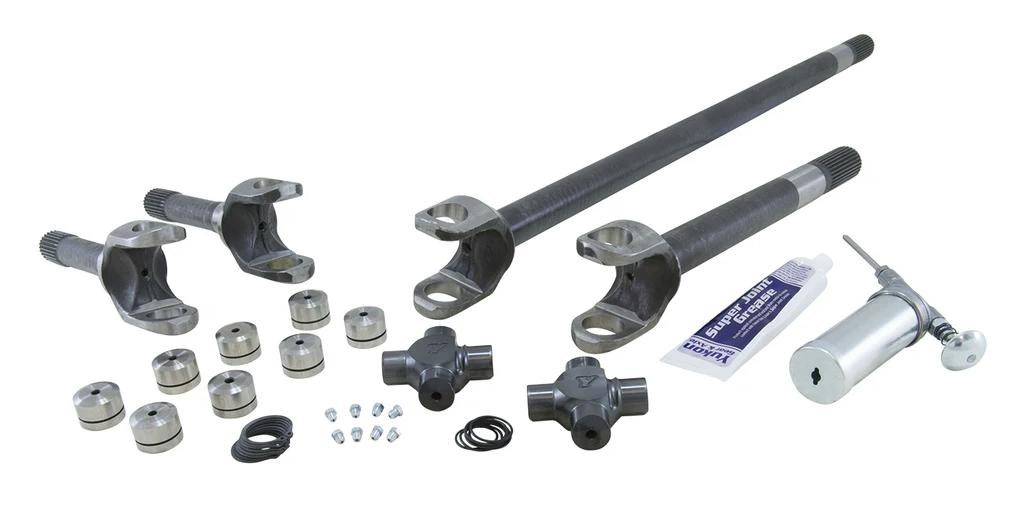 Yukon Axle & Gear Chromoly Axle Kits – High quality alloys and the latest in heat-treating technologies provide for a strong axle for off-road.
Yukon YA W24130 – Their W24130 kit includes inner and outer 4340 Chromoly axles and Spicer U-Joints.
Yukon YA W24132 – Their W24132 kit includes inner and outer 4340 Chromoly axles and Yukon Super Joints.
These can be ordered from Randy's World Wide, Rigid Axle or at: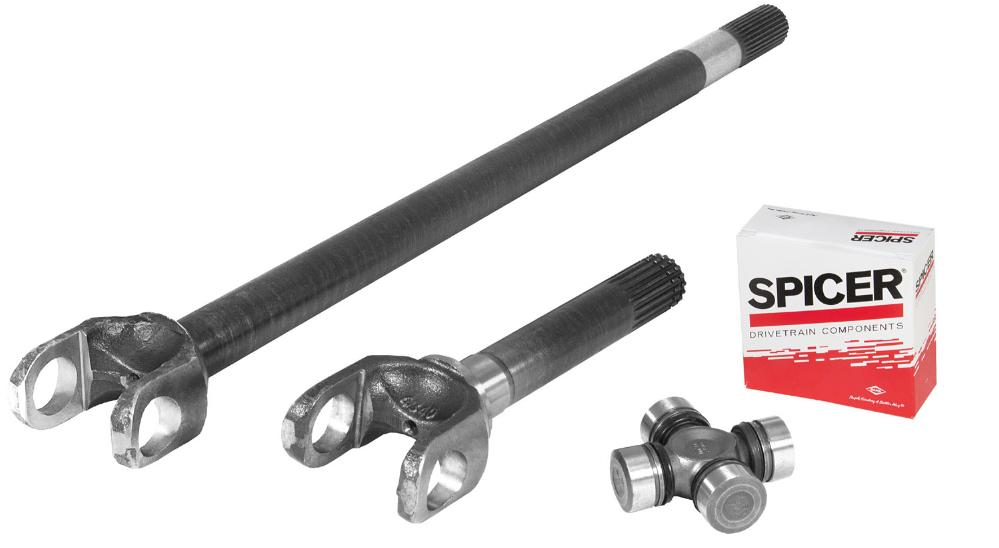 Other companies offer more economical kits such as:
Upgrading With Stock Parts:
If you want to upgrade to larger u-joints, but don't want to purchase new custom axle shafts, you can use the short driver's side from an 1973-1979 Ford F100/F150. These shafts have the larger 297x u-joint. The F-150 shaft is 18.90-inches (18-29/32″) long which is 0.59-inches (1/2″) longer than the early Bronco shaft. The 1977-1979 Ford F-150 supercab's list the drivers side axle shaft as 18.625-inches (18-5/8″) long, which is only 0.3125-inches (5/16″) longer than the early Bronco shaft.
However, the 1969-1978 Chevrolet Dana 44 Pickup / Blazer (right) front axle shaft is 18.31-inches (18-5/16″) long, so it would work as a better replacement than the F-150 shaft. Also, a Dodge W100 from 1972.5-1974 with BOM 603413 has the exact same length shaft at 18.31-inches (18-5/16″). Both of these shafts use the stronger 297x u-joint, and are the same length as the early Bronco Dana 44 shaft.
There isn't a stock replacement shaft that will work on the passenger side of your early Bronco Dana 44. You will have to get a longer Dana 44 shaft and have it cut down and resplined. Your other option is to buy a new Dana 44 passenger side axle shaft that takes a 297x u-joint.
You will need the matching 9.72-inch (9-23/32″) outer (stub) shafts to accept the larger u-joints.
1971-1977 Ford Bronco Axle Shaft Lengths:
1971-1977 Bronco Drivers Side Axle Shaft Length 18.31-Inches (18-5/16″) long – 30 Spline
1971-1977 Bronco Passenger Side Axle Shaft Length Length 27.94-Inches (27-15/16″) Long – 30 Spline
1971-1979 Bronco Outer Axle (Stub) Shaft Length 9.72-Inches – 19 Spline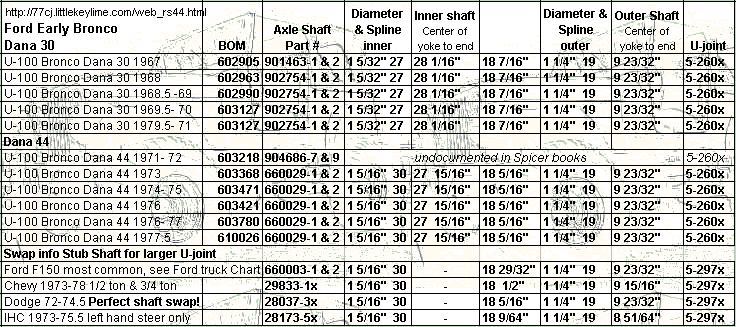 Ford Dana 44 Axle Shaft Lengths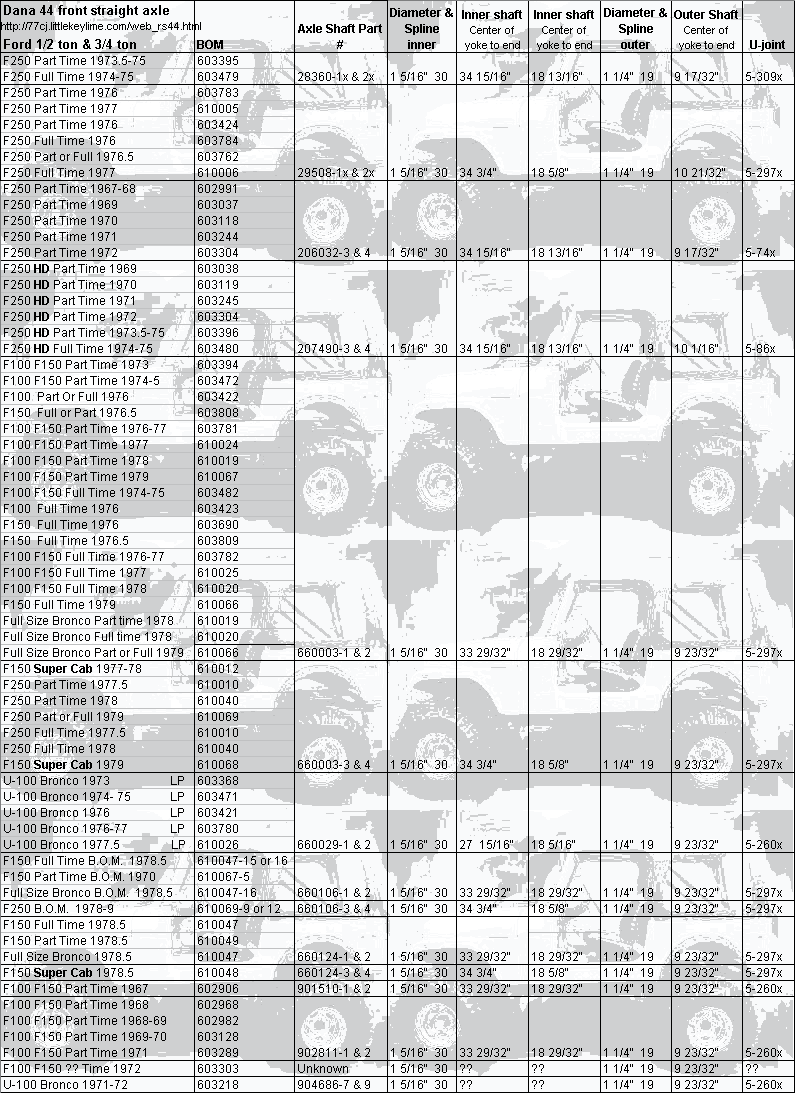 760x vs 297x U-Joints:
You will likely see some aftermarket axle shafts for your early Bronco Dana 44 that take a 760x u-joint. The 760x is the stock replacement part number for the old 297x u-joint.
The left half is a 760x u-joint – the right half is the old 297x u-joint
The cross of the 760x is cold-forged, while the 297x is hot-forged. The cold forging makes for a denser product. Under cyclical bench testing, the new 5-760X outlasted its 5-297X predecessor by 10 times. While this doesn't mean that the new U-joint is 10 times stronger, it does mean it's 10 times more durable.