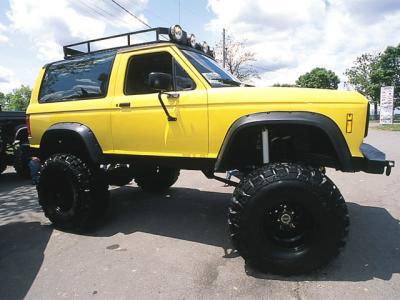 Over the years, we've seen various Bronco II buildups. Here's an overview of various upgrades:
Engines:
The Bronco II came with either a 2.8L or 2.9L V-6 engine. The 2.8L is carbureted. The 2.9L is fuel injected. The Bronco II's came with either a couple different manual transmissions, a C-5 automatic transmission, or A4LD transmission. If you're building a trail rig, stay away from the A4LD. If you have a 4×4 with a C-5 automatic, you can use the output shaft and tailhousing in a C-4 and mount it behind a 302 V-8. If you don't have a C-5 but want a V-8, you can get a new output shaft and tailhousing from Advance Adapters.
Many enthusiasts have swapped in a 4.0L V-6 from an Explorer or later Ranger. Even more have swapped in 5.0 V-8's.
Axles:
Your Bronco II came with a Dana 28 front and Ford 7.5-Inch rear axle. 1990 Bronco II's built after 11/1989 can be found with the better Dana 35 front axle. The Dana 35 is a bolt in swap, but requires that you shorten the original Dana 28 front driveshaft.
The 7.5-Inch rear axle is a good axle, but many owners have swapped it out for a 8.8-Inch axle from a Ford Explorer. The Explorer 8.8-Inch has larger 31-spline axles, a larger ring gear, and 1995 and newer models can be found with disc brakes. Avoid 8.8's from Ford Rangers. All but the FX4 Ranger only had 28-spline axle shafts.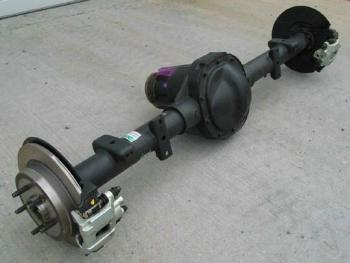 Ford 8.8-Inch Rear Axle With Discs (Shown Upside Down)
Some enthusiasts have swapped in a Dana 44 in place of the stock front TTB axle.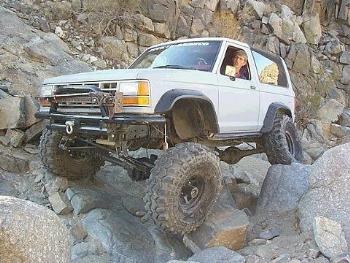 An upgrade that's gaining in popularity is a Dana 44 steering knuckle swap on to a Dana 35. You'll have 1/2 ton outers meaning you have better hubs, wheel bearing spacing, larger rotors and calipers then on the Dana 35. Shaft wise you have a stronger shaft assemble then a Dana 44. The only shaft of a Dana 35 that has a smaller diameter then that of the neck on Dana 44 shafts is the stub shaft. By running Dana 44 stubs you eliminate this. Granted the Dana 35 shafts taper down to 27-spline that goes into the side gears but this minor diameter is still greater then that of the neck on a Dana 44. And as we all know a chain is only as strong as the weakest link, the weak link of a Dana 44 being the neck.
We've also seen Bronco II's with custom suspensions and axles as large as 2.5-Ton Rockwell military axles.
Suspension:
The factory TTB front suspension can be built for quite a bit of suspension travel using extended radius arms with longer shocks and taller shock mounts. Kit's like this Skyjacker kit offers new front and rear springs, heavy duty suspension brackets and extended radius arms for more wheel travel.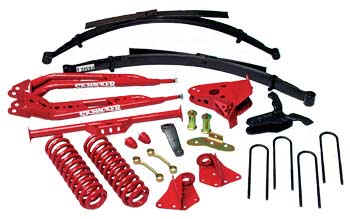 Skyjacker Class-II Suspension Kit
Longer shocks can allow more travel. Some enthusiasts have performed a F-250 shock mount modification that involves cutting away part of the coil bucket, bracing it, and bolting on the F-250 shock mounts and longer shocks.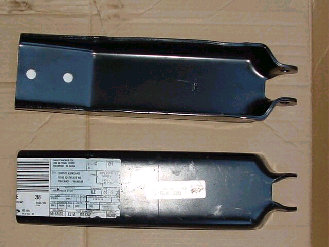 F-250 Shock Mount P/N E5TZ 18183A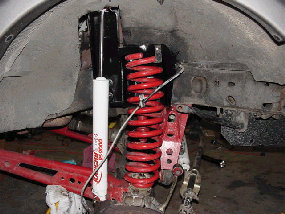 F-250 Shock Mount Installed
If you want tire clearance for bigger tires but don't want a real tall truck, Bushwacker fender flares can add more room by allowing you to cut out the fender openings and adding a flare for a clean look.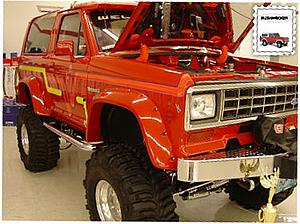 Bushwacker Fender Flares
Tire Fitment:
The chart below will give you a guide as to what size tires will fit based on the amount of lift you have. The chart reads from left to right.
Bronco II

Tire Size

Lift Height
30-Inches
31-Inches
32-Inches
33-Inches
35-Inches
2-Inches
Fender Trimming
3-Inch Body Lift
3-Inch Body Lift And Fender Trimming
N/A
N/A
4-Inches
OK
OK
Fender Trimming
3-Inch Body Lift
3-Inch Body Lift And Fender Trimming
6-Inches
OK
OK
OK
OK
3-Inch Body Lift
Note: 35-Inch tires will fit on a Bronco II with a 6-inch suspension lift and Bushwacker Cut Out fender flares.
Chop Top:
You'll find a bunch of enthusiasts that have chopped the top of their Bronco II's off behind the front doors. You can put in a Ranger tailgate to fill in the rear once the factory hatch is gone.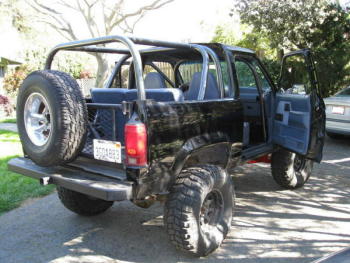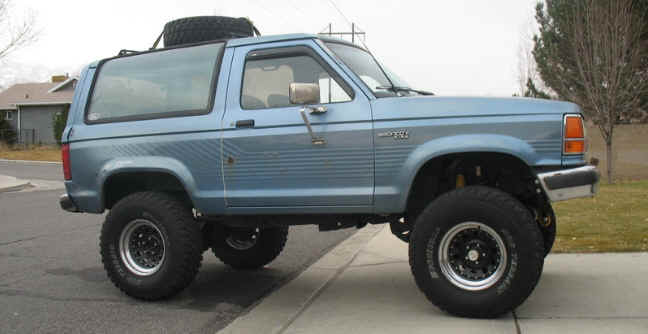 (This Bronco II has a 5.5-Inch Suspension Lift & 33×12.5 Tires)
Also check out the Ford Bronco II Builders Guide.