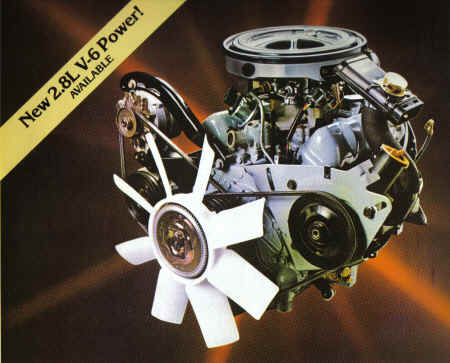 About The 2.8L:
The Ford Cologne 2.8L V6 is a 60° cast iron block V6 engine built by the Ford Motor Company in Cologne, Germany.  The 2.8L engine in the Bronco II is the same design as the 2.8 V-6 used since 1974 in the Ford and Mercury Capri vehicles.  A unique feature of the 2.8L is the timing gear vs a traditional timing chain (See picture below).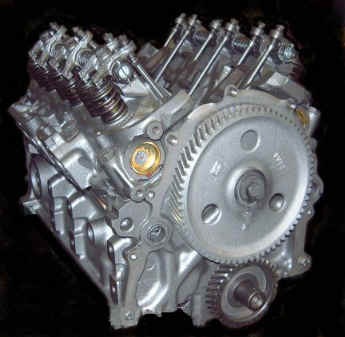 (Ford 2.8L – Timing Gear Shown)
2.8 Liter Specifications

Engine Family
'Cologne'
Engine Displacement
171 cid
Cylinders
6
Arrangement of Cylinders
'V' Shape
Bore x Stroke
3.66 x 2.70
Compression Ratio
8.7:1
Fuel System
Carburetor
Horsepower
115 @ 4600 rpm
Torque
150 @ 2600 rpm
Oil Pressure
40-60 psi @ 2000 rpm
Tune Up
Spark Plug
AWSF-42C
Spark Plug Gap
0.044
Ignition Timing
10 degrees BTDC
Firing Order
1-4-2-5-3-6
Distributor Rotation
Clockwise
Valve Clearance Intake
0.014
Valve Clearance Exhaust
0.016
Capacities
Oil Capacity With Filter
5 quarts
Cooling System Capacity (Quarts)
W/AC- 7.2 /  W/O AC 7.8
Torque Specifications
Cylinder Head
70-85 ft-lbs [3-steps (29-40) (40-51) (70-85)]
Main Bearing Bolts
65-75 ft-lbs
Rod Bearing Bolts
19-24 ft-lbs
Crank Pulley Bolts
85-96 ft-lbs
Flywheel to Crankshaft Bolts
47-52 ft-lbs
Intake Manifold
15-18 ft-lbs [5-steps (hand start & snug) (3-6) (6-11) (11-15) (15-18) (Repeat 15-18 after warm up)]
Exhaust Manifold
20-30 ft-lbs
Valve Specifications
Seat Angle Degree
45
Face Angle Degree
44
Spring Test Pressure
143 lbs @ 1.22 in
Spring Installed Height
1.58-1.61 in
Stem-to-Clearance Intake
0.0008-0.0025 in
Stem-to-Clearance Exhaust
0.0018-0.0035 in
Stem Diameter Intake
0.3159-0.3167 in
Stem Diameter Exhaust
0.3149-0.3156 in
Crankshaft Specifications
Main Bearing Journal Diameter
2.2433-2.2441 in
Main Bearing Oil Clearance
0.0008-0.0015 in
Shaft End-play
0.004-0.008 in
Thrust on No.
3
Connecting Rod
Journal Diameter
2.1252-2.1260 in
Oil Clearance
0.0006-0.0016 in
Side Clearance
0.004-0.011 in
Length
5.1386-5.1413
Piston & Ring Specifications
Piston to Bore Clearance
0.0011-0.0019 in
Ring Side Clearance Top Compression
0.0020-0.0033 in
Ring Side Clearance Bottom Compression
0.0020-0.0033 in
Ring Side Clearance Oil Control
Snug
Ring Gap Top Compression
0.015-0.023 in
Ring Gap Bottom Compression
0.015-0.023 in
Ring Gap Oil Control
0.015-0.023 in
Motorcraft 2150A Carburetor Specifications
Choke Pulldown Setting
.136
Fast Idle Cam Setting 1984
V-notch
Fast Idle Cam Setting 1985
Hi-Cam
Dechoke Setting
.250
Float Setting (Wet)
.810
Float Setting (Dry)
7/16″ (1984) 1/16″ (1985)
Accelerator Pump Lever Location
#4
Choke Cap Setting
V-notch (1984) 3NR (1985)
Fast Idle
3000 rpm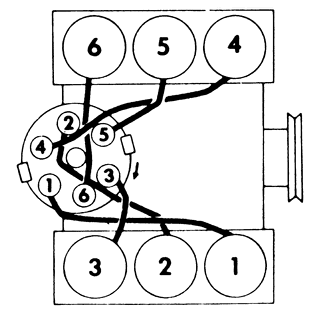 Firing Order 1-4-2-5-3-6 / Distributor Rotation – Clockwise
Known Problems:
Valve Seals – The 2.8L's are known to burn oil and smoke when they get high mileage.  They use a rubber valve seal that deteriorates and leaks oil into the cylinder.  Click HERE for information on replacing the valve seals.
Loose Distributor Rotor – Some of the Ford 2.8's came with round distributor rotors. These have (2) screws that hold them in place. There have been reports of them coming loose in the distributor. Click HERE for more information.
TFI Failure – If your truck stops running and wont restart, it could be from a faulty TFI. Click HERE for more information.
Performance Upgrades:
Cylinder Heads:
Cooling – A simple upgrade to the 2.8L heads is to drill two more water passages in them between where the two exhaust valves are side by side.  This helps prevent a local boiling point from forming.  Just use a good head gasket that already has the water passage holes in them for a guide, and mark the head and drill two holes.  Keep the holes a little smaller than the holes in the head gasket. – Contributed By Ryan Propst
Porting – Port your intake manifold and cylinder heads.  The intake and heads don't line up diameter to diameter.  Porting opens this up and allows better flow. Click HERE for details on porting.
Induction – Offy 4bbl Intake:
The 2.8L V-6 comes with a 2-bbl carburetor and manifold with a traditional round metal air filter container.  Offenhauser offers a 4bbl intake manifold (RWA6110).  The ignition system must be changed to earlier vacuum advance unit (Dura-Spark II) eliminating the EEC-IV computer and pollution equipment.  You can use the distributor, ignition module and coil from a 78 Pinto.  The Offenhauser Intake does not have an EGR setup. This will not allow the A4LD tranny to shift correctly.
The Offenhauser intake can be found at Racer Walsh (below):
Racer Walsh (Intake, Carb, Camshafts, Valve Springs & Pistons):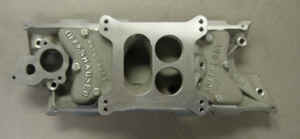 P/N RWA6110
Racer Walsh carries the Offenhauser 2.8L aluminum intake manifold for the Ford 2.8L, and works with the RWA6239 4BBL carb. You will need to use the RWA6278 thermostat housing with the new manifold. The intake manifold and carb combo are made for street driving and lower rpm off road applications, such as trail riding and playing in the mud. The installation of the manifold and carb still provide good gas mileage and an easy horsepower improvement.
In addition to the carb and intake, Racer Walsh also offers camshafts, valve springs, valve spring retainers, and pistons for the Ford 2.8L.
Check out www.racerwalsh.com
Competition Cams:
Competition Cams carries camshafts, rockers, lifters, and a timing gear for the Ford 2.8L V6. Check out www.compcams.com
Induction – Fuel Injection:
You can also convert to fuel injection using parts from a 3.8L Ford.  Check out:
Fuel Injection For Your Ford 2.8L
Air Filters:
The air cleaner can be modified by adding another air intake and then routing intake hoses to a fresh air source providing a dual ram air effect. This of course should be accompanied by a K&N Air Filter.  There are many 2-bbl air cleaners out there of different dimensions, and it's metal design allows for modifications for any type of set-up.
Ignition:
MSD offers wiring harnesses to simplify the installation of a MSD 6 series box on late model vehicles. The harnesses plug in between the ignition coil and the factory coil connector. Four wires with corresponding colors and matching connectors then connect directly to the MSD 6 wires. These harnesses reduce the installation time, reduce or eliminate cut wires, and allow you to quickly convert back to the factory ignition.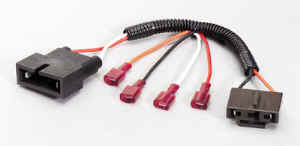 MSD-8874 Shown Above
The MSD to Ford TFI Coil Harness is designed to provide a splice-free and simple installation of an MSD Ignition Control to Ford vehicles equipped with a TFI Coil. On MSD 6 & 7 Series Ignitions all of the wires connect to the corresponding colored wires. MSD 7 Series Ignitions share the same color wires.
1. Disconnect the connector from the coil and connect it to the MSD PN 8874 Harness.
2. Connect the other end of the Harness to the Coil.
3. Connect the four wires of the Harness to the MSD Ignition Control.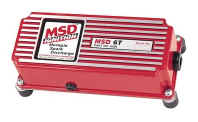 MSD Ignition Box Shown Above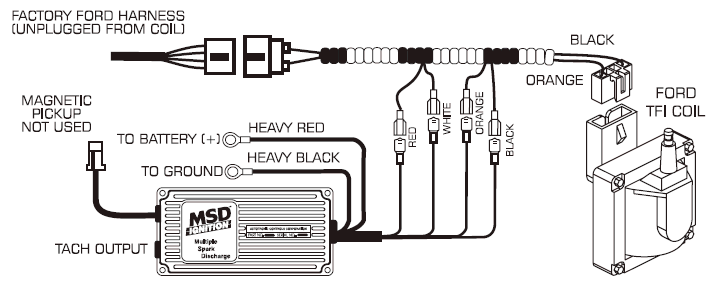 Replacement Coils:
Summit Racing carries replacement TFI ignition coils.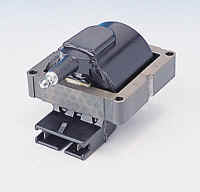 Moroso P/N MOR-72360
MSD P/N MSD-8227
Pertronix P/N PNX-D3003
ProForm P/N PRO-66959C
Hypertech P/N HYP-4064
TFI Ignition Modules:
Summit Racing carries Accel and PerTronix TFI Ignition Modules.
PerTronix P/N D2010
Accel P/N 35368
Accel P/N 35368 Shown Above
ACCEL control modules provide high coil output & superior reliability. Dwell circuit ensures long coil charging. Current circuit protects from overheating. Resists false triggering from RFI sources. Distributor and remote mounts available.
Spark Plug Wires
Make sure you have a good set of spark plug wires. Summit Racing carries the JBA Powercables P/N W06309.
Duraspark Ignition Swaps:
Also check out the Duraspark ignition conversion HERE.  Using the Duraspark ignition, you can eliminated the computer, vacuum rail, vacuum reservoir, and all the wiring mess that goes along with that.  Get the carburetor that is on the 2.8 donor engine your Duraspark ignition comes from.  The Ranger 2.8 has a complicated carburetor control system.
Miscellaneous:
Miscellaneous Parts List

Part Number
Brand
Description
CL38-101-4
Competition Cams
Good cam for OEM replacement or rebuild. Low RPM torque with good economy.
CL38-240-4
Competition Cams
Performance with economy, power increase in low-mid RPM range. See note 2. (Good For Auto)
CL38-241-4
Competition Cams
Great for towing and highway use. Strong torque and power increases. (Good For Manual)
6846
Edelbrock
Bolt on headers for 2 and 4 wheel drive Rangers.
0FF-6097-DP
Offenhauser
4-Barrel intake manifold.
0-7448
Holley
350 cfm 2-barrel carb.
0-8007
Holley
390 cfm 4-barrel carb.
M-12199-C301
Ford Motorsport
Ford Extra Performance Ignition (for non-computer controlled conversion)
M-12029-A302
Ford Motorsport
High Energy Coil (for non-computer controlled conversion)
M-12071-A301
Ford Motorsport
Wiring Harness (for non-computer controlled conversion)
M-12449-A600
Ford Motorsport
RPM Programming Chips 6000-6800 RPM for Ford Extra Performance Ignition.
NRD482691
NAPA Auto Parts
979 Vacuum advance distributor (for non-computer controlled conversion)
MPEFA136SB
NAPA Auto Parts
Ignition Cap for 79 Vacuum advance distributor.
ECHFA139
NAPA Auto Parts
Ignition Cap Adapter Collar for 79 Vacuum advance distributor.
MPEFA159SB
NAPA Auto Parts
Ignition Rotor for 79 Vacuum advance distributor (Non-Bosh)
Note – The Comp Cam ……part # CL38-241-4 should be used with a manual transmission. The RPM range of this Cam will really hurt an A4LD on takeoff. The torque converters/stall speed is out side of its range. You really want to generate as much low end power as you can with a manual transmission because you can vary the RPM range when you let out the clutch.

Note – The CL in the part number can be replaced with SK if you want timing gears included with the cam and lifter kit.