Expedition Vehicle Outfitters has built a one-of-a-kind Ford Bronco to showcase Dana's Ultimate Dana 60 rear semi-float axle and Ultimate Dana 44 front drive unit which will be bolt on upgrades that they will be offering for the 2021 and newer Ford Bronco's.
"Dana has a long history with the Ford Bronco since the first one rolled off the assembly line in 1966.  We are very excited to introduce the new Ultimate Dana 60 rear semi-float axle on this Dana-outfitted iconic vehicle," said Bill Nunnery, senior director, sales and marketing, global aftermarket for Dana. "The Ultimate Dana 60 rear semi-float axle is unique, offering an excellent value proposition for enthusiasts, especially if they also install a Dana 44 AdvanTEK front drive unit axle.  The combination provides added on-trail durability for the most demanding off-roaders."
This Ford Bronco gets inspiration from Ford's legendary racing past. What better example of legendary off road racing than the Ford backed Rough Riders Off Road Team. Through the early '90s they dominated off road racing, you couldn't open up a racing magazine without seeing a photo of the red, white and blue trucks blasting through the desert dust.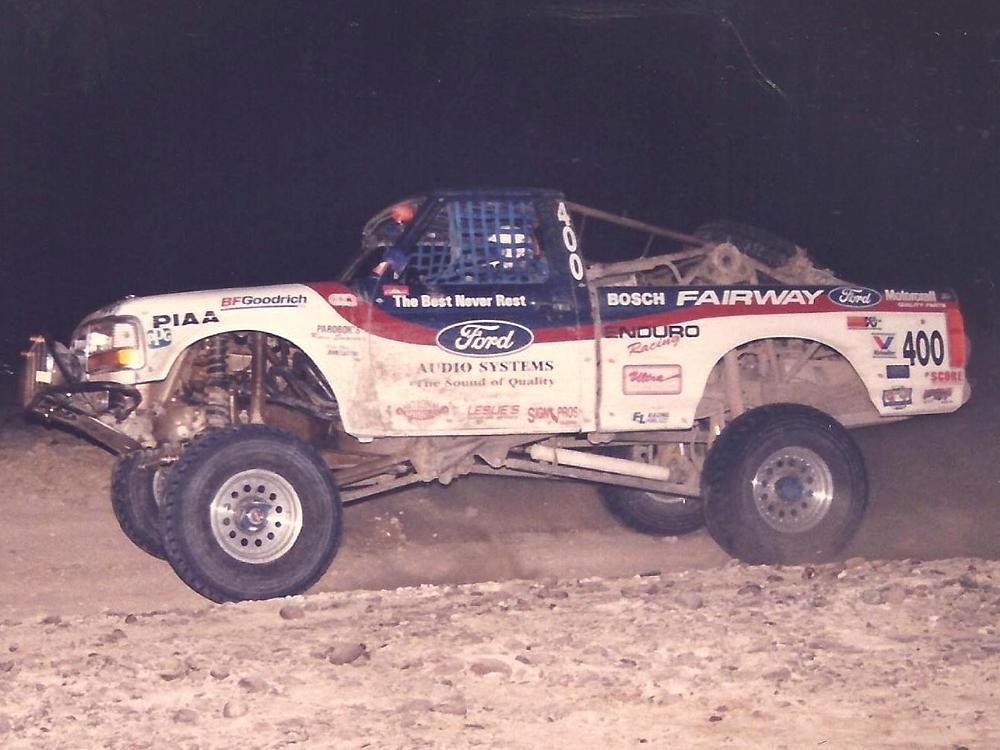 The Bronco was ripped down to the bones and built back up from the bottom, providing a very strong platform for off road and adventure.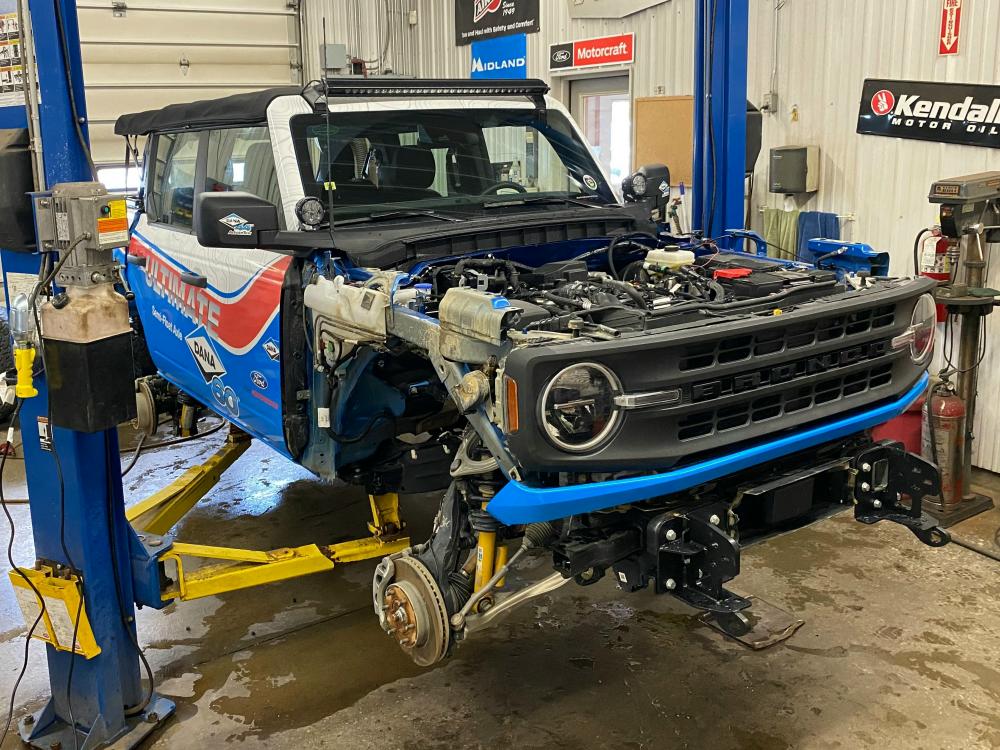 This truck sports the Brand New Ultimate Dana 60 rear Semi-Float Rear Axle upgrade and High Angle Heavy Duty Front CV shafts to handle those massive 40-inch Milestar Patagonia mud terrain tires. These upgraded huge axles are filled with 5.38 gear ratios and locking differentials to push the New Bronco down the trail and maintain plenty of traction. To provide clearance for those big 40-inch tires and keep great ride quality they matched the new EVO Manufacturing Bronco Suspension with a set of high clearance Advanced Fiberglass Concepts New high line fender flares. This allows the trucks center of gravity to stay low and drive great. Complete Color Auto Collision did a great job mounting and adjusting the upgraded fenders.
Next the Bronco needed armor and a location to mount the WARN winch. The truck is protected by AFN 4×4's new front and rear bumpers providing clean body lines with plenty of off road confidence. The sides of the Bronco are protected by a set of ARB rock sliders that double as steps.
The Ultimate Dana 60 Bronco rear axle is a direct bolt in upgrade that is designed to work with the factory Bronco wheels and tires.
The Spicer Extreme Front CV shafts feature extreme high angle joints allowing for much more suspension travel off road while still keeping great road manners.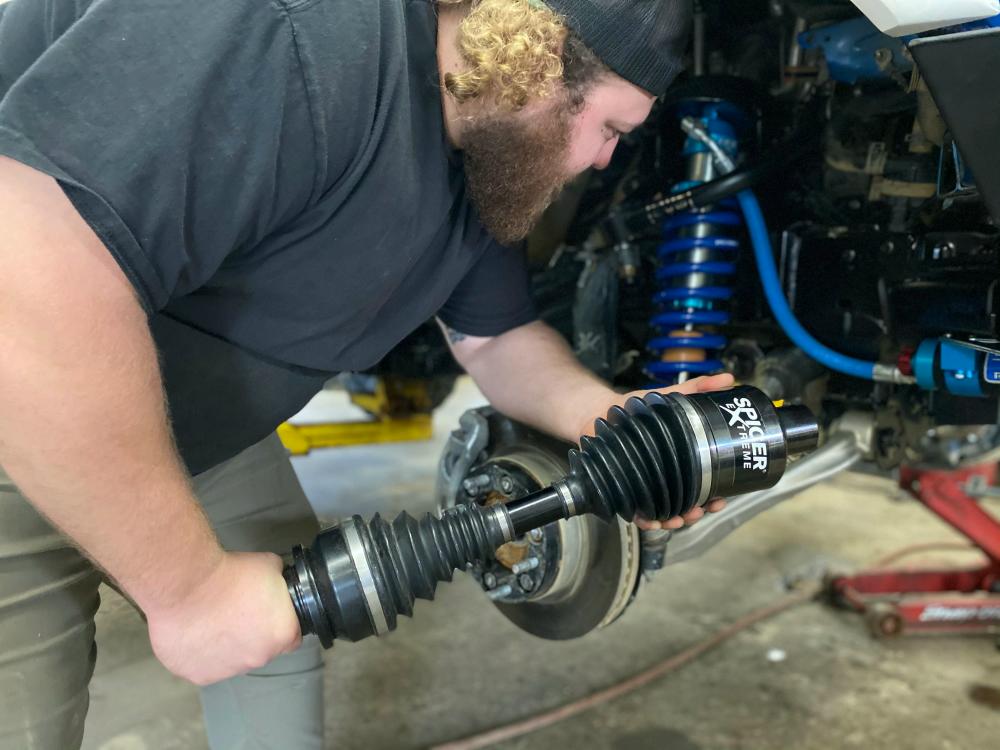 Soaking up the bumps and helping clear those big 40" tires is the New EVO Manufacturing Ford Bronco Suspension. This system features front upper control arms, rear control arms, King 2.5 Adjustable Coilovers and everything it takes to take your new Bronco to the next level.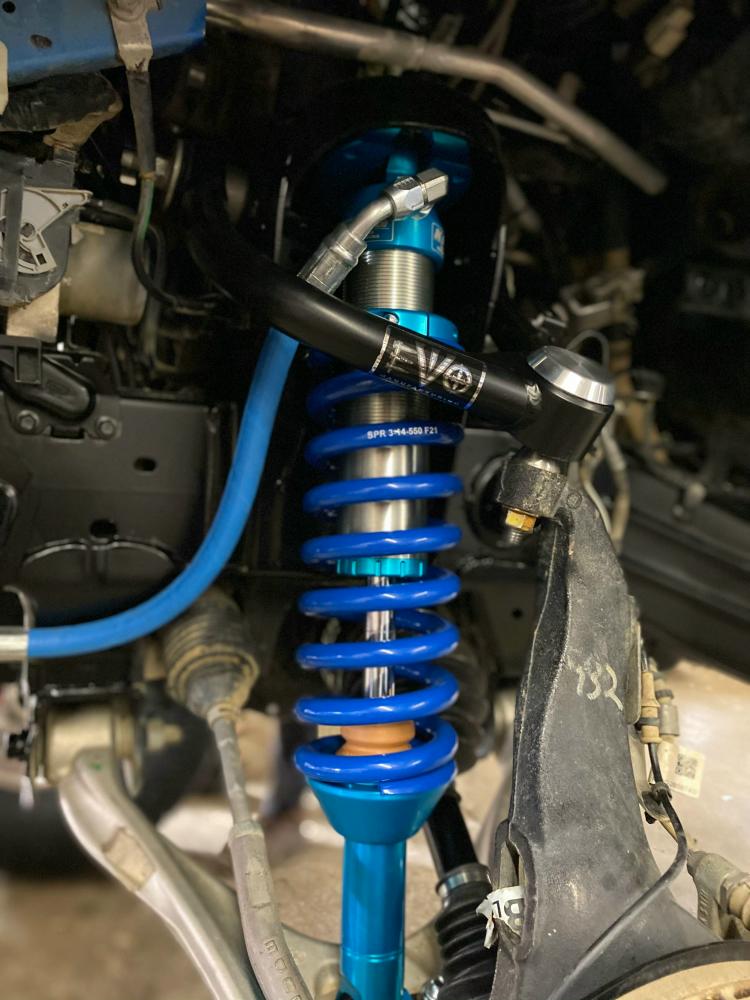 This New Ford Bronco needs to be up for abuse so Expedition Vehicle Outfitters chose a set of Trail-Gear Creeper Lock Beadlock Wheels. These wheels are machined from forged aluminum and ready for everything from overlanding to professional off road racing. Wrapped around them are a set of 40-inch Milestar Patagonia Mud Terrain Tires.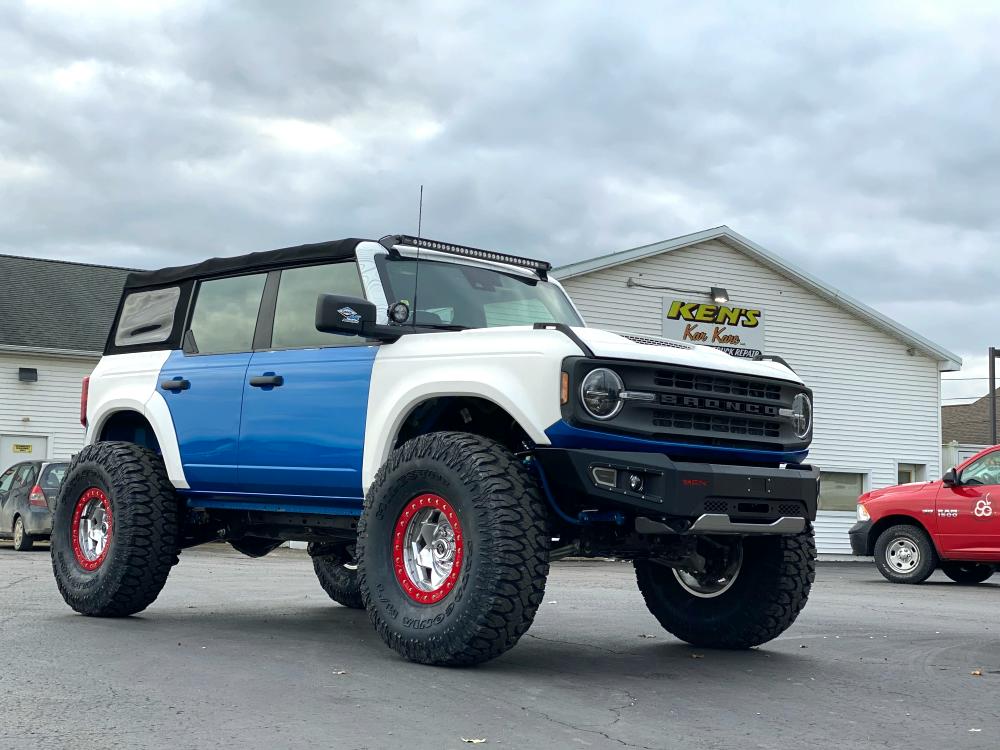 You can't go off road without being prepared. Pro Eagle 1.5 ton off road jack keeps us ready at all times. With a Spicer cooler full of refreshments.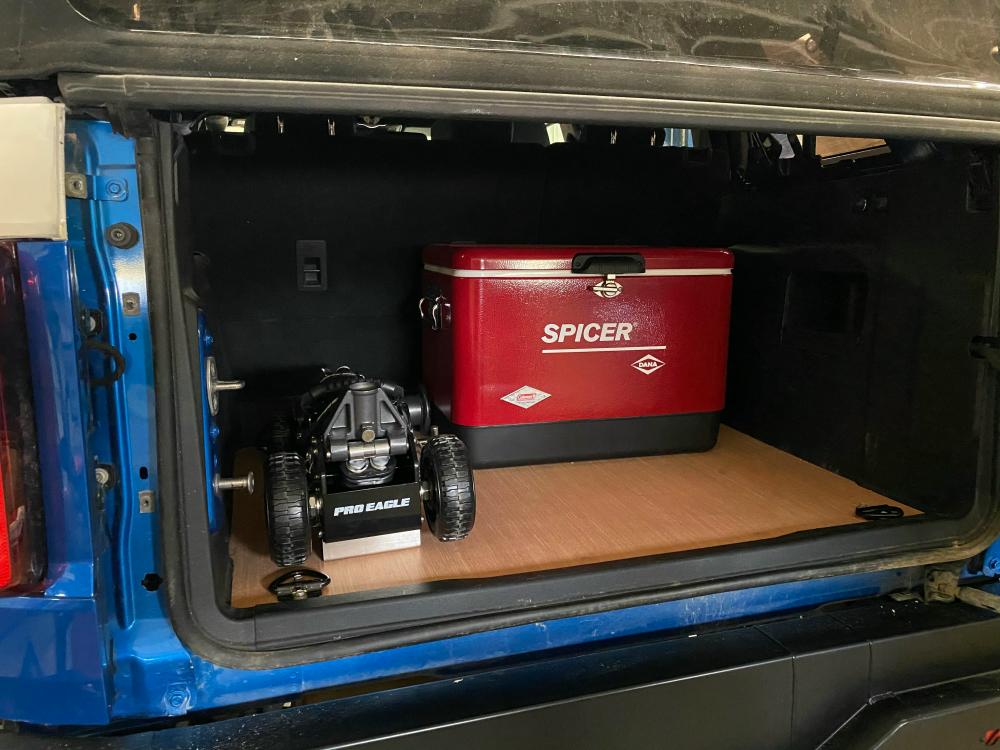 Specifications:
2021 Ford Bronco
Dana 44 AdvanTEK front drive unit axle
Dana Ultimate 60 semi-float 35-spline rear axle assembly
Chromoly axle shafts
5.38 gears
Advance Fiberglass Composites hood and front fenders
AFN Bumper
Warn Winch
Evo Manufacturing Suspension
King Coilover Shocks
Milestar Patagonia Mud Terrain 40-Inch tires
Trail Gear Wheels
Rigid LED lightbar and pillar mounts
ARB rock sliders
Bodyguard spare tire delete plate
AFN rear bumper
Steer Smarts rear trac bar
Link:
https://spicerparts.com/ford/bronco
Video:
More Photos:
Click the photos to enlarge.