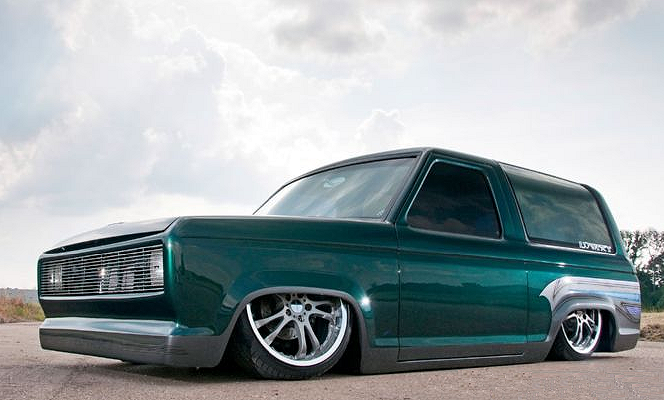 Nathan Doyle of Baltimore Maryland is the owner of this beautiful 1988 Ford Bronco II. Nathan wanted to build something unique, and chose to start with a Bronco II for his platform.
Just about everything on this truck has been shaved or filled in. It features a suspension and body drop, along with a full custom interior and sound system.
Here's a break down of it features and modifications:
Wheels & Tires:
Wheels: 19×7.5 Falken Torque 5
Tires: Falken Azenis 215/35ZR19
1988 Ford Bronco II Custom Seats
Chassis Modifications:
Suspension Front: Dream Beams, airbags cantilevered on radius arms, 2wd front crossmember
Suspension Rear: Back-half tube frame, four-link with 'bags cantilevered on lower bars
Valves: Aim Industries block manifold
Gas Tank: Stainless steel 20-gallon built by Jason Doyle
Detail Work: Painted suspension and painted and smoothed frame
Body Modifications:
Shaved: Front and rear bumpers, driprails, cowl, door handles, wipers, antenna, taillights, turn signals, marker lights, valance, front fenders, rocker seams, mirrors, firewall, tailgate handle
Body-dropped: 4-inch traditional
Front End: Molded front grille, bumper, fenders
Back End: Grant Kustoms Ranger roll pan, handmade taillight fillers
Suicide Doors: Thorbecke Brothers hinges
Misc.: Fenderwells capped, inside fenders molded in at doors, radiused door and hood corners, straightened hood and cowl
Paint:
Brand and Colors: PPG Grace Green and Gentry Silver, House of Kolor Marblizer, and other colors from Marty's Paint Supply
Airbrushing: Custom graphics by Preston Doyle
Misc.: Graphics and paint on dash, center console, and speaker box
Interior:
Seats: Pontiac Fiero seats with headrests cut off wrapped in green and grey tweed
Dash: Custom-built with a 1950 Dodge Desoto, part Bronco II, and the rest handmade
Door Panels: Custom-built with green tweed and grey tweed graphics
Center Console: Custom fiberglass following contour of seats
Headliner: Stock rewrapped in green tweed with grey ribs to match roof ribs
Gauges: Aurora, painted to match
Stereo:
Head Unit: Sony
Subwoofers: 12″ Sony Xplod
Amplifier for Subwoofers: Sony
Custom Fabrication: Fiberglass door panel speaker pods and sub box
Engine/Performance:
Intake: Custom-made intake plenum by Jason Doyle
Rearend Type: 1989 Ford Ranger
Inner Fenders: Tubbed front and rear
Detail work: Painted and detailed
Opinion:
Who says Bronco II's can't make cool mini trucks. This is definitely a cool looking truck, and is here to inspire the rest of you Bronco II owners..