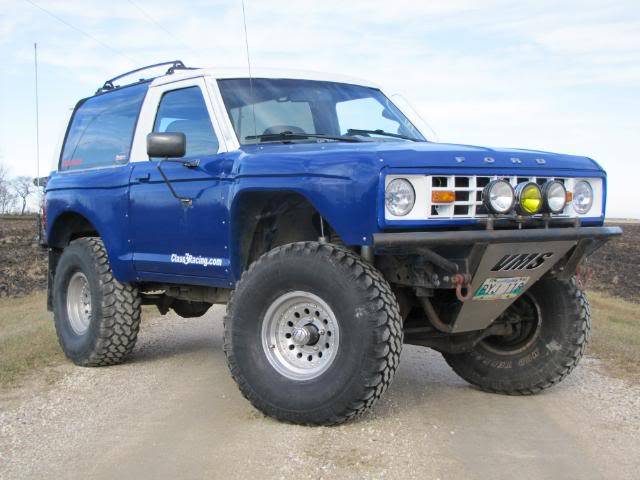 Joel Haywood (AKA Copykat) built what has probably been one of the most inspirational Bronco II's to appear online. His "Bronco IV" started with a 1987 Ford Bronco II body, and a 1989 Bronco II frame. The interior came from a 1990 Ford Bronco II. What really makes Joel's Bronco II so unique is his resourcefulness and fabrication skills. Many of the parts on the Bronco II were either custom made by Joel, or came from other vehicles.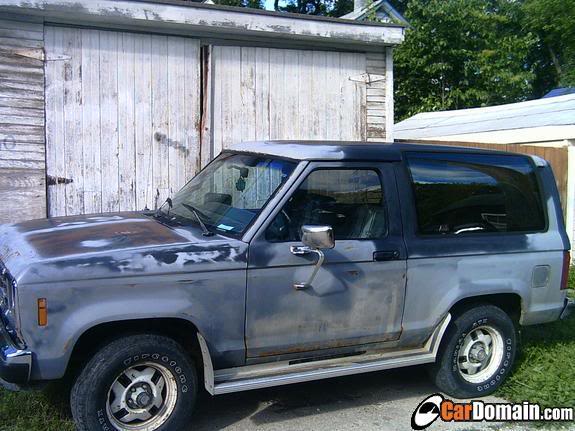 He installed a 4.0L V6 out of a 1991 Ford Ranger that uses 95TM ported heads, modified throttle body, modified headers, Electric fan, 130 Amp alternator, and dual batteries. The Ranger also donated a M5OD-R1 5-speed manual transmission and BW1354 manual transfer case.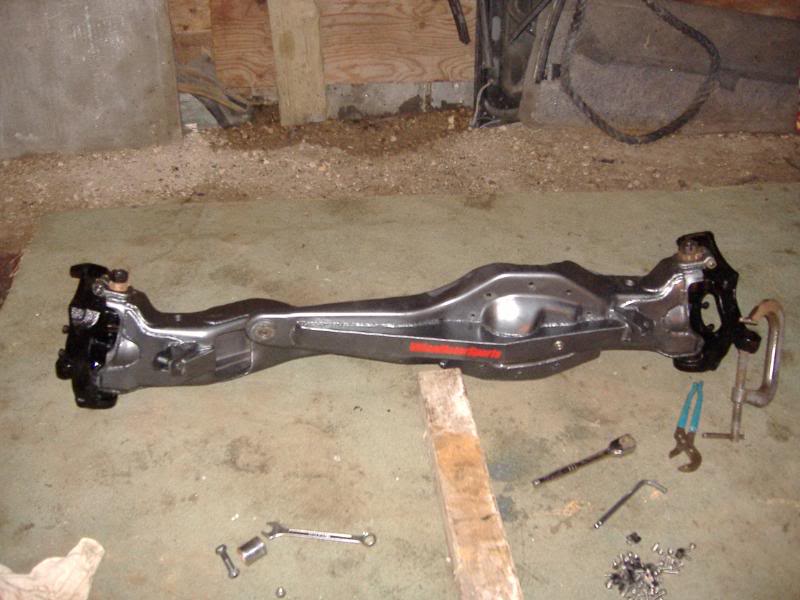 Joel ditched the stock Dana 28 front axle, and upgraded to a Dana 35. He plated and trussed the Dana 35 for strength, and then added Dana 44 steering knuckles, spindles, hubs, and stub shafts for even more strength. The axle also features a Lockrite locker and 3.73 gears.
Joel built custom extended (15-inches) radius arms made from 2 x 3 x 3/16 inch wall tube, and custom lift brackets for the front suspension. The lift was finished off with Ford F150 coil buckets, early Ford Bronco 5.5-inch lift coils, custom shock hoops, and Rancho RS9000XL shocks.
The Ford 7.5-Inch rear axle was replaced with a Ford 8.8-Inch axle out of a Ford Ranger. The axle was upgraded with Ford Explorer disc brakes, and a welded differential. The rear suspension initially used 2wd Ford F150 leaf springs, factory F150 spring brackets at the front, and extended rear shackles at the rear. After some time wheeling the Bronco II, Joel swapped out the F150 springs for Dodge Durango leaf springs and a shackle flip. The rear also uses Rancho RS9000XL shocks.
The suspension setup on the Bronco II gives it 3.5 inches of lift, with an additional inch of body lift added.
Over time, the Bronco II has used 33-Inch Kumho KL-71, and 35×12.5-15 ProComp Mud terrain tires.
Joel built a transfer case doubler and used it for a short period of time, but the splines stripped off of the doubler output shaft, so it was removed.
Joel also made his own custom fiberglass fenders for the front and rear. He cut out the original fenders, and then used Styrofoam to build the new fenders to the proper shape. He used a bow saw blade for the larger cuts, and fine tuned it with an 18″ block and 40 grit sandpaper. Once he was happy with the look, he glued aluminum foil to the foam with 3M spray glue. He then used 3-layers of fiberglass and resin on top of the foam mold to create his new fenders. The foil was used to protect the foam from the heat caused in the curing process.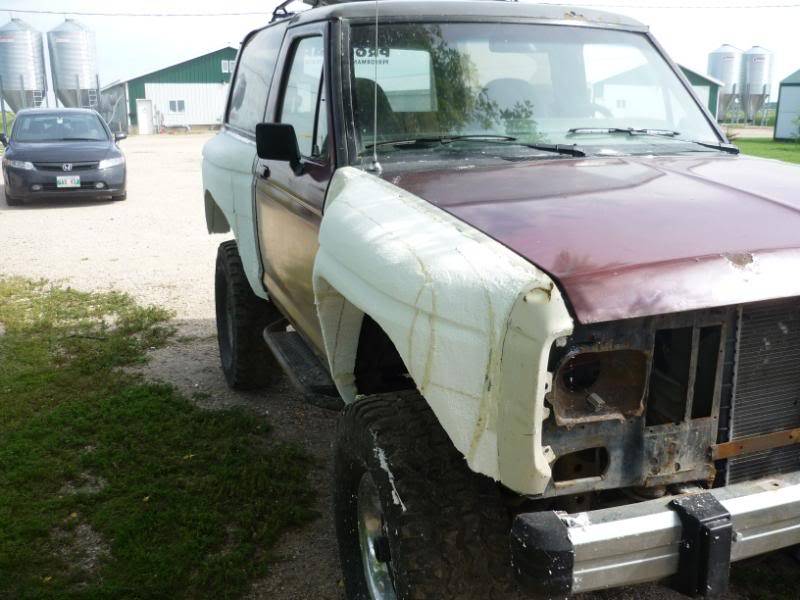 Joel's next project was turbocharging the 4.0L. He had it running for a while, but it eventually blew a headgasket, so Joel removed the turbo. This setup would be brought back to life in a later project.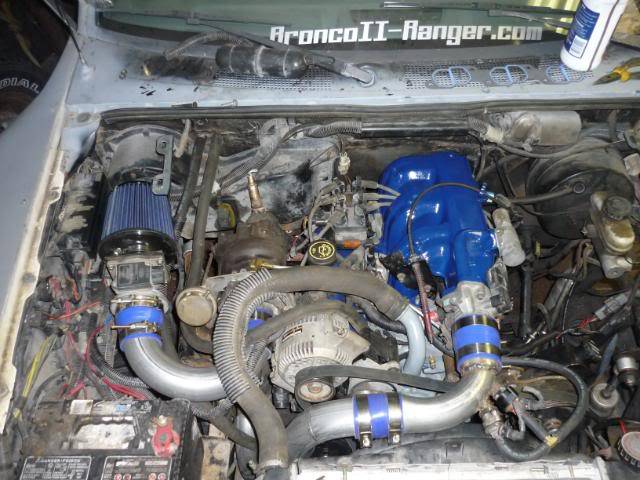 Other modifications to the Bronco II included a roof rack and custom front and rear bumpers. And let's not forget those round headlights to give it that early Ford Bronco vibe. You can learn how to do your own Round Headlight conversion HERE.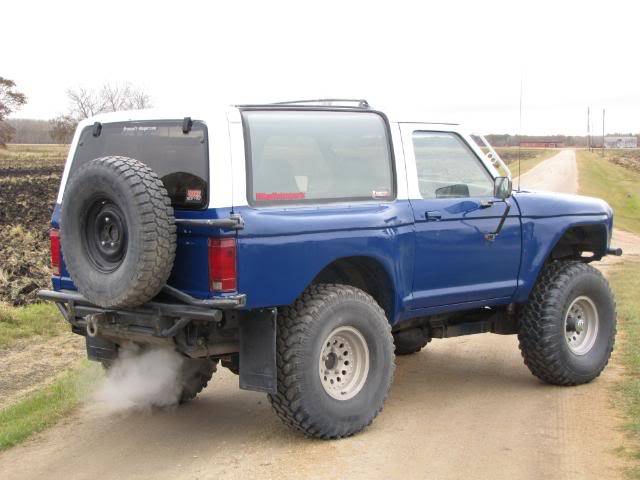 The last stage of this Bronco II's life saw it getting a Dana 44 TTB axle beam swap using a pair of Joel's custom Dana 44 TTB axle beam brackets. Unfortunately, rust had taken it's toll on the Bronco II, and the project was abandoned. The Bronco II was scrapped, but the fiberglass fenders, and all of the good parts were salvaged for later projects.
Video:
Photos:
Click the photos to enlarge – click the arrows to load more.