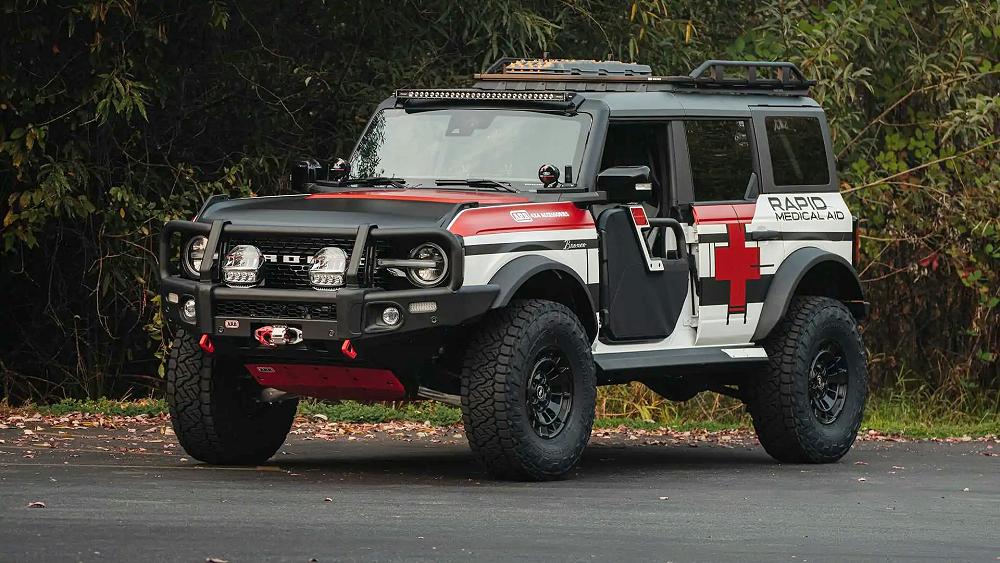 LAS VEGAS, Nov. 1, 2022 – Ford has teamed up with leading aftermarket builders and parts manufacturers to deliver 10 unique versions of its hottest vehicles, highlighting the ways customers can personalize their rides with hundreds of Ford Performance Parts and Ford Licensed Accessories.
"We designed Ford vehicles to be easier to customize, with installation points and aftermarket accessories engineered from the start of the design process," said Eric Cin, Ford global director, vehicle personalization, accessories, and licensing. "We work actively with the aftermarket to share our product designs so customers can personalize and put the finishing touches on their vehicle to make it all their own."
Ford's personalization and accessories business has grown 40 percent in the last two years, providing customers the opportunity to create experiences beyond the point of vehicle sale. To date, retailers have sold more than 1 million factory-backed accessories for Bronco, the most accessorized vehicle in the Ford lineup.
Most aftermarket accessories used in this year's vehicles will be available for purchase, except for custom parts. The Ford Vehicle Personalization team has created two custom, one-off vehicle builds featuring a multitude of Ford Accessories and Ford Performance Parts.
Highlighted Ford accessories can be purchased from a local Ford dealer or ordered online for direct delivery. Customers have the option of having the parts installed at a dealership or on their own. Parts purchased with the vehicle can also be rolled into the customer's monthly vehicle payment.
Shown below are three of the Bronco's that Ford had on display.
2021 FORD BRONCO WILDTRAK 4-DOOR SERVICE UNIT
BY: ARB 4×4 Accessories
The Bronco First Responder concept build by ARB brings to life a rig to-the-rescue that confidently conquers any terrain to deliver aid.
Medical emergencies can happen anywhere, and this is a build to count on when every second counts. ARB revved up the Bronco's performance with Old Man Emu BP-51 suspension, a rear Air Locker, and an on-board air compressor. Nose-to-tail protection accessories including chassis-mounted rock sliders, and
color-matched under vehicle protection ensure nothing gets in the way. New from ARB, Intensity IQ driving lights seamlessly accentuate vehicle aesthetics while delivering powerful, fully customizable light. Appearing for the first time on the Bronco, the ARB BASE rack has been fitted to deliver much needed storage, yet allow front vehicle roof panels to be removed.
BASE VEHICLE
2021 Ford Bronco Wildtrak 4-Door
2.7L V6 EcoBoost engine
10-speed automatic transmission
POWERTRAIN
Ford Performance cat-back exhaust with black chrome tips by Borla
ARB rear Air Locker
ARB rear diff cover
CHASSIS
Old Man Emu® BP-51 Suspension by ARB
WHEELS
Ford Performance DA wheels (17" x 8.5")
Ford Performance lug nuts
EXTERIOR
Ford Performance
Tube door kit
Sasquatch fender flare kit
Roof mounted light bar by RIGID Industries
Winch kit by Warn
Tailgate black bucking Bronco emblem
Mirror mounted off-road lights
Ford Accessories "Bronco" script emblems
ARB
Rock sliders
Under vehicle protection
BASE rack
Intensity IQ driving lights
Tred Pro traction boards
On-board twin air compressor w/bracket
INTERIOR
Ford Accessories
Raceline red IP handles
Black Platinum door sill plates
Seat covers
ARB
Jack w/mount
47QT ZERO fridge/freezer
Roller drawer
Floor mats
Recaro® ORV front bucket seats
CREATED BY
ARB 4×4 Accessories
Auburn, WA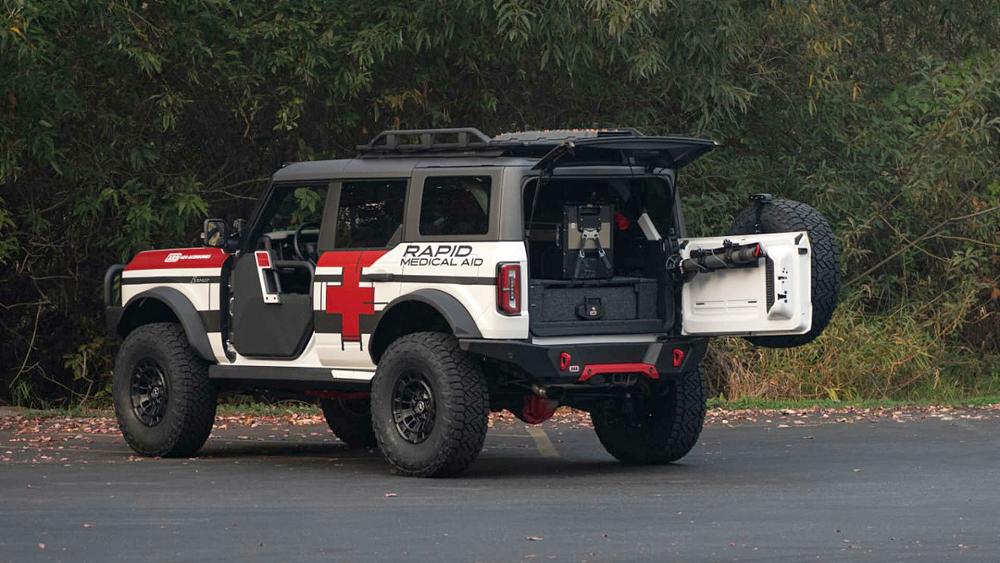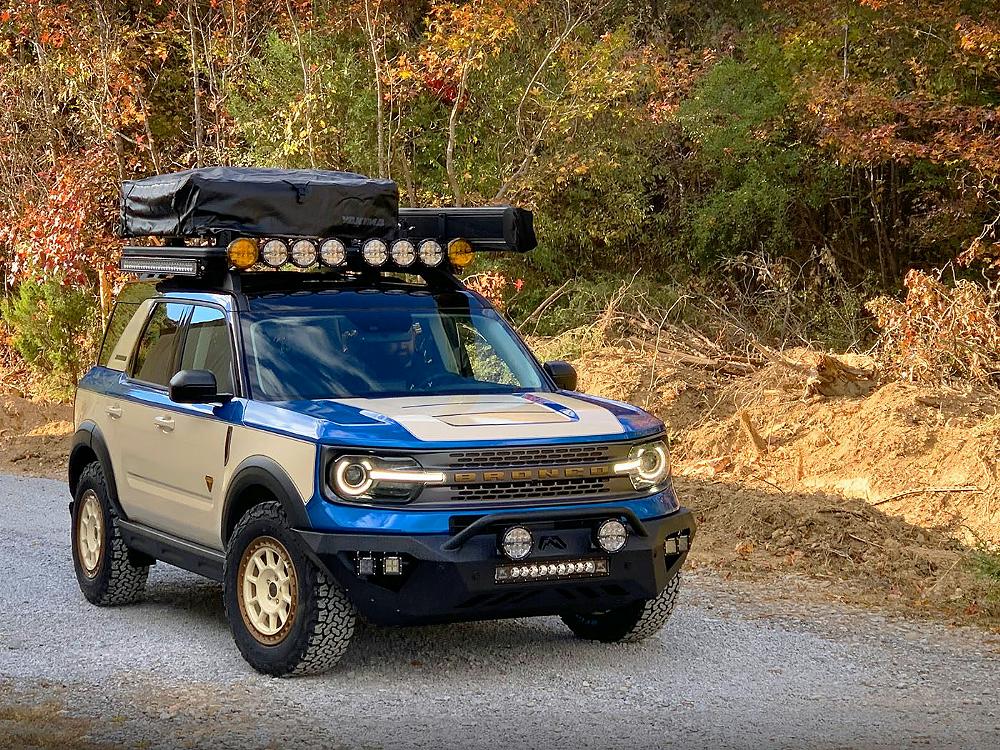 2022 FORD BRONCO SPORT BADLANDS OFF-ROAD HERITAGE
BY: Hypertech
We were excited to be able to create the ultimate off-road experience with a modern version of this heritage off-roading vehicle brand.
Over a half century ago, the Ford Bronco made its appearance as a trailblazer in off-road adventures. Ford recently re-introduced the Bronco Sport SUV with a modern twist on the rugged style and uncompromising off-road agility long associated with this brand.
With this project we sought to capture that spirit and expand it to the Ultimate Base Camp vehicle, taking Bronco off-roading adventures to a whole new level. At the same time, we wanted to achieve this experience while keeping it obtainable and realistic for the average Bronco owner. This custom Bronco Sport Badlands
edition combines the best features of this vehicle with affordable creature comforts to create a safe, pleasant experience in the wild!
BASE VEHICLE
2022 Ford Bronco Sport Badlands
2.0L I4 EcoBoost engine
8-speed automatic transmission
POWERTRAIN
Custom Borla cat-back exhaust with black chrome tips
EXTERIOR
Ford Performance off-road under body rock lights – Amber by RIGID Industries
Ford Performance GOAT emblem
Ford Accessories
LockNLoad roof rack system by Yakima
SkyRise HD tent by Yakima
Awning by Yakima
Fender flares
Rear roof spoiler
Paint protection Film
Hitch receiver plug w/Bronco logo
Ford Bronco Sport "Heritage" emblems
Yakima high-lift jack holder
Yakima Timberline towers
RIGID Industries Lighting
Radiance+ 50" amber backlight
Radiance+ 30" amber backlight
Radiance+ 20" LED lightbar
360 Series LED off-road lights
SAE fog lights
Customs vinyl wrap color enhancement
Custom pinstripe
INTERIOR
Ford Performance
47QT ZERO fridge/freezer by ARB
Portable air compressor kit by ARB
Off-road recovery kit by Warn
Ford Accessories
Cargo area liner
All-Weather floor liners
Center console in-vehicle safe
Rear seat in-vehicle safe
First aid kit
Roadside assistance kit
Front seat pet barrier
Molle bags
Jump start kit
Neoprene seat covers
Black Platinum door sill plates
Exterior area lighting and speaker
CREATED BY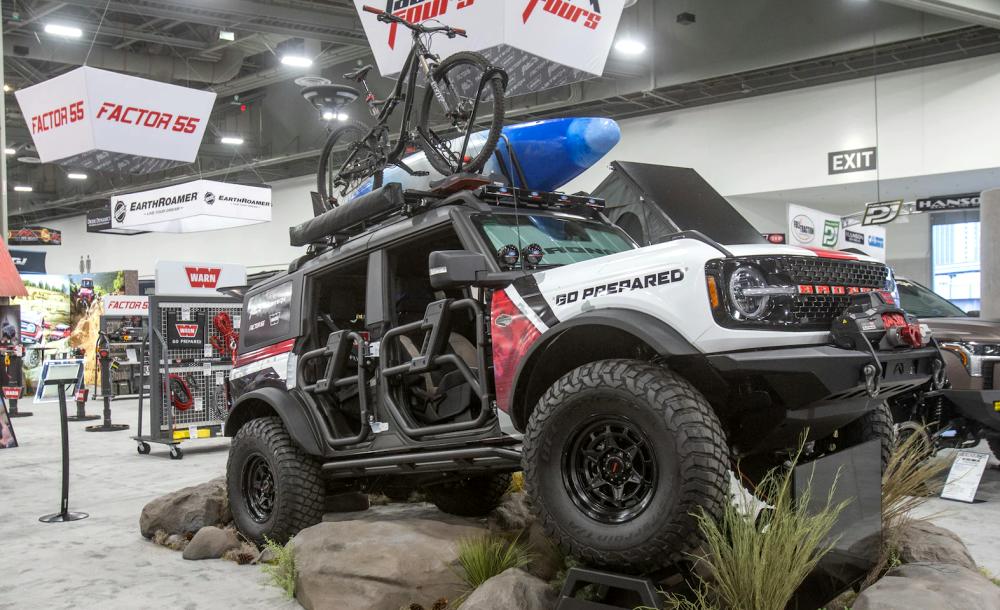 2022 FORD BRONCO WILDTRAK 4-DOOR EXTREME SPORTS
BY: Warn Industries
This exciting project utilizes premium components from Fab Fours, Fabtech, Factor 55, Warn Industries, and Ford to create a Bronco that's ready for the toughest trails and the most memorable adventures.
The Warn Group; Fab Fours, Fabtech, Factor 55, and Warn Industries have come together to outfit this Bronco to make it ready for whatever the trail offers up.
We've added a host of Ford accessories to create an ultra-rugged and exceptionally versatile SUV. From high-performance Fabtech coilover suspension, to the
durable Factor 55 rigging gear and dependable WARN winch and WARN Epic Wheels, this Bronco is ready for adventure!
BASE VEHICLE
2022 Ford Bronco Wildtrak 4-Door
2.7L V6 EcoBoost engine
10-speed automatic transmission
POWERTRAIN
Ford Performance cat-back exhaust with black chrome tips by Borla
CHASSIS
Fabtech Uniball UCA front and rear
Dirt Logic 2.5 Resi coilovers
Fabtech tie rod heim kit
Fabtech rear adjustable track bar
WHEELS
Ford Performance DA wheels (17" x 8.5")
Ford Performance lug nuts
Warn Diamond Cutter Epic wheels w/center caps (17" x 8.5")
EXTERIOR
Ford Performance
Tube door kit
GOAT emblem
Roof rack mounted light bar by RIGID Industries
Off-road under body rock light kit by RIGID Industries
Fog light kit by RIGID Industries
Ford Accessories
Gatorback bucking Bronco splash guards
Tufskinz race red grille lettering
270 Degree awning
Mirror mounted lights by RIGID Industries
Ford Research and Advanced Engineering additive
manufactured titanium bucking Bronco tailgate emblem
Fab Fours
Skid plate
Rock sliders
Tire relocation kit w/bracket
Factor 55 Ultra hook and Fairlead
Factor 55 HitchLink 2.0 w/hitch pins
Warn Zeon10-S Platinum winch w/Spydura nightline rope
Warn Epic shackles
Fire extinguisher holder
Yakima HighRoad upright bike carrier
Yakima JayLow kayak carrier
Custom vehicle wrap
INTERIOR
Ford Accessories
Molle bags
All-Weather floor liners
Center console in-vehicle safe
Pet kennel, seat cover, barrier, and harness
Hardtop storage bags
Tailgate table
Interior sound bar
Portable mini-fridge
Exterior area lighting and speaker
Cargo organizing kit and net
Sunscreen
Overland roof rail mounted camping shower
Raceline red IP handles
Black Platinum door sill plates
CREATED BY
The Warn Group: Fab Fours, Fabtech, Factor 55,
Warn Industries
Clackamas, OR