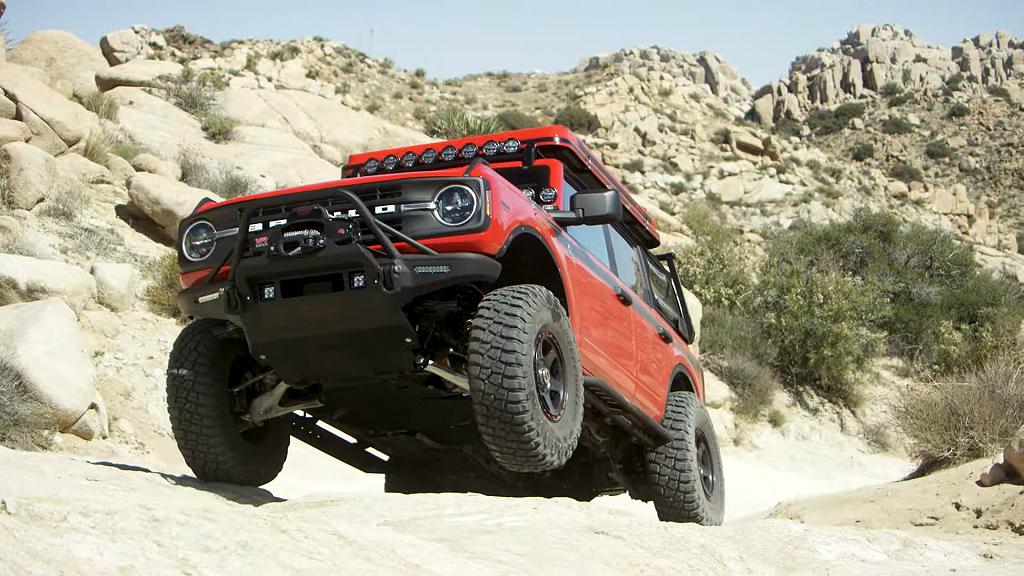 Ford brought a total of four deeply customized 4-Door 2021 Ford Broncos and a lonely Bronco Sport to crash Jeep's Easter Safari party in Moab, Utah. Of them, the 4WP 4-Door 2021 Bronco Black Diamond has clearly emerged as a fan favorite across the online community.
The 4-Door Black Diamond (kicking off at a MSRP of $38,545) proudly wears a color-matching Smittybilt overhead tent (it's going to be available in black, though), 17-inch Method alloys wrapped in 37-inch BFGoodrich rubber, a modular front bumper with skid plate and winch platform, custom heavy-duty suspension parts, as well as a lot of LED lights, among other things.
News Release:
COMPTON, CALIF. (PRWEB) APRIL 01, 2021
4Wheel Parts (https://www.4wheelparts.com/), the largest retailer of 4×4 and off-road products globally, announces a new affiliation with Ford Bronco as the go-to retail destination for new Ford Bronco off-road aftermarket accessories, with availability in all 95 of their brick and mortar locations starting Summer 2021 and available to preview at 4WP's Bronco HQ's online portal today (https://www.4wheelparts.com/broncohq). This new collection will aim to support Bronco owners and provide them with a variety of off-road and aftermarket accessories to create their own custom builds. Aftermarket accessories exclusively available at 4 Wheel Parts locations include rock sliders, bumpers, heavy-duty off-road suspension, rear tire relocation, side steps and an overhead tent by Smittybilt.
"We are extremely excited to rollout the new 4WP Bronco Headquarters, highlighting the all-new Ford Bronco," says Joey DiGiovanni, Director of Marketing at 4WP. "We've worked hard to prepare an online portal and campaign to engage with our customers and Bronco enthusiasts. The new 4WP Bronco HQ page at 4WP.com is full of content that consists of video, photo, editorial and user generated content that is both informative and will provide inspiration to those looking to transform their own Ford Bronco."
The first of the 4WP custom Bronco builds is a 4-door Black Diamond series SUV features a mix of 4 Wheel Parts Factory brand parts including a full width front bumper, with options for a skid plate and winch platform. Additional accessories include: rock sliders, rear bumper and tire relocation bracket, fender deleted, plus a Smittybilt Hard Shell Roof Top Tent and camping gear, and refrigerator/air system. It rides on 37-inch BFGoodrich® KM3 Mud Terrain tires mounted to 17-inch Method Race Wheels.
4 Wheel Parts is also introducing a leveling kit for the all-new Bronco Sport that will allow fitment of up to a 245/70R17 tire, as well as bringing more unique parts and accessories to transform the Bronco Sport into a formidable exploration vehicle.
More information is available at: https://www.4wheelparts.com/broncohq
More Photos: