A few years back people really started getting in to the 'prepper' movement. Maybe it was because of the 'Walking Dead" series or other zombie shows and movies that were coming out. Maybe some feared a global disaster from global warming. For others it may have been out of concern for the direction our society and politics were heading.
The past 12-months have been stressful thanks to the Coronavirus global pandemic and political warfare in the United States. We saw riots, looting, and people wanting to do away with our police. Sales of guns and ammo have skyrocketed.
While trying to figure out which Ford Bronco I wanted to feature this month I came across this 1979 Ford Bronco built by the crews at 4Wheel & Off-Road and Recoil Magazines. Recoil Magazine wanted to build a bugout vehicle, and together the two (2) magazines decided to build a vehicle for getting out of town to go shoot off a few thousand rounds at a favorite local desert gun range. It's not a full-monty zombie apocalypse machine; it's a gun-toting dirt machine able to support whatever firepower testing they need. With that, the Ballistic Bronco project was born.
Equipped with a 460 big-block, an automatic transmission, an NP205 transfer case, and front Dana 44 and rear Ford 9-inch axles, this truck has power but is still nimble enough to go exploring. The Bronco already had a lift kit which provided room for new 315/70R17 Pro Comp Xtreme MT2 mud tires (roughly 35×12.50R17) on Pro Comp steel wheels. The ride was also improved with a pair of Smittybilt seats.
The guys at Rob Bonney Fab built a heavy duty front winch bumper with steel steer horns and added three Explorer Pro Comp driving lights and a Smittybilt winch.
Out back the Rob Bonney Fab Rear bumper sports a heavy-duty tire carrier with a bulletproof latch. The bumper also provides secure rear tow points and a receiver.
The Recoil team has contacts at Dillon Aero, which specializes in the M-134 minigun, and was lucky enough to get one mounted on the Bronco for a media demonstration. A cage was built that will protect the driver and passenger as well as allow a pass-through to the rear turret area. The Dillon Aero M-134 minigun is a battery-powered Gatling gun mostly found on helicopters or protection agency vehicles for heads of state. The M-134 pumps out 3,000 rounds of 7.62mm per minute, and when it's running it roars like a buzz saw.
The Bronco also received a BCM 5.56mm rifle: 14.5-inch enhanced upper receiver, 13-inch handguard, Mod4 charging handle, auto bolt carrier group. Mod 1 compensator, Mod 1 grip, folding sights, Geissele Super Dynamic 3 Gun trigger, Magpul enhanced trigger guard, VLTOR A5 system, BCM Gunfigther Stock Mod 0, FLIR RS64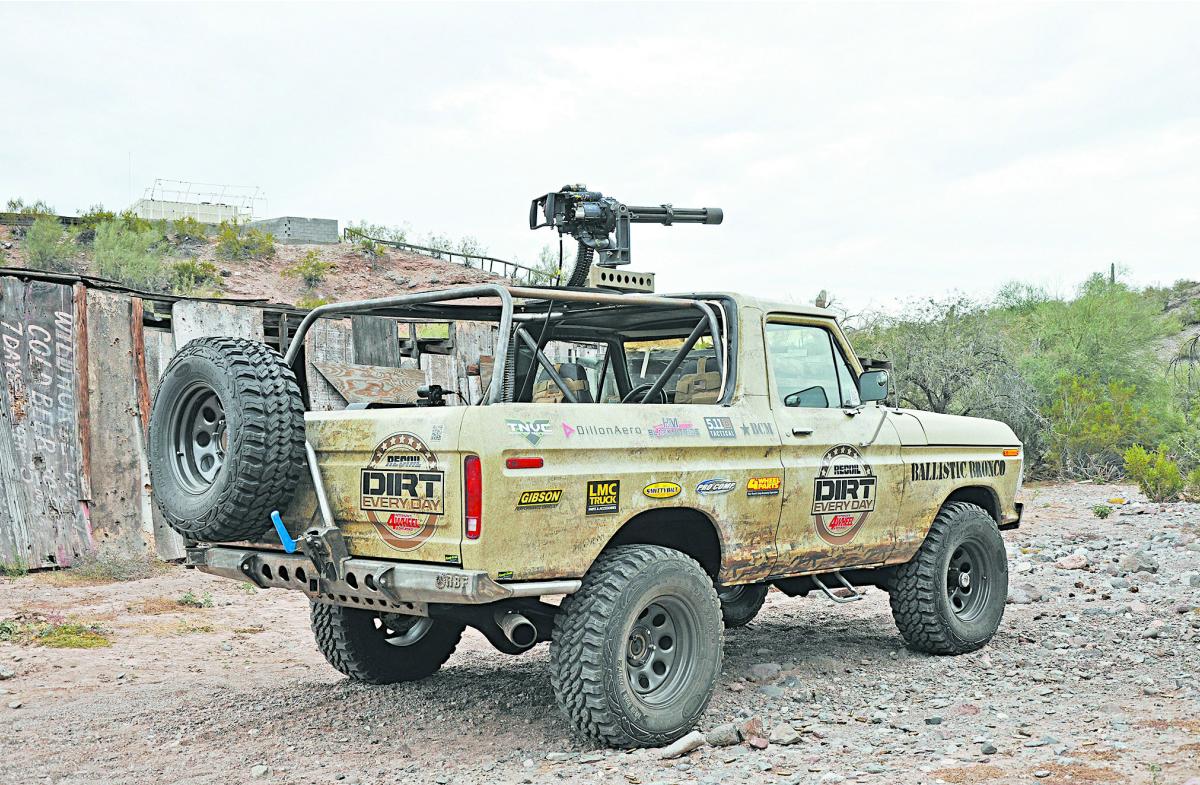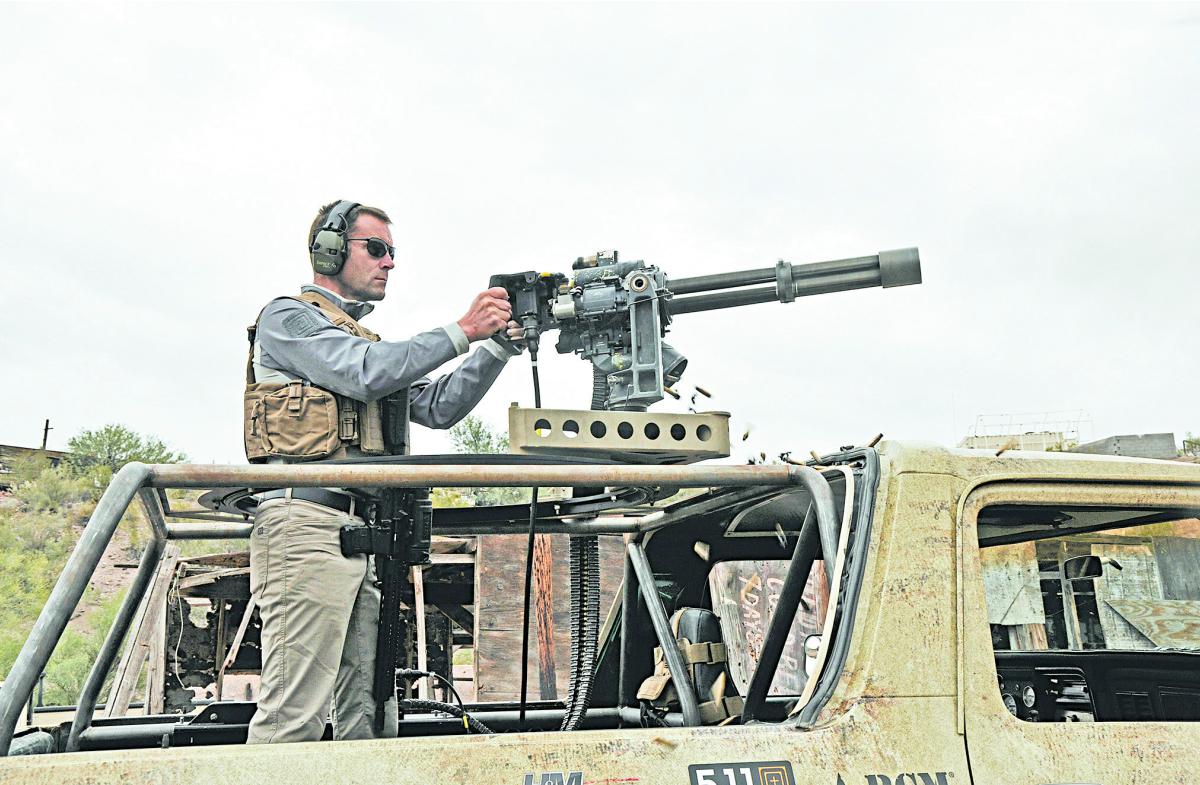 Specifications
1979 Ford Bronco
460 CID V8
C6 Automatic Transmission
NP205 Transfer Case
Gibson exhaust
(3) 130-Watt halogen lights
Rob Bonney Fabrication custom bumpers
Smittybilt XRC 12000 winch
ProComp 17-inch wheels
ProComp Xtreme MT2 315/70/17 tires
Smittybilt seats
Fast-Trac Designs cover wrap
BCM 5.56mm Rifle
See More At
Ballistic 1979 Ford Bronco – Part 1 (fourwheeler.com)
Ballistic 1979 Ford Bronco – Part 2 (fourwheeler.com)
1979 Ford Bronco – Blue Oval Blitzkrieg | RECOIL (recoilweb.com)
More Photos
Click to enlarge.