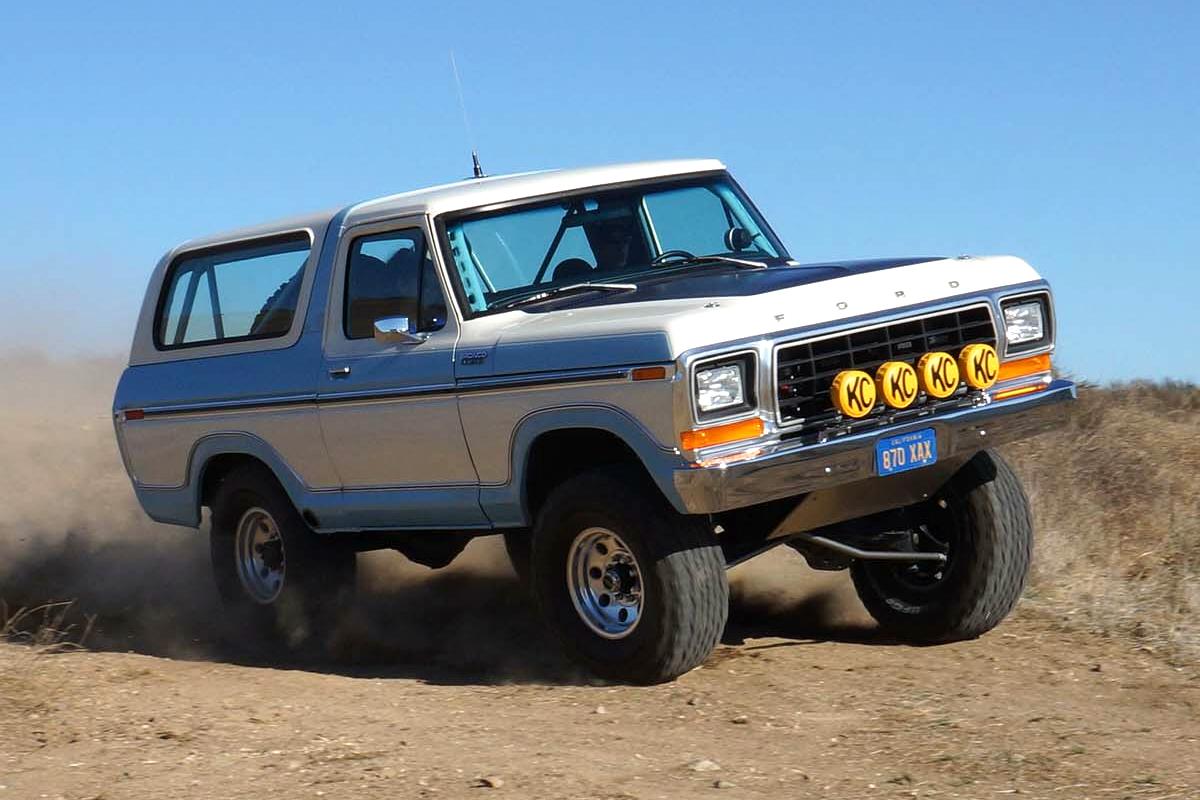 The Dana 44 solid front axle out of the 1979 Ford Bronco is a very desirable and sought after axle with off-roaders. Likewise, many people have ditched the Dana 44 TTB (Twin Traction Beam) axle in their 1980-1996 Ford Bronco for an earlier solid axle.
Given that, it may seem surprising to see a Dana 44 TTB under the front of a 1979 Ford Bronco. Is this craziness, or smart thinking?
Dominick McCormick grew up around off-road racing. Childhood friends with the racing Swift family, Dominick got into the sport by pitting for them at SCORE races. He eventually co-drove with John Swift. John Swift was a member of Ford's Rough Riders Racing Team in the 1990's, and had off-road racing experience before and after his Rough Riders career.
Dominick wanted a vehicle that he could drive during the week, but still be capable of chasing for his friends racing in the desert on the weekends. It had to be comfortable enough to handle the duties of managing his citrus ranch, have four seats to haul his family, the lockable security of an SUV, and enough ground clearance and suspension travel to handle being a chase truck.
Dominick approached former LeDuc and Swift Racing fabricator/crew member Sean Roper of Roper Design in Ventura, California, to collaborate on a long-travel SUV. Sean is a second-generation truck builder; his uncle Darrel "DJ" Jaques worked for the famous Rough Riders off-road racing team in the 1990s as well as for Venable Racing and Ford Class 8 champion Dave Shoppe.
Sean fabricated a Trophy Truck-inspired suspension incorporating factory-based geartrain components. A largely TIG-welded 14-point full cage ties into the frame and also doubles as mounting points for the suspension, seats, and various accessories. At the rear, a later-model Dana 60 with a limited slip and 4.10 gears was narrowed to fit the '79 body, centering the tires in the wheelwells and avoiding the use of fiberglass quarter panels. Roper Design used custom 3-inch lift Deaver leaf springs and custom 2-inch drop shackles to mount the axle to the vehicle. King quad-bypass 16-inch travel shocks with 3-inch bodies were run through the cargo area behind the rear seats and then mounted to the cage.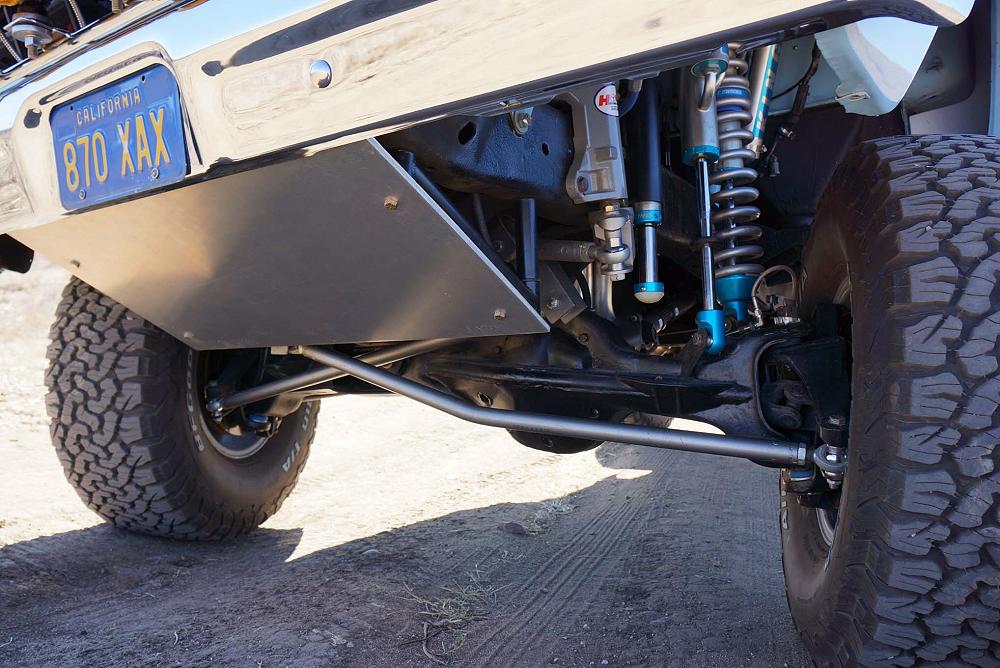 In the front, the factory solid axle Dana 44 was replaced with a Dana 44HD TTB axle that was narrowed to fit the wheelwells. This new setup would not only provide a better ride, but the suspension travel that was required. Both axles were assembled with chromoly shafts by Ventura 4×4 in Ventura, California. Custom-fabbed Roper front radius arms permit full lock-to-lock tire clearance during suspension cycling. The ride is controlled by dual King 2 1/2-inch, 6-inch-travel bodies per side: one triple-bypass and one remote-reservoir coilover. The dual Kings allow the ride to be fine-tuned for the conditions, and King 2-inch air bumps with 4-inches of travel allows the Bronco to absorb the impact when it lands. The front suspension is protected by a custom 3/8-inch aluminum skidplate. In the rear, a 5/16-inch aluminum skid protects the 40-gallon Fuel Safe cell. The original fuel door was moved higher on the quarter panel to meet the fuel cell hose.
LT315/75R16 BFGoodrich KO2s were chosen for their street and off-road performance. They are mounted on eight-lug 16×8 Alcoas for a period-correct look. The rolling stock is controlled by a Howe box, pump, and ram-assist. Roper Design made a custom pitman arm and swing-set steering linkage.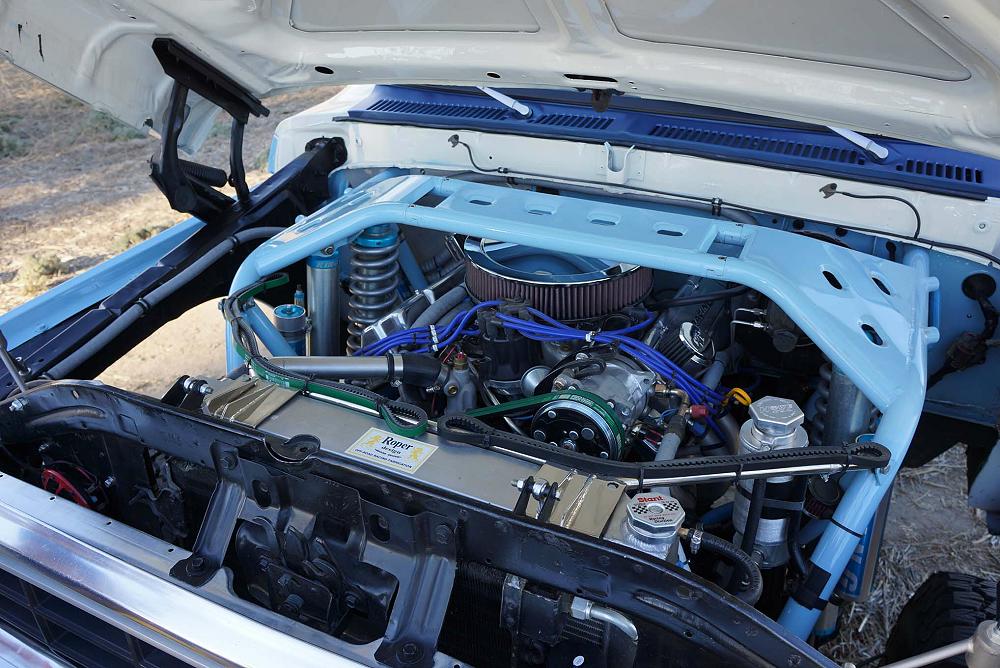 The stock 351M was rebuilt by Mike's 3 Point Auto in Ventura, California, with reliability and Baja field-fixability in mind. Components included an RV cam, a Quick Fuel Technology carburetor with off-road float bowl kit, an MSD ignition, Taylor cables, and Hedman headers. A stainless exhaust system leads to a single MagnaFlow muffler and tailpipe that exits through the body in front of the passenger-side rear tire. Cooling is handled by a CBR Performance radiator with dual electric fans. Juice is supplied by dual Odyssey batteries.
The rest of the geartrain consists of a T-18 four-speed with a period Hurst shifter and an NP205 transfer case that was previously converted to part-time. Custom shafts from DriveshaftPro in Oxnard, California, complete the powertrain.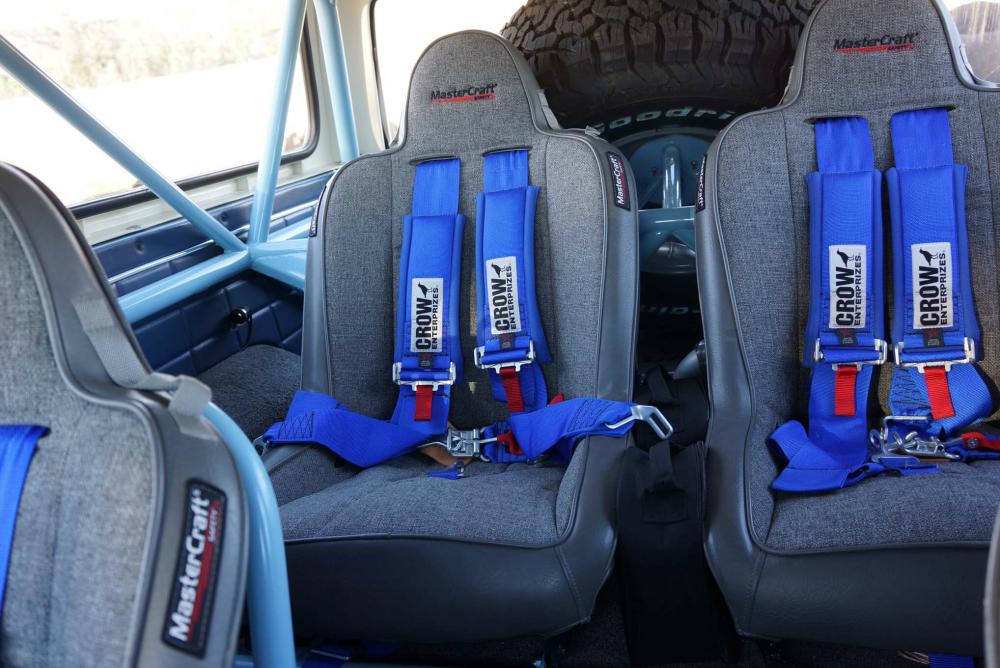 The Bronco has a race-inspired interior. All four MasterCraft Safety seats are mounted to the cage and have five-point Crow Enterprizes harnesses. The entertainment/communications system includes a Sampson Racing Communications head unit with a headset at each seat. The Bronco also includes a Rugged Radios radio for racing and four Sony speakers. An original-design Auto Meter tach was added. Comfort was upgraded with Vintage Air A/C plus custom square-weave carpet and full-length OE-look side panels and headliner by Jesse's Upholstery in Saticoy, California. Further, the cargo area was Rhino-lined.
The final piece of the puzzle was the body. Roper Design did the basic metalwork, then Chemo Ordaz did the finishing details. Painter Rickey Hodge reapplied the original colors to the Bronco: Ford Wimbledon White and Light Medium Blue. To minimize glare, the hood received a race-inspired, flat-blue patch that also matches the interior panels. Final details include a custom Roper rear bumper with signature oval dimple-die swiss-cheesing. The bumpers were chromed by Meclec Metal Finishing in Fresno, California, and the stock front bumper has a custom lightbar for four LED KC Daylighters.
Specifications:
Vehicle: 1979 Ford Bronco
Owner: Dominick McCormick
Location: Ventura, California
Engine: Ford 351M V-8
Transmission: Borg-Warner T-18
Transfer case: NP205, part-time conversion
Low range ratio: 1.96:1
Crawl ratio: 50.8:1
Front axle/differential: Shortened Dana 44HD TTB, Warn hubs, chromoly 'shafts, 4.10:1 gears/limited slip
Rear axle/differential: Narrowed Dana 60, chromoly 'shafts, 4.10:1 gears/limited slip
Front Suspension: Custom Roper Design radius arms, King coilovers, King triple-bypass shocks, King 2-in air bumps
Rear Suspension: Custom 3-in Deaver leaf springs, 2-in drop shackles, King 3.0 quad-bypass shocks
Steering: Howe ram-assist
Tires: LT315/75R16 BFGoodrich Radial All-Terrain T/A KO2
Wheels: 16×8 Alcoa
Lighting: KC HiLites LED driving lights
Armor: Roper Design rear bumper, skidplates
Cool stuff: MasterCraft Safety seats, Sampson Racing Communication head unit, Rugged Radios communications, Sony speakers, Lowrance GPS mapping, Auto Meter tach, Vintage Air A/C
More Photos:
Click the photos to enlarge.
Resource: