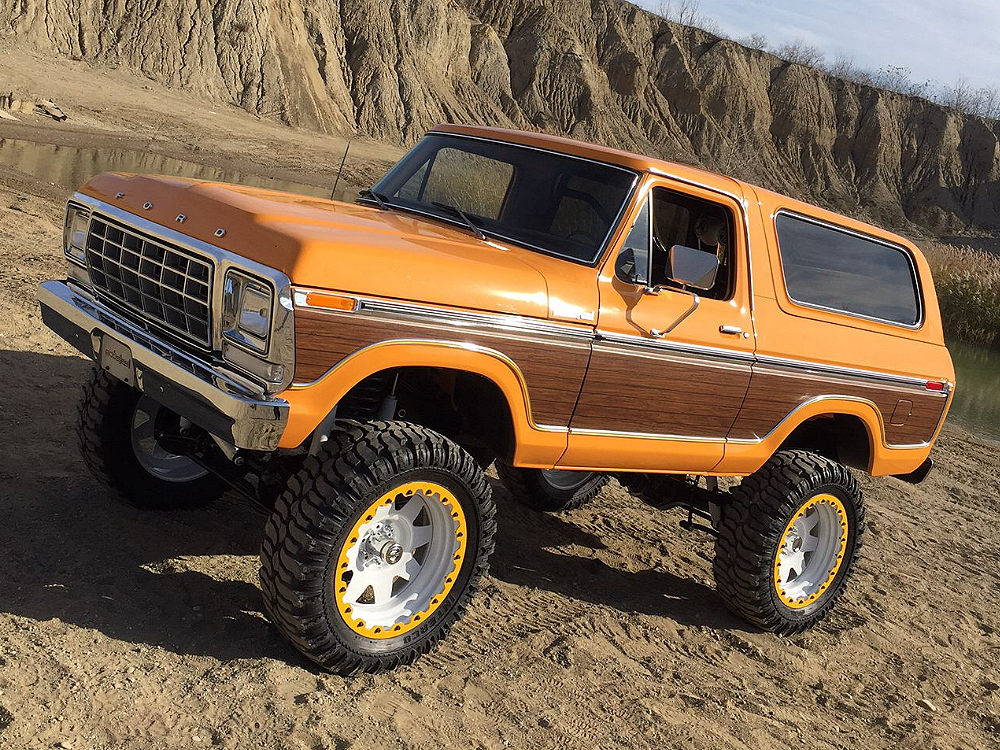 This 1979 Ford Bronco 4×4 was originally built for Jeff Trapp of Jeff's Bronco Graveyard as a vehicle to promote his company. You may have seen the vehicle being built by Mobsteel on the History Channel's "Detroit Steel TV" show.
The Bronco was in rough shape when the Mobsteel crew rolled it in to their Detroit based shop, but having access to parts and accessories from Jeffs Bronco Graveyard helped transform this Bronco into a head turner.
The Bronco was painted white but that just didn't give the effect they were looking for, so they started over and painted the bronco Axalta Sunrise Orange. 3M DI-NOC woodgrain vinyl graphics and some fresh aluminum trim added to the cool 70's vibe.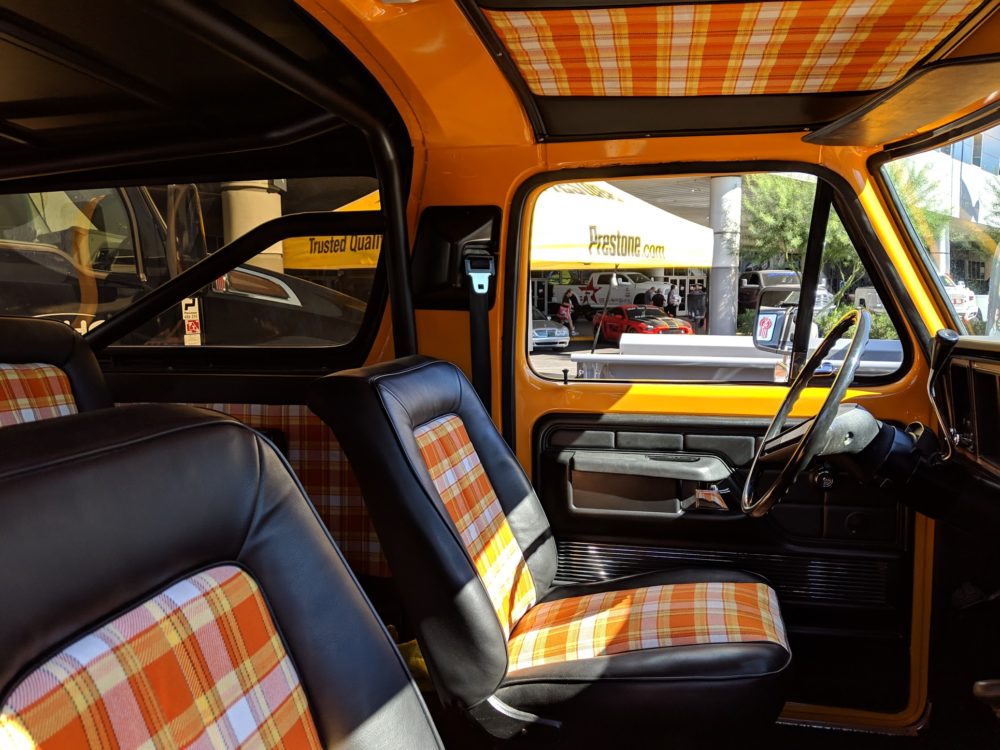 Not wanting to disappoint anyone when they looked inside, they added orange plaid inserts on the seats, custom headliner, and side panels. The interior also received a chromoly rollcage and custom-mounted JL Audio speakers, including a subwoofer in a customized Jerry can.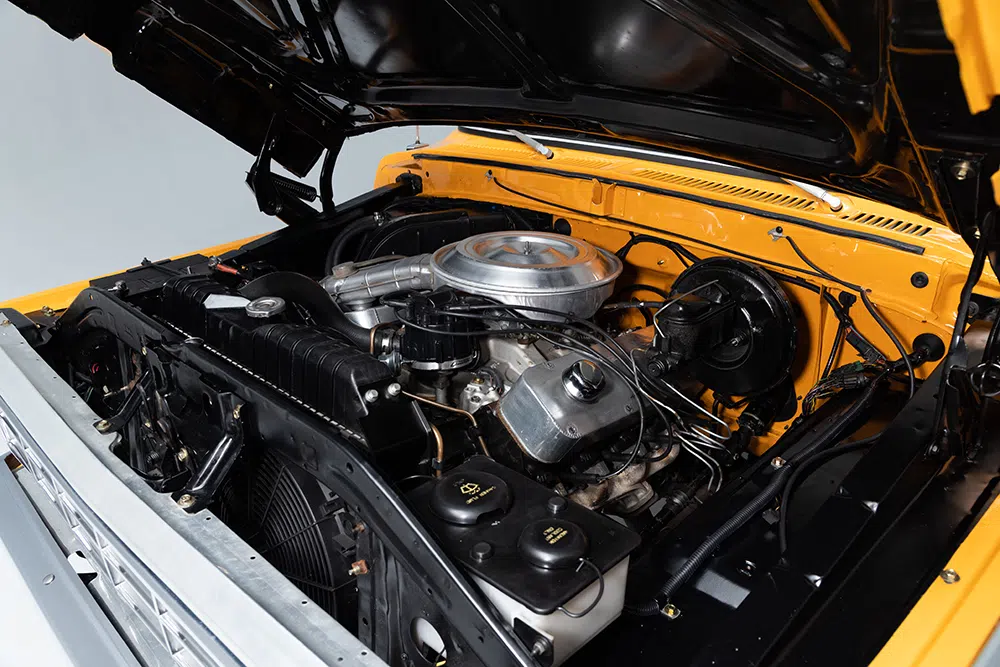 The Bronco is powered by a Ford 460 crate engine featuring a Holley Sniper fuel injection system, mild cam and roller rockers. It sounds pretty healthy thanks to a Magnaflow stainless steel exhaust.
A 7-inch Deaver Super Flex suspension makes room for 37-inch Interco SS-M16 tires mounted on 22-inch Detroit Steel Wheel Zug wheels. Detroit Steel is Mobsteel's sister company.
What's a Bronco like this worth? In 2023 the Bronco was auctioned off at Barrett-Jackson in Scottdale for $83,600.00.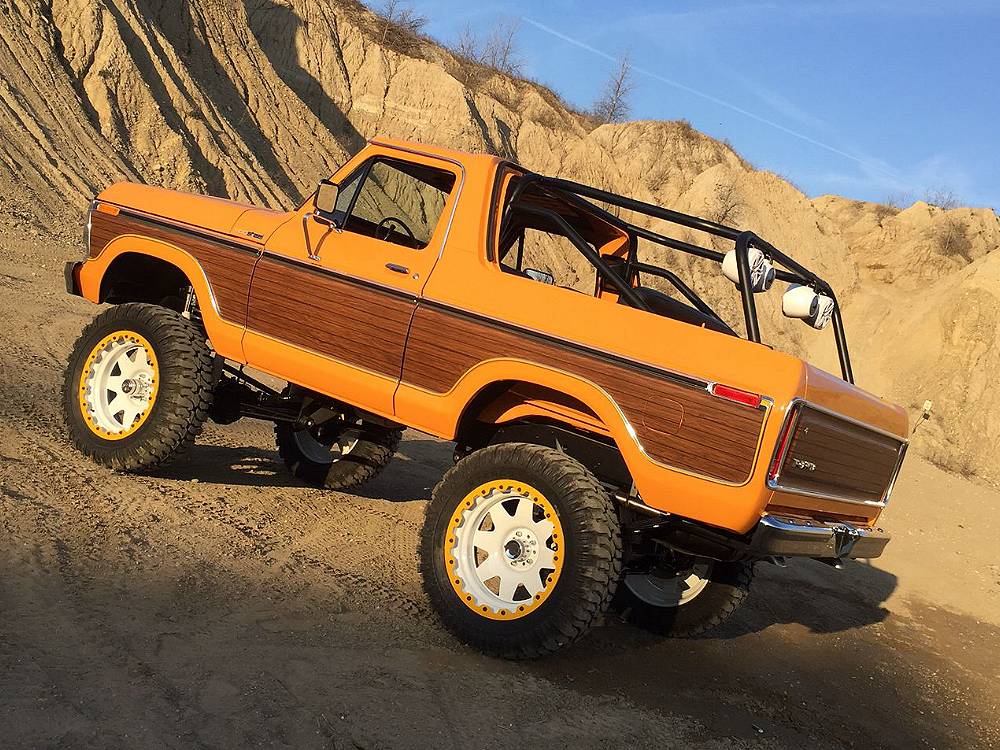 Video:
Links:
Specifications:
Chassis & Suspension
Work performed by Mobsteel
Powdercoated factory frame
Quad shock towers
Deaver 7-inch Super Flex suspension lift
Doetsch Tech Pre-Runner 8000 shocks and steering stabilizer
Rear disc brake conversion
Wheels & Tires
Engine & Drivetrain
Ford 460 crate engine
Upgraded with mild cam and roller rockers
Holley Sniper fuel injection system
Holley Hyperspark ignition
Custom 2.5-inch Magnaflow exhaust, rear exit
C6 transmission
DTS Ford 9-inch rear end w/Strange third member, Yukon axle shafts
Eaton Detroit Locker rear differential
Dana 44 front axle w/Spicer chromoly axle shafts
Eaton Detroit Truetrac front differential
Body & Paint
Work performed by Mobsteel/Ron Coan
Exterior restored using parts from Jeff's Bronco Graveyard
Painted Axalta Sunrise Orange
3M DI-NOC woodgrain vinyl graphics
Interior & Stereo
Upholstery work performed by Mario's Upholstery
Maverick upholstery material w/orange plaid inserts on seats, side panels, and headliner
Custom chromoly roll cage
Retrosound head unit
JL Audio marine speakers mounted on roll cage
JL Audio 10-inch subwoofer custom mounted in Jerry can
More Photos:
Click the photos to enlarge.