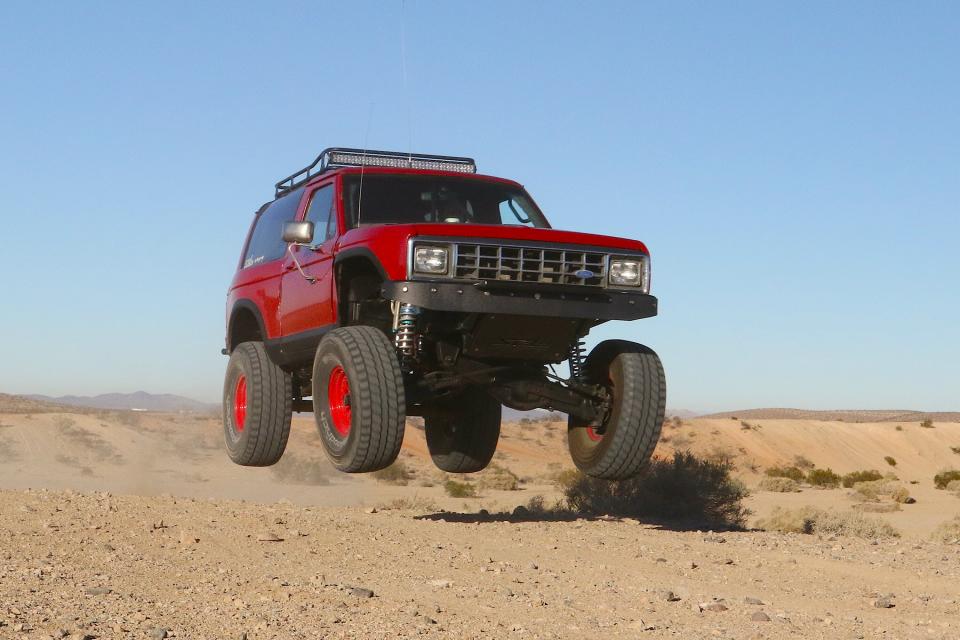 What possessed Bobby Quarnstrom to build a Bronco II? And to not just slightly improve it, but to make his 1986 model into a full-bore 4×4 off road rig that he regularly takes on hard core, off-road trips to Baja? He literally bought it for $180, that's why. Actually, he bought two of them for $180. That was all the money he had on him after a race one day.
"I was driving home from competing in an off-road desert race, loaded up with our 1400 Ford Ranger race truck, along with a tired chase crew," said Quarnstrom. "I saw two Bronco II 4wd trucks that were getting loaded onto a long trailer from a scrap company." Knowing the Bronco II's were actual junk, he says he still thought to himself; "I can make something of this."
He got them back to his shop, Solo Motorsports Inc., and took the best parts of each and began to build one. He scrapped the second Bronco once he had what he wanted. Which wasn't much, the Bronco II's were heading to the scrap yard for a reason.
Quarnstrom knows a few things about building Fords. His shop was at the forefront of killer Rangers, and has moved into late model full size Fords and Toyota's, has owned the little B-II for a long time, and uses the rig for his annual Baja fun run (he and some buddies do the peninsula every year). That's not a place where you want to be driving a vehicle that isn't up to the challenge.
And amazingly, this one is. Quarnstrom used the stock ford frame, but he added a full roll cage to it. Then he installed a Dana 35 front end using 4-inch wider Solo Motorsports I-beams and the Dana front disc brakes. The 4-inch per side wider beams are important to the overall package, as the stock II was way to narrow for its height and even now fits into the tightest sections with ease.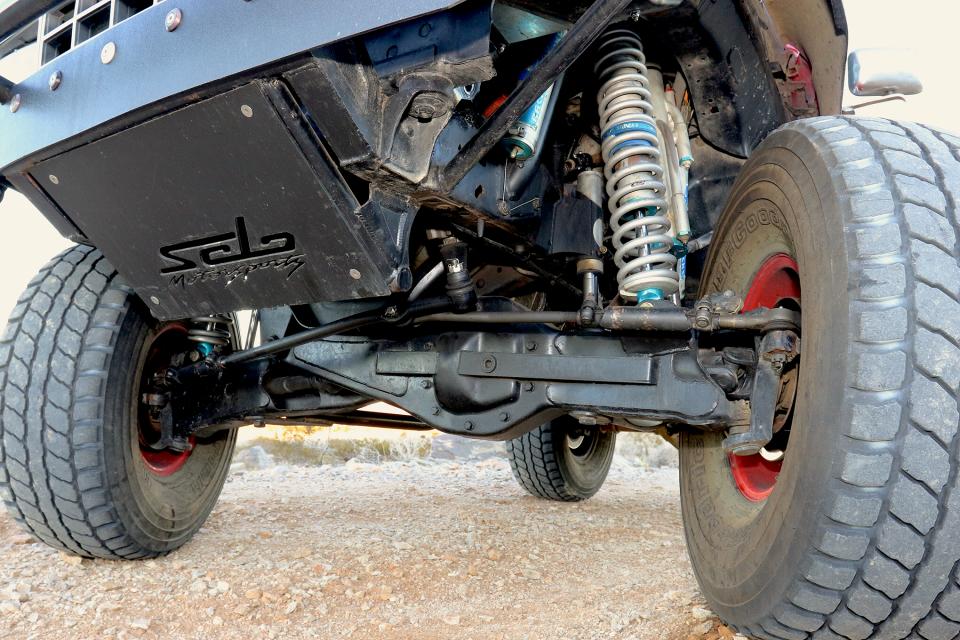 The Solo Motorsports I-beams are 4-inches wider than stock, and hold the Dana 35 securely in place. A pair per side of King shocks and a King bumpstop ensures that no rut will be too deep, no rock too tall.
Quarnstrom topped the front end off with a pair of King shocks per side. The King's in question are 2.5 coil overs & 3-Tube Bypass units that are accompanied with a set of King 2.0 Shorty Bump Stops.
King shocks are also used out back, as 14-inch long, 3-Tube By Pass units connect the 8.8 Ford Explorer rearend to the full cage. The 8.8 has been equipped with a Detroit Locker and 4:56 gears, and Driveshaft Specialties of Azusa, CA. did the driveshaft work. A set of Outlaw II 15×7-inch wheel were powder-coated red to match the body color and equipped with 35-inch BFGoodrich KR Baja T/A tires.
Those are big tires, and since horsepower was something the stock B-II was sorely lacking, Quarnstrom swapped in a 4.0-liter out of a 2005 Ford Explorer. For reliability's sake, the inside of the V6 is stock, but a K&N air cleaner has been installed.
The exhaust needed some fabbing though, so Solo Motorsports built custom fender wheel-well headers that actually run outside the frame. A fan-equipped CBR trans cooler keeps the C4 automatic transmission cool and happy even in the hottest Mexico temps.
A set of 4-inch wider Fiberwerx fiberglass front and rear fenders gives the BFG's somewhere to go while the red paint job ensures that everyone know the B-II is around. A Rigid Industries LED light bar fronts the Solo Motorsports roof rack, and it was of course Solo who built the front and rear bumpers.
There wasn't much room inside a stock Bronco-II, but with the full cage, PRP seats and other items, the inside of this Ford is tight. A flat Schroeder steering wheel helps some, and the Art Carr floor shifter tucks in between the seats well, but the Lowrance GPS is just waiting to bash someone's left knee.
The dash is stock, but Auto Meter gauges replace the idiot lights, and though the stock stereo plays tunes, a 110-watt Kenwood race radio system, complete with intercom and headsets, is the frequency of choice when on the trail. Quarnstrom credits Mike's Upholstery for being a big help with the interior.
As with any vehicle, there will be some champions of that vehicle, and for those who have always liked these Broncos, this one should be held as the standard bearer. Others will take a look at this truck and think, "Cool; but why?" Admittedly, we're in that second camp.
Quarnstrom and his crew at Solo Motorsports will be taking their annual Baja trip. We plan to be along for that ride, so we'll be able to get a close look at this little Bronco in action. Stay tuned.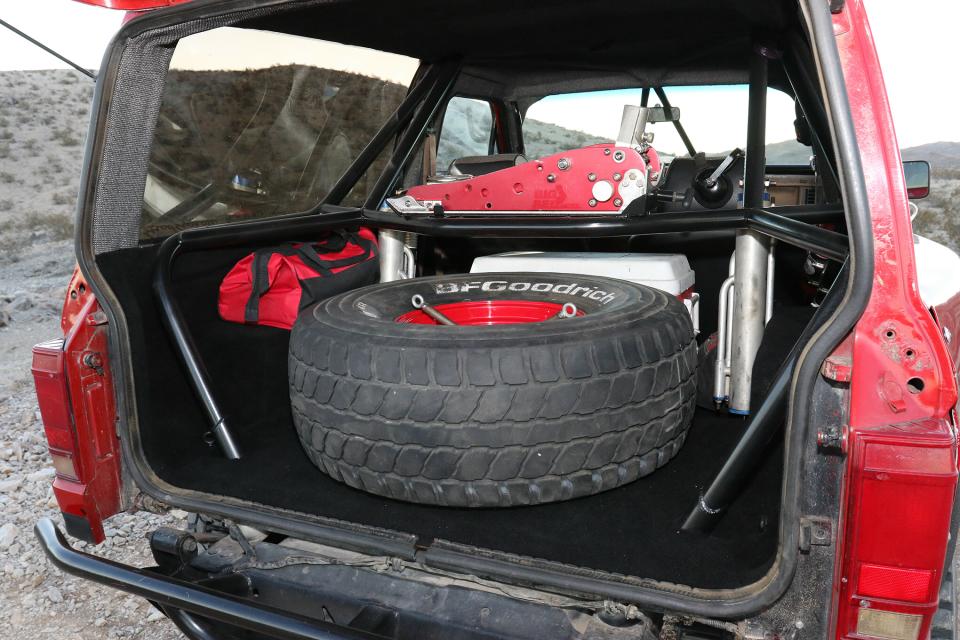 With not much room to spare, the rear compartment has been equipped with as much as can be wedged in.
Specs:
1986 Ford Bronco II 4×4
Ford Explorer 4.0L V6 engine
K&N air cleaner
Custom Solo Motorsports headers
Outlaw II 15×7-inch wheels – powder-coated red to match the body color
35-inch BFGoodrich KR Baja T/A tires
Fiberwerx front and rear fenders
Interior roll cage
Roof rack with a Rigid LED light bar
Solo front bumper and valance
Rear bumper connects solidy to the roll cage
PRP racing seats
Schroader Steering Wheel
Lowrance Baja 480C GPS
Auto Meter gauges
Kenwood communications system (Headphones for the Kenwood unit also filter in tunes from the stereo)
More Photos:
Click the photos to enlarge – click the arrows to load more